Why Sources Say Prince Harry Shouldn't Expect An Apology From The Royal Family Anytime Soon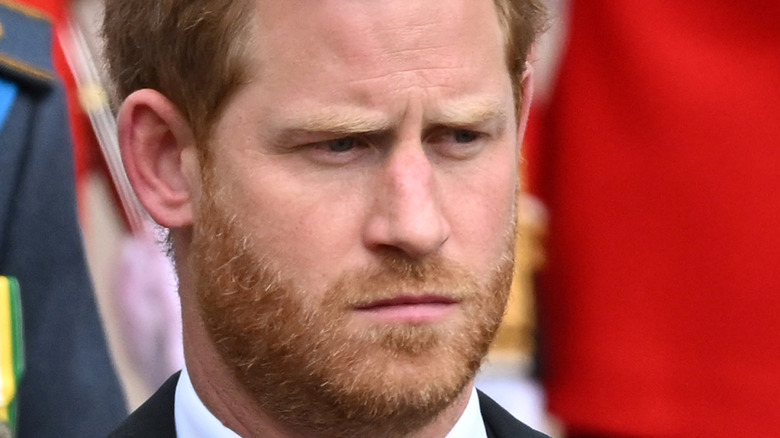 Leon Neal/Getty Images
Details of the plans for King Charles III's coronation are gradually unfolding. We now know the Spotify coronation playlist (which includes hits from Queen, The Beatles, and Harry Styles), as well as the original pieces being composed for the Westminster Abbey ceremony. We know the king's coronation outfit will reflect a changing monarchy — no fusty old breeches and stockings, please! — and the two crowns he'll be wearing. But the big question has yet to be answered: Will Prince Harry, Duke of Sussex, be there?  
The prince risked burning every bridge with his family by publishing his memoir "Spare" and participating in the Netflix documentary "Harry & Meghan." Critics have urged the king to bar Harry from the ceremony, arguing that he doesn't deserve to be there after making shocking statements against The Firm. Yet sources have told People and other outlets that Charles still plans to extend an invitation to his younger son. Doing so would certainly help to boost his image as a loving father and a peacemaking monarch. It would also put the decision solely on Harry; if he chooses not to attend, it won't be because he was snubbed by his Pa.
It all may come down to a demand that Harry publicly made in an interview with The Telegraph (as reported by Page Six), which coincided with the book and documentary. He's said to be holding off on attending the coronation until his family eats some royal crow.
Sources say the palace won't cave to Harry's demands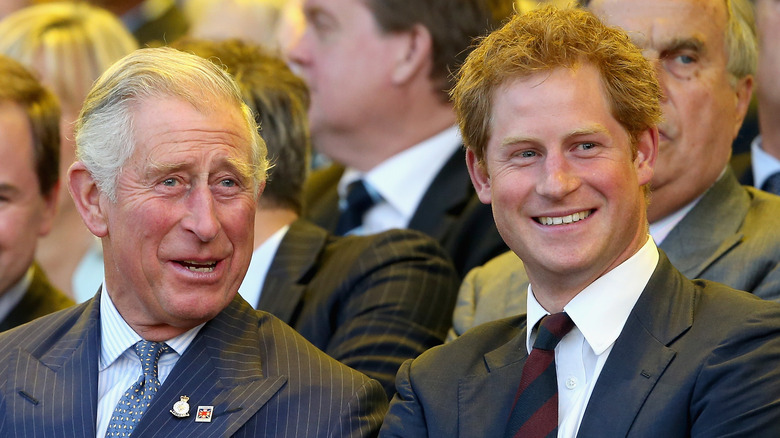 Chris Jackson/Getty Images
Without being specific, Prince Harry told The Telegraph that his family needs to "come clean" and apologize to him and to Meghan, Duchess of Sussex. The prince has accused the palace of helping the press create a negative narrative about them in order to protect the reputation of the heir apparent, William, Prince of Wales. Reportedly, Harry wants to meet with his father and brother before the coronation and get an apology from them before he'll commit to attending, either with or without Meghan.
That seems unlikely to happen. Sources have told the Daily Mail that while King Charles may be willing to talk to his younger son about the ceremony, an "I'm sorry" won't be part of the conversation. One insider said, "I don't think His Majesty is minded to apologize for anything at present. Quite the opposite. There is still a huge amount of ill will boiling over in the family." They added that Harry's insistence on airing the royal wash has caused "a great deal of hurt." Other sources tell the outlet William is even angrier at Harry than Charles is, to the point where the brothers' relationship is allegedly "nonexistent." 
An invite without an apology would put Harry in a tough spot. If he refuses to attend the coronation, the critics will tear him apart as a petulant brat. But if he goes anyway, all eyes will be on him to see what he'll do.