Prince Harry Is Reportedly Holding Fast To Requests For Meeting With King Charles Ahead Of Coronation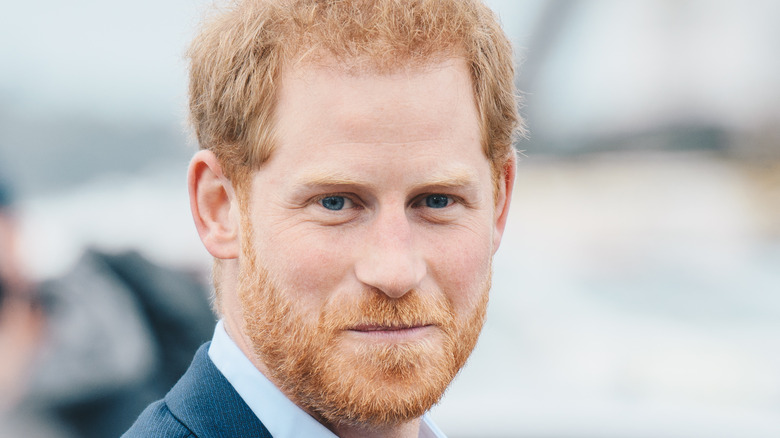 Shaun Jeffers/Shutterstock
As the countdown to King Charles' May 6 coronation continues, more concrete details are emerging daily. After months of speculation, it's been confirmed that Prince Harry and Meghan Markle, Duke and Duchess of Sussex, will be among the 2000+ people invited to Westminster Cathedral. Since the guest list is a work in progress, the official invitations haven't been mailed. Even so, royal fans are already speculating whether or not they will attend.
Previously, Harry indicated his acceptance hinged conditions like assurance that his royal titles were safe and assignment of prestigious seating at the event. In addition, the prince emphasized mending the family rift. Justin Welby, Archbishop of Canterbury, who will be leading the coronation ceremony, has been recruited by the king to assist with reconciliation. However, Welby remains ambiguous about when it will occur, saying, "There is always a way forward. But it has to be at the right time," via The Times.
In contrast, royal historian Robert Lacey suggests a more urgent timetable, believing that a discussion is essential to the monarchy. "One of the jobs of the royal family is showing how to cope with the problems we all have in a human and thoughtful way," Lacey told People. Citing the Sussexes' behavior at past high-profile royal events, he mentioned how Harry and Meghan "put personal enmity aside for the sake of the bigger cause." While he urges them to do this for the coronation, reports indicate that Harry is determined to talk things out first.
Prince Harry wants a family meeting before he RSVPs for King Charles' coronation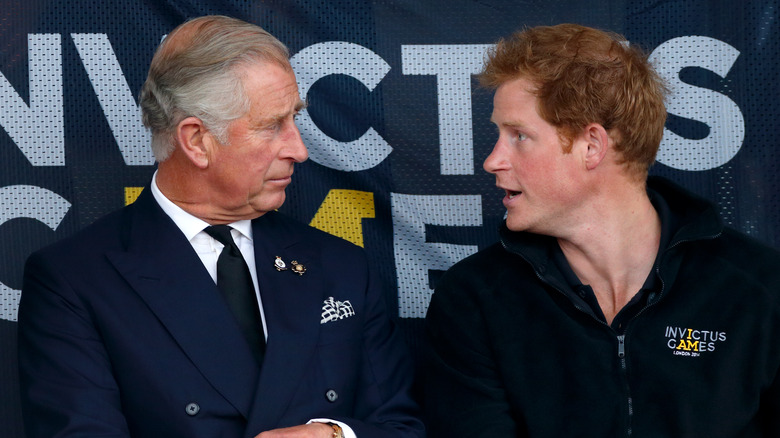 Max Mumby/indigo/Getty Images
Based on previous experiences at royal events, Prince Harry, Duke of Sussex wants to discuss matters before King Charles' coronation. "Harry has been very clear and his position hasn't wavered — he isn't going to come if he feels the atmosphere will be as toxic as it was during the Queen's Platinum Jubilee and funeral," a source told the Mirror. "He's said he wants to reconcile with his family and it's their call, but so far nothing has changed."
While Harry is ready, journalist Omid Scobie thinks the rest of the family needs more time. "I thought it was almost a rose-tinted [view] for Harry to want reconciliation so soon after this book because I think that tempers need to fray and calm down," he told the Royally Obsessed podcast, per Express.
If Harry does attend, he will be a spectator only. Since he and Meghan Markle are no longer working royals, they will not appear on the Buckingham Palace balcony. In addition, Harry won't kneel in front of his father. Only his brother William, Prince of Wales, will swear an oath of allegiance. Previously, all dukes made this public declaration — a tradition Charles has eliminated. As for seating, royal sources believe that Harry won't be sitting with Prince William, per Daily Mail. Instead, Harry could be seated with his cousins, Eugenie and Beatrice, since they are also non-working royals, and Harry and Eugenie have a close relationship. 
King's Charles is preparing for multiple scenarios involving Harry's attendance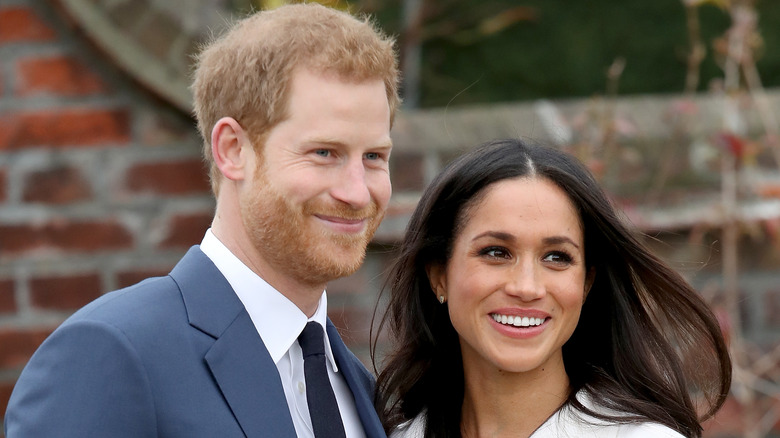 Chris Jackson/Getty Images
Since RSVPs for King Charles' coronation aren't requested until early April, the royal family is considering all the possibilities. "The palace is planning for three separate scenarios: Harry and Meghan show up; only Harry shows up or neither show up," royal commentator Kinsey Schofield said on GB News. "They're trying to plan so that King Charles is the focus of the Coronation, however, admitting that they realize that Harry and Meghan would be a great distraction."
Even so, the royal family is confident Prince Harry and Meghan Markle will say yes. Speaking to the Daily Mail, a source revealed, "Members of the family have told me that both Harry and Meghan will definitely come. They fully expect that." In addition, it could be an important step in achieving Harry's ultimate goal. "Attending the Coronation is the first step on the road to reconciliation," royal commentator Afua Hagan told Express.
Journalist Rebecca Twomey agrees that Meghan's attendance would be a positive choice. "Whatever Meghan does, everyone's going to attack her, so it might just be better if she comes," Twomey told GB News. If Meghan does stay in California with Archie and Lilibet, this second scenario could trigger a plan nicknamed "Harry in a Hurry." In this case, Harry might visit the UK for only 48 hours to attend the event alone. Or, considering his stance on holding talks before the coronation, it's possible Harry might decline the invitation altogether.