Dresses Over Pants: The Y2K Trend Coming Back With A Vengeance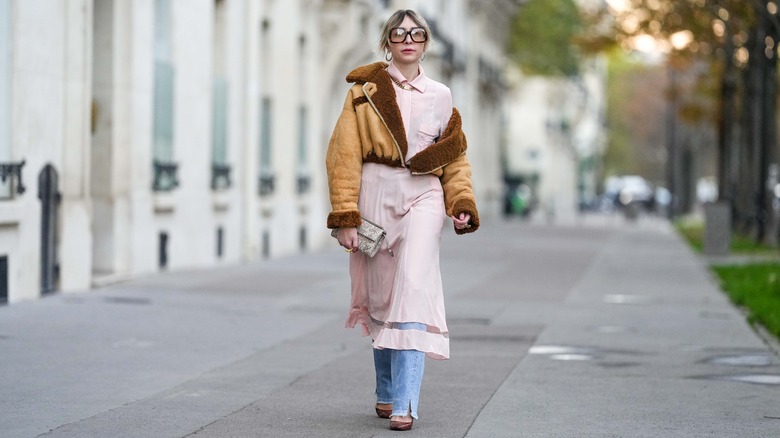 Edward Berthelot/Getty Images
It's clear that the Y2K revival shows no signs of slowing down anytime soon. Cargo pants are experiencing a major re-emergence, whereas the return of low-rise jeans still remains a divisive topic.
However, the latest Y2K trend to make a comeback is one that may strike fear into your heart. Yes, dresses over pants are back, and they're being styled in better ways than ever. The good news is that this time round, the looks are much more cultivated and sophisticated than their Y2K predecessors. No longer just the tiered mini skirt and flare jeans combination you may be having flashbacks to, now the dresses over pants trend feels closer to high fashion than a style disaster. Spotted on runways at Off-White, Valentino, and Chloé amongst others, this trend could be the style shake-up you need.
Whatever your thoughts on the controversial style, here are some of the best ways to coordinate it so you feel less like a Disney star on a red carpet and more runway-ready.
The trend can feel daunting, but these tips will help
Stockholm style blogger Lydia Tsegay told Teen Vogue that the dress/skirt over pants trend is "a look you can pull off in any season. I also think it gives the look of you being creative with your clothes." Proportions are important to the trend, too, though don't feel limited to one particular silhouette. As recommended by Tsegay, choosing either a fitted dress and wider pants or a loose dress and fitted pants can help to balance out your body.
If you're nervous about the trend, stay in your comfort zone by hopping on the monochrome fashion trend — for example, pairing different neutral shades together. The same goes for fabrics, too. A denim-on-denim ensemble will look completely intentional and feel less jarring than a blazer dress with jeans. Textures of fabrics can additionally help to bring an outfit together for a more cohesive look. Fabrics with a lighter feel like cotton or linen will sit nicely on top of pants that are made from heavier materials like leather or denim.
Experiment with different lengths and styles
Length is an important factor, too. Mini skirts and dresses may be closer to the original Y2K take on the trend, but 2023's version is all about longer hemlines — think midi and maxi dresses that show just enough leg to let people know you're wearing pants underneath. Of course, mini dresses still have a place within the trend — @thrifted.with.style used a mini dress to show off the textured fabric of the corduroy pants underneath. In general, shorter hemlines are best if you want to emphasize both the pants and the dress equally.
Another way to try out the trend is to play with the cut of different fabrics. A dress that's split in the center or at the sides will give you an open and relaxed silhouette that showcases the pants beneath more clearly. A dress that's cut asymmetrically at the hip or knee will achieve a similar effect. Finally, sheer clothes are having a moment right now, and this trend is a great opportunity to get creative with styling your sheer wardrobe pieces. A sheer dress or long tunic-style top over some trousers will feel less daunting than a solid fabric on top of another solid fabric.