The Balanced Bra Co. Is The Perfect Brand For People With Asymmetrical Breasts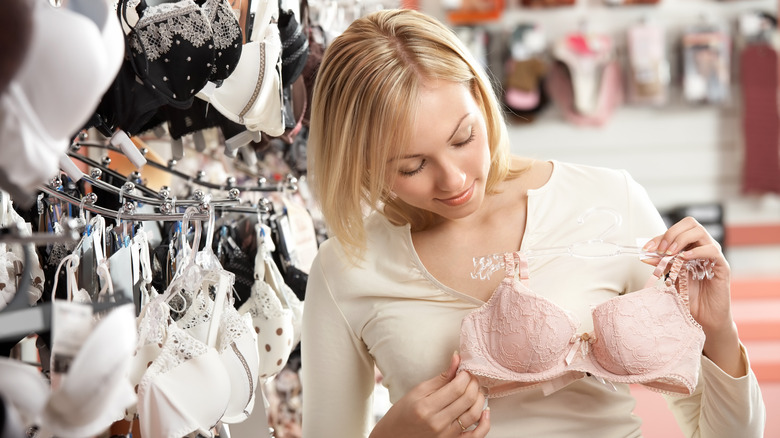 AboutLife/Shutterstock
Breasts come in all shapes and sizes, but what happens when one breast is noticeably larger or smaller than the other? In this case, you may have trouble finding clothes that fit properly, going braless in public, or simply choosing the right bra. Sure, you could use boob tape, but that's not always easy or convenient.
More than half of all women have asymmetrical breasts, says plastic surgeon Cain Linville. Minor differences in breast size or shape are perfectly normal and shouldn't cause any health issues. However, there are cases where one breast is significantly larger than the other, which can lead to emotional distress. Plastic surgery can address this issue, but there's no reason to go under the knife unless you absolutely have to.
Also, note that your boobs may change during the month due to hormone fluctuations. In such cases, one breast can get bigger, denser, or softer than the other. These changes are temporary, though, and, sometimes, a well-fitting bra can make all the difference. The Balanced Bra Co., a startup launched less than two years ago, might be the perfect brand for women with uneven breasts. Its bras are fully customizable, blending style and function.
The Balanced Bra Co.: How it all started
Christopher and Heather St. John, a husband and wife team, launched a new brand called The Balanced Bra Co. Like millions of other women, Heather had uneven breasts and struggled to find well-fitting bras. At some point, she decided to create her own line of intimate apparel. "Believe me, there is definitely a massive need for The Balanced Bra Co., and it feels so great to finally be able to offer women an option for the perfect fit in their bra," she said in a press release.
Heather and her husband spent three years researching the technology and fabrics behind their products. They started with two styles and expanded their offering over the next few months. "We plan to add more styles and colors in the near future; however, right now, we are simply celebrating the fact that we are empowering women to experience equality, comfort, confidence, and balance in a new and fashionable way," said Heather shortly after launching the brand.
The company is currently offering three types of bras for women with breast asymmetry, plus thongs and Brazilian bikini bottoms. Each bra comes in different colors and cup sizes, from A to DD. Moreover, all products are made from recycled materials and contain non-toxic dyes. 
Customers can mix and match cup sizes for a perfect fit
Women with asymmetrical breasts often use removable inserts to mask the difference in size. Another option is to get a wireless bra or bralette, but these styles usually have little or no padding. The bras created by Christopher and Heather St. John allow you to mix and match cup sizes based on your breast measurements.
You can select size A for the left cup and size B for the right cup — or the other way around, and the cup sizes go up to DD. Customers can also choose the desired band size, which ranges in length from 32" to 38". Note that you'll have to measure your bra size at home and then use the sizing chart on the brand's website to find the right fit.
The bras look comfy and stylish, and some models are suitable for an active lifestyle. The Lily bras are rather sporty and can be a good choice for everyday wear. The Rachel style is sexier and more fashionable, featuring a demi-cup with sheer lace. If you prefer a minimalist design, go for the Morgan bra, which has seamless wings and convertible straps. Apart from that, all bras are available in neutral colors and can be worn with most types of shirts, tops, and dresses, except for backless styles.