Face Gloss: The Highlighter That Promises A Fresh, Dewy Look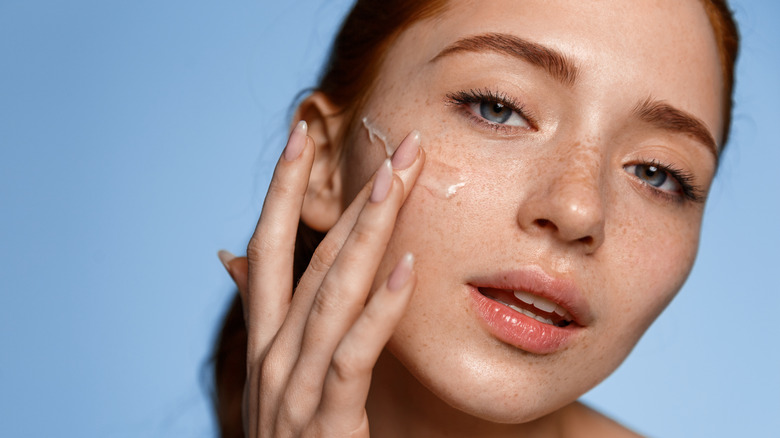 Lyubov Levitskaya/Shutterstock
For years, makeup artists and lovers have been on the hunt for products that will help them perfect the fresh, dewy look. The key is to look like you've just run a mile without truly breaking into a sweat — a slight sheen without dripping in perspiration. Luckily, there are a number of products that aim to mimic the look of a great workout or a day spent in the sun.
NARS Orgasm, a blush everyone needs in their collection, mirrors the flushed look that many makeup hounds dream of. The Chanel LES Beiges Bronzing Cream offers a velvety glow, delivering a truly sun-kissed effect without the extreme glitter that other bronzers have. While these products give a natural look, they don't achieve the appearance of an ethereal glow so extreme that all light reflects off your skin.
Like Venus emerging from the water, á la Kim Kardashian at the 2019 Met Gala or when the wet hair trend that dominated spring of 2022, face gloss is meant to simulate perpetually dewy skin.
How to use face gloss for a glowy look
Created around 2016, face gloss aims to give the skin a natural shine without looking too glittery. Emerging during the death of the Instagram beat, the no makeup-makeup look came to replace the blocky brows, matte lips, and bold contour that had been popular for so long. Glittery, powder highlights also went into the bin along with contour and brow palettes. Instead, makeup artists focused on creating a fresh-faced style.
Like lip gloss, but for the face, face gloss is a clear gloss applied to the high points of the cheeks, just like you would apply any highlighter. While more traditional highlighters use shimmer or glitter to deliver shine, face glosses reflect light itself, producing an inner glow. Although it looks like a lip gloss, it's not as sticky; however, it's best to opt for a lightweight foundation or a tinted moisturizer, because it won't apply as well on something with full coverage.
To apply, dab a little onto wherever you want a bit more shine and pat it in with your fingers rather than rubbing. It'll help the product to stay in place without lifting any complexion product you may have put on beforehand. If you want a more subtle shine, dab it in gently with a clean beauty blender.
The best face glosses for dewy skin