Brooches Are Making An Epic Comeback In 2023. Here's How To Incorporate Them Into Your Outfits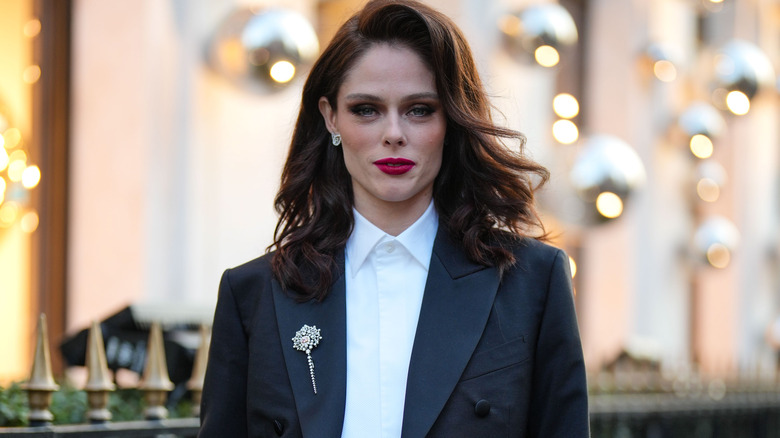 Edward Berthelot/Getty Images
We may receive a commission on purchases made from links.
For years, fashion has always had a cyclical nature. From the '70s fashion revival, a few years ago to the re-emergence of '90s Whimsigoth, fashion items and accessories will always find their way back into the mainstream. With platforms such as TikTok, the trend cycles are being sped up, creating microtrends that fade too quickly to with which keep up.
Before, decades past influenced fashion, staying in style for a lengthy period of time and meshing with the current trends of the times. With a changing digital landscape, we're now recycling styles from only 10 years ago, such as indie sleaze or twee. Typically, designs from the '60s onwards were brought back into the zeitgeist, but the internet is reaching even further into history for the latest fad.
Although brooches were invented sometime around the Bronze Age, they peaked in popularity during the Victorian Era. With elegant designs and detailed metalwork, brooches were often symbols of Christianity, Paganism, or nature throughout history. Not only were they decorative, but they could symbolize one's belief system or love of the beauty around them. While you may associate brooches with your grandmother or other older women in your life, they can definitely be incorporated into modern fashion.
Mix and match them with your other accessories
Typically, brooches can be worn on the collar of a shirt, a blazer's lapels, or on the sleeves. While they can be a standalone item, match them with retro jewelry trends that are reappearing in the zeitgeist. Accessorize chunky pearl earrings alongside this Shell Pearl Brooch from Isamel. The shell-shaped gold-plated body of the brooch features a freshwater pearl dangling at the end, pairing well with dainty, gold rings.
Although Miranda Priestly thought florals for spring weren't groundbreaking, on brooches, they certainly are. Hearkening back to the incorporation of nature representation with the blinged-out pins, bedazzled flowers are making a comeback on the runway. This Lily-of-the-Valley brooch from The MET Store features pearl lilies, with stems and leaves fashioned with gold, jade, and diamonds.
If you prefer a classic, masculine look, spring for small matching brooches from this rhinestone set to wear at the wrist of a blazer. To elevate the look, add a larger brooch to the lapel or side of the blazer. The Tateossian Chain-Detail Brooch is a slightly edgy-looking brooch with a silver oxidized finish, giving it a vintage appearance.
Pair brooches with denim for a modern take
While brooches are typically worn with fancier outfits, they can be used to dress up your more casual pieces. Wearing brooches on a leather or denim jacket classes up the look a bit, adding an elegant element to the outfit. You can pin brooches all over your jeans, creating a whimsical take on the bedazzled jeans trend from the Y2K era. Sifting through consignment and thrift shops can help you find old, vintage brooches to build your collection and decorate your clothes with.
While it's not a trend yet, we predict a reemergence of wearing your birthstone more often. With the popularity of astrology and aura nails as a way of showcasing one's individuality, representing your birthday with a brooch is bound to be the next new thing. UNICEF Market's set of birthstone brooches, such as this Moonstone Brooch for June babies can be a great birthday or anniversary gift.
Prolong the holiday hair accessory trend by pinning brooches to your hair bows. The girly take on pinning the accessory to a necktie is perfect for upscale events this spring.