Out-Of-Town-Guests At Your Wedding? Here's How To Help Them Feel At Home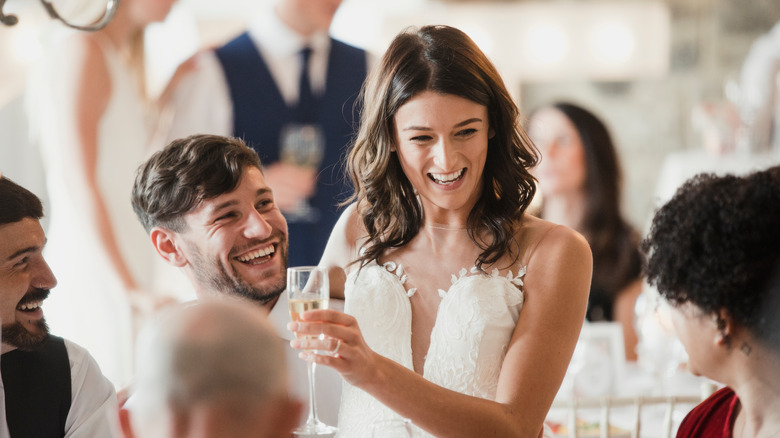 DGLimages/Shutterstock
One of the first things to decide when you begin wedding planning is how many people you want to attend your special day. Do you invite everyone you've ever met, or do you opt for a smaller, more intimate gathering? A national survey reported by Helzberg Diamonds found that 62% of engaged couples in 2022 had at least considered eloping – after all, the average cost of a large wedding is $30,000. But for those couples who decided that their day would not be complete without all their loved ones around them, the next step is creating a guest list. When you sit down with your fiancé and finalize your headcount for your upcoming wedding festivities, you might come to realize that your loved ones are pretty spread out, geographically speaking. You probably aren't surprised to hear that the number of guests who attend local weddings is higher than that of those who attend destinations weddings where they have to coordinate travel.
For those who can make the trip out to celebrate your special day, you want to make sure that they feel welcomed and included. Whether you're trying to pull off a destination wedding or half of your extended family lives in different states, hosting out-of-town guests can add some extra tasks to your wedding planning checklist. Luckily for you busy brides and stressed-out grooms, The List has your back. Below are fun and thoughtful ways to ensure that your out-of-town guests feel right at home.
Keep your guests in the loop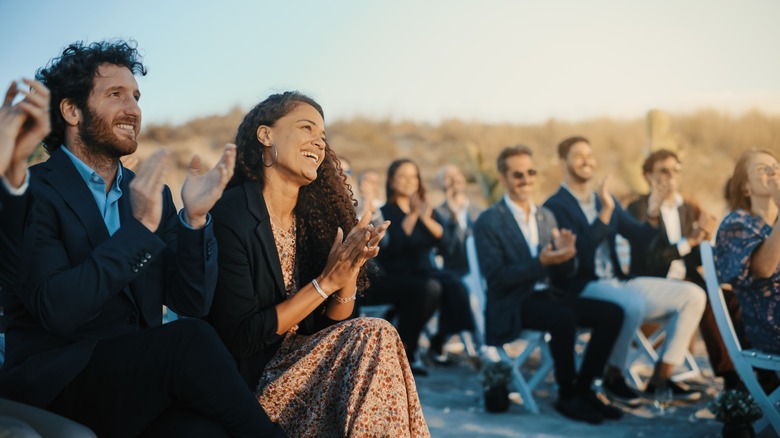 Gorodenkoff/Shutterstock
Sending save the dates out at least six months before your wedding will allow your out-of-town guests plenty of time to make travel arrangements, but they will need to know more than just your date before hopping on a plane. Unlike your local guests, out-of-town invites require more information in order to be fully prepared for your wedding. This is where a wedding website comes in handy.
Many engaged couples will create a website with all the essential information their guests will need before attending their event, and this info is especially important for your guests who are traveling long distances. Knowing the dress code and typical weather during your big day will help them pack the perfect wedding guest attire, without the stress of trying to find somewhere to buy a jacket at the last minute because they didn't know your winter ceremony would be held outside. While your guests don't need every single detail of your planning process, essential information like if they can bring their kids, the timeline of the weekend, and the exact locations of each event are helpful ways to ease the stress of travel for your out-of-town guests. A wedding website is also a great way to collect RSVPs from guests, send out reminders leading up to your big day, and answer any questions your guests might have with an FAQ page.
Assist with accommodation planning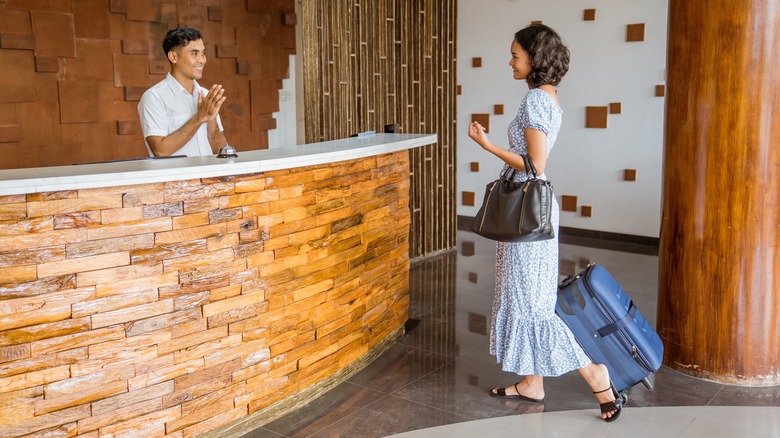 Odua Images/Shutterstock
Once you've created your wedding website, you can easily add a page with recommendations for hotels and travel. Creating an itinerary can be stressful, especially when your guests are unfamiliar with their destination. Make it easy for your guests by locating accommodations that are close to your wedding venue. Consider different hotels and Airbnbs at different price points to allow guests with budget restraints plenty of options. Reserving a block of rooms for guests is a great way to ensure they have a place to stay that is approved by the couple. And remember, it is not the couple's responsibility to take care of people's accommodations. While it is a nice gesture to pay for everyone's flight and hotel room, it is definitely not expected or necessary. Once you provide the information, it is up to each guest to handle the planning and financial aspects of traveling to your wedding.
Some couples opt for a shuttle service from the hotel to their venue but don't stress if that isn't in your budget. Depending on the location of your event and distance to the venue, many of your guests may opt for renting a car or relying on ride sharing to get around town. Ride sharing services such as Lyft will allow you to create a party code so you can easily provide guests with a safe way back to their hotel at the end of the night, without them having to worry about trying to call their own ride.
Provide guests with a guide to local activities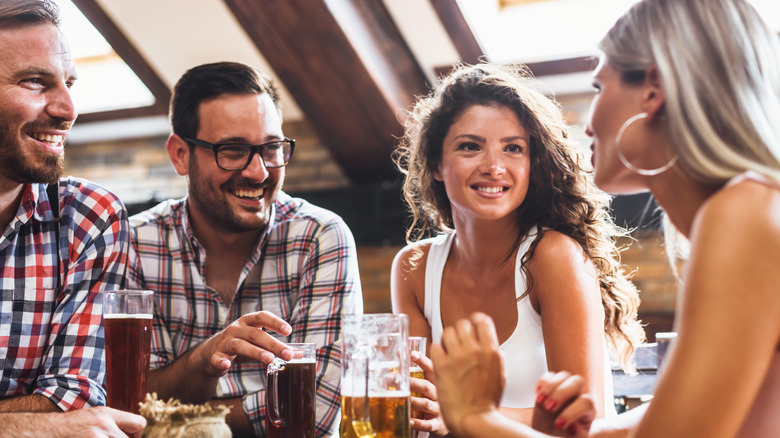 Lordn/Shutterstock
Your out-of-town guests may have made the trip out to witness your special day, but many of them also turn their visit into a mini vacation. We definitely encourage this, since you might not have time to entertain your guests for the entirety of their stay — you might be busy, you know, getting ready to get married! In order to make your guests feel welcome, provide them with a list of fun activities and ways to experience their destination as the locals do.
Curate a list of you and your partner's favorite local eateries, from the craft brewery you play trivia at to your go-to late-night taco spot after a night on the town. Write a small description of each place, telling your guests why they are meaningful to you, and what your favorite thing to order is. You can also provide a map with fun places like movie theaters, bowling alleys, or weekly events like a farmer's market to kill time in between events while enjoying all that your city has to offer. Make sure to include a few sightseeing spots that are unique to your town, just in case your guests want to go into full tourist mode.
Make a welcome basket for their arrival
While wedding favors are quickly becoming a relic of the past, welcome baskets have risen in popularity. Creating welcome bags for out-of-town guests allows the couple to curate meaningful, personalized gifts to make their guests who have traveled far feel extra special. One bride shared her welcome bags on TikTok, and we love every detail. @briemartiko gushed over her dainty burlap gift bags with bow details and custom welcome tags. Inside she included an emergency kit perfect for curing post-wedding hangovers, complete with Liquid IV, pain meds, and small essentials that are easy for travelers to forget. She also included some of her favorite snacks and water for guests to snack on in their hotel rooms or in between events. You can also use your welcome bags to include a letter thanking your guests for attending and any information they might need about your wedding day timeline.
For wedding guests who are staying in a coordinated block of rooms, couples have left welcome bags in the hotel lobby for guests to pick up upon their arrival. Others have opted for small welcome parties to see their out-of-town guests prior to the wedding, where each guest can visit with the couple and pick up their welcome bags before heading to their accommodation.
Host a post-wedding brunch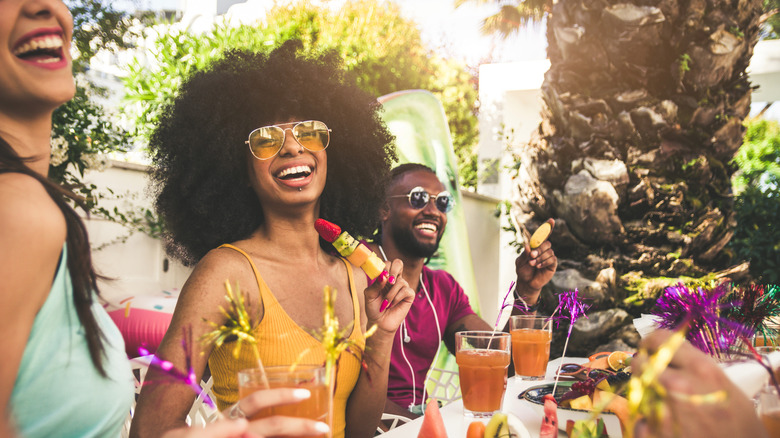 DavideAngelini/Shutterstock
Combat your post-wedding blues by hosting an intimate brunch the following day. This is a great way to interact with your out-of-town guests and make them feel extra special for making the trip out to celebrate with you. This event can be exclusively for your own-of-town loved ones or include them with the rest of your wedding party. Host brunch at the cafe in your hotel, or share one of your favorite local spots with your guests who are visiting. The post-wedding brunch is also a great way for your closest loved ones to see you off before your honeymoon, and recount happy memories from the reception while it is still fresh in everyone's mind.
Make sure to include the brunch in your timeline of events so that guests are aware of it before the wedding day — while a spontaneous brunch can be tons of fun on a typical Sunday, the morning after your wedding might require more advanced planning when your guests have been partying all night long. It is also good to let your guests know ahead of time so that they can book their travel around your post-wedding brunch. You don't want your out-of-towners to miss out on the event because they scheduled their flight early in the morning.
If you're looking for more ways to turn your wedding day into an even bigger celebration for your out-of-town and local guests, check out this guide of everything you need to know about hosting a wedding weekend.