Giant Stud Earrings Will (Literally) Be Huge This Year. Here's How To Style Them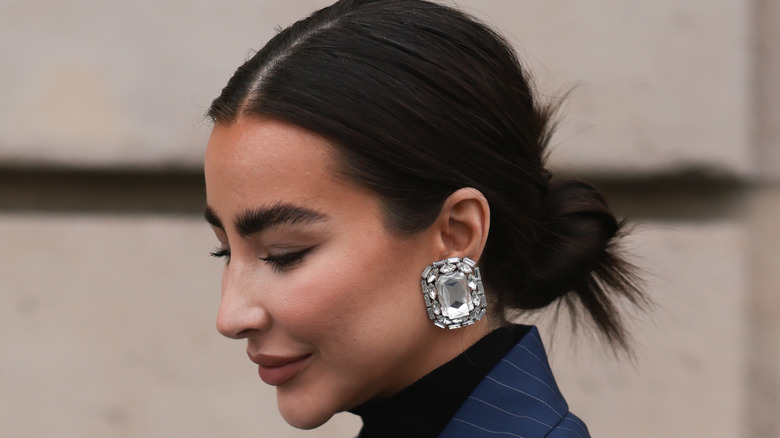 Jeremy Moeller/Getty Images
Choosing to change up your jewelry can change up your entire look — adding earrings to a laid-back style can make the look come across as more sophisticated or dressy, and adding earrings to an outfit that would be otherwise serious can bring a fun flair to the entire look. Statement earrings have been a staple in the closets of fashionistas forever. Before styling your look with classic hoop earrings, consider reaching for huge, oversized statement studs, which are having a moment.
Oversized studs were big at 2023 fashion shows, showing up on the runway for designers like Saint Laurent and Rokh. The earrings are like putting the cherry on top of your already perfect outfit, bringing different types of fashion to your look. Changing your earrings is a simple way to change up your style when you want a pop of something different, and luckily, you can pair oversized studs with just about any outfit for any occasion. 
Bring attention to your earrings with an all-black look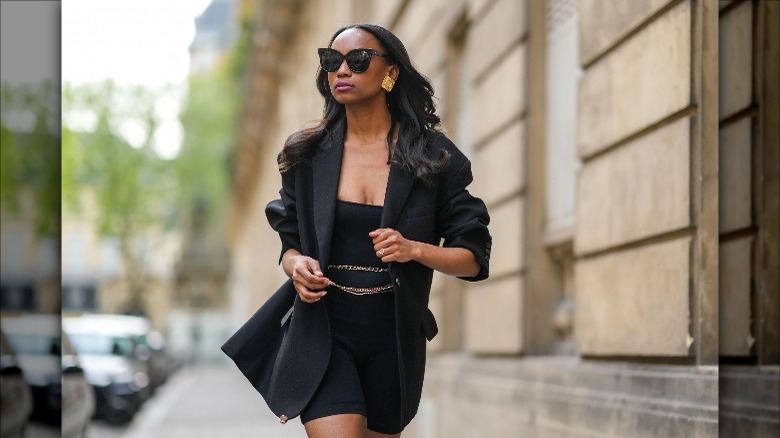 Edward Berthelot/Getty Images
If you want to make your oversized studs the main eye-drawing part of your look, think about keeping the rest of your outfit simple. Reach for an all-black skirt or pants and pair them with an all-black top to make it so the only part of your style with a pop of color is your oversized earrings. Not only will this style make people notice your earrings, but it'll also add a bit more personality to your look, if that's what you're going for.
Go for a classic black-and-white look with oversized studs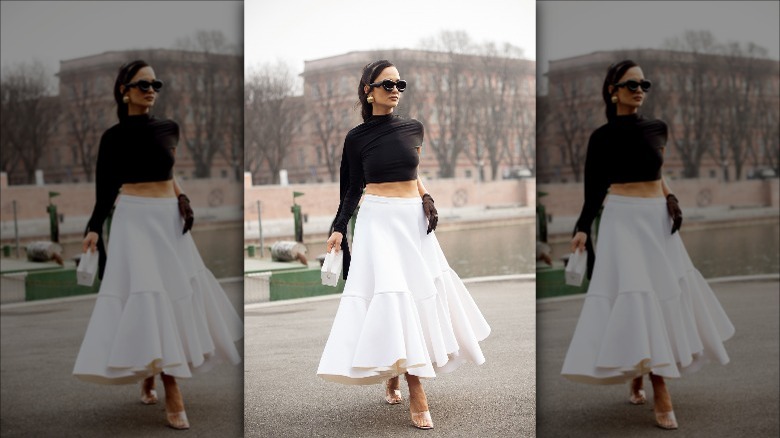 Raimonda Kulikauskiene/Getty Images
Much like with an all-black style, statement earrings can be paired with a classic or dressy black-and-white outfit. Reach for a long, white skirt and a black top, cropped or full-length, before pairing it with your favorite pair of oversized studs. Gold, silver, or even a brightly colored earring can take your look from classic to fun and stylish. Consider matching your earrings to your shoes for added color coordination and cohesion across the entire look. 
Try them with an oversized cardigan
Go for an oversized cardigan to make your earrings stand out. The simple, classic nature of the cardigan is complemented by accessories. 
Instagram user @lafredtouch pulls off the look by pairing wide-legged black pants, combat boots, and a black fitted top with an oversized beige cardigan before throwing on sunglasses, a large necklace, and topping it all off with statement earrings. The look all comes together because it's a mixture of classic and fun.
Match your earrings to your shirt
Consider taking matching to a new level, and match your earrings to your top for a put-together look that can be worn casually or professionally. 
To achieve this look, pick up a white, lacy top and match it with earrings that are pearl or all-white. In this case, @pinarozevlat shows off pairing mini cream rose pearl studs with a collared white top and black vest, which gives the entire style a classy, preppy look. 
Pair colorful studs with a black-and-white top
If you're looking for a way to add a pop of color and fun to an outfit you'd wear to the office, consider reaching for stud earrings that contrast with what you're already wearing. 
Instagram user @bold_abstractions achieves this look by pairing pink geometric earrings with a classic checkered top. Think about keeping your outfit neutral and just using your earrings as a way to show off an aspect of your personality, and you've got this look down. 
Make it a matching moment with rest of your jewelry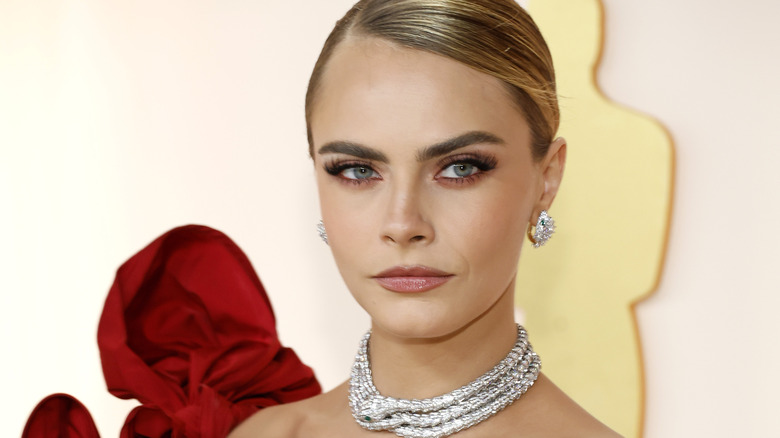 Mike Coppola/Getty Images
Channel your inner fashion model by matching your oversized studs to your necklace and other jewelry, like model Cara Delevigne chose to do on the 2023 Oscars red carpet. The look pulls everything else together by making your jewelry the first thing people notice about your outfit. You can go shiny or understated, add matching bracelets and rings, or just stick to pairing your statement earrings with your favorite statement necklace.
Wear your hair half-up to show off your studs
If you really want to make sure you're showing off your stylish statement jewelry, think about pulling your hair half up so it doesn't hide your earrings. 
You can achieve this look with any colored top or dress, a turtleneck, or just about any other fashion choice, as the most important thing for this is your hair. Try different styles, like a half-up bun, braid, or ponytail to change it up.
Pair oversized earrings with a leather jacket for an edgy style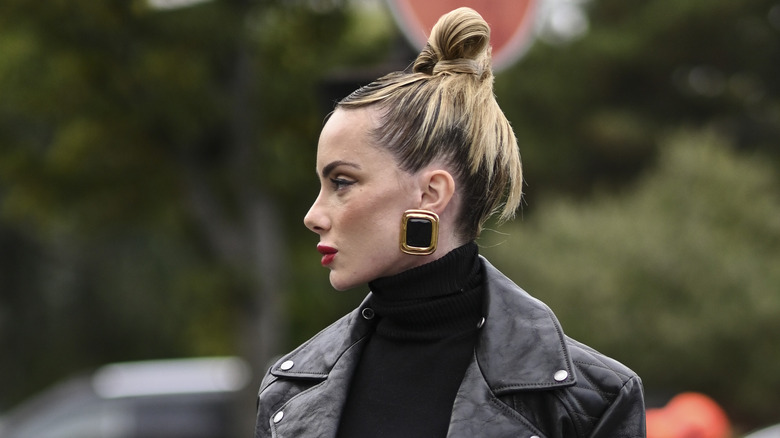 Daniel Zuchnik/Getty Images
Try pairing your oversized stud earrings with a leather jacket and a completely slicked-back hairstyle for a more severe, edgier style. In this case, the oversized earrings offer a pop of color and contrast to the rest of the outfit. 
To finish off this look, pull on your heaviest, chunkiest boots, which works with the popular trendy grunge aesthetic. You can opt for classic combat boots or your favorite pair of knee-high boots depending on what works best with your outfit. 
Pair statement earrings with an oversized blazer
For another fun look, pair your colorful oversized stud earrings with a colorful oversized blazer. Oversized blazers can be dressed up or down, and you can even consider matching your earrings with the top under your blazer. 
To give this look a little boost, think about reaching for earrings made of colored stones like emeralds. "Colored stones are continuing to gain traction — especially emeralds, which I think are here to stay," Baylee Zwart, CEO of Azlee jewelry, tells Harpers Bazaar. 
Channel the 1980s with abstract shapes
Nostalgic trends are always coming back around, and 1980s trends have made a comeback. That includes '80s accessories like big earrings and necklaces. Channel your inner '80s fashionista with big, bold, colorful earrings and a nostalgic style to go along with it. 
Instagram user @glitterwave80s pairs her '80s-inspired earrings with a black bodysuit and bold makeup look. Consider pairing your oversized earrings with big, curly hair to really pull the entire look together. 
Don't shy away from geometric shapes
At first glance, you might think your oversized earrings are too big for your look, but if they're styled correctly, even the most oversized earrings can have a place in your jewelry rotation. In this case, consider pairing your oversized, geometric earrings with an outfit that's low-key and not dressy. Think of a floral sweater or an understated top with small details so your earrings can be the main event for your outfit. 
Add some shimmer to your look with shiny studs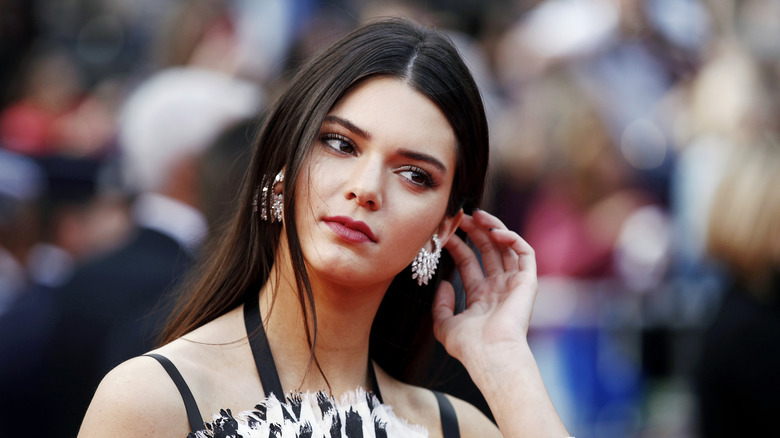 Andrea Raffin/Shutterstock
Kendall Jenner jumped on the oversized earring look to add a splash of sparkle to an otherwise classic, simple dress. As can be seen above, Jenner opted for a shiny, geometric earring and left her makeup and hair understated to really draw attention to the fashion choice. 
To achieve this look, opt for your shiniest oversized earrings and pair them with a black-and-white outfit or muted colors in order to really draw attention to the sparkle. Go without any other jewelry to really make sure your earrings steal the show. 
Pair them with a slicked-back hairstyle
One of the ways you can make sure your oversized earrings stand out is to pair them with an easy-to-replicate trendy, slicked-back bun or ponytail. It's a sure-fire way to show off your oversized stud earrings, and the hairstyle can work with just about any outfit or style. 
Instagram user @christietyler chose to pair her silver, round oversized studs with a blazer, slicked-back bun and an understated makeup look, including a pastel lip color for her night out. 
Make a simple look overstated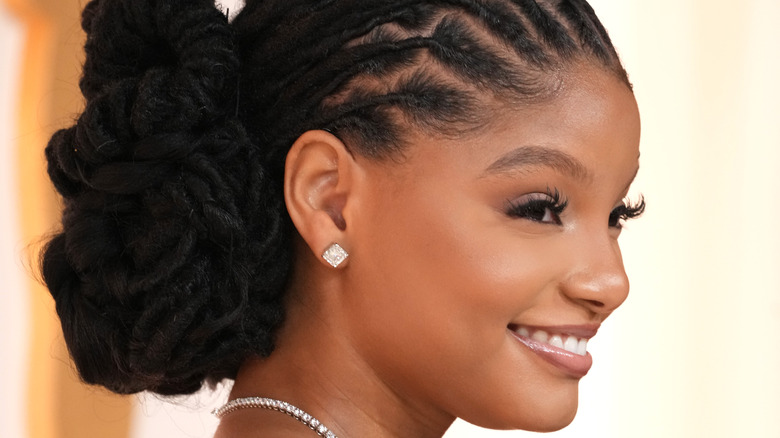 Kevin Mazur/Getty Images
At the 2023 Oscars, the live-action "The Little Mermaid" star Halle Bailey opted for oversized diamond earrings for a perfect mix of elegant and trendy. Pair this look with a classic makeup look, and pull your hair back into a simple updo to pull it all together. Pair your oversized diamond earrings with a matching necklace for a completed style. 
In a world where so many nostalgic styles are returning, the classic diamond stud, just bigger, is one way to keep your look timeless. 
Pair your oversized studs with statement sunglasses
Use your favorite pair of statement earrings to accessorize your favorite swimwear. When paired with a pair of statement sunglasses, like heart-shaped glasses or glasses with a pop of color, your oversized studs can help you feel put together — even with wet hair after getting out of the water like Instagram user @mirsada.boss demonstrates.
Sunglasses with oversized frames and sporty sunglasses, which have both become huge trends in eyewear, would also be a good choice to pair with your favorite pair of earrings. 
Don't be afraid to go (really) big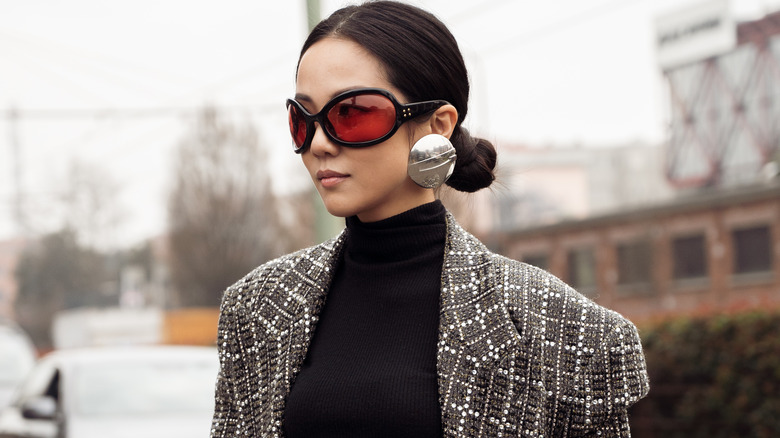 Raimonda Kulikauskiene/Getty Images
Don't be afraid to go really big with your oversized studs. While smaller studs are more classic, huge earrings can really make your look stand out. Huge studs were seen paired with classic outfits and fun sunglasses at 2023 fashion shows, and they're not going away any time soon. Pair the really big earrings with understated outfits and makeup to dress them down a bit, or go big and pair them with an over-the-top outfit that is as big in style as they are in size. 
Add statement earrings to your dressiest looks
Dress up your dressiest looks with your biggest statement earrings. Opt for a classic silver or gold oversized stud to dress up a dress fit for the ballroom or a fancy dinner. Pull your hair back to really show off your earrings and finish the look with matching shoes. 
Instagram user @flaviastuttgen paired hers with an all-white outfit, matching her gold bracelets and rings to big, oversized stud earrings to bring it all together. 
Pair them with a bold makeup look
Pair your favorite statement earrings with a bold makeup look. Go for something like a smoky eye or an overlined lip. 
Makeup artist and educator Ash K Holm pulled off a bold, monochromatic look on "Pretty Little Liars" actress Shay Mitchell ahead of the 2023 Oscars, sharing it on Instagram. The look is accented by gold oversized earrings that almost match the shimmery look on Mitchell's eyelids and is complemented by the shine in her lips. 
Pair your statement earrings with a denim-on-denim outfit
Pair your favorite denim-on-denim outfit with some big stud earrings to make it more glam. Instagram user @mias.in.action accessorized a fringe denim jacket with jeans and a denim bucket hat with oversized earrings that matched her sunglasses for a decidedly '90s-inspired look. 
You could also grab your favorite denim vest and pair it with some oversized earrings, like Instagram user @taylorgrace. Match the vest to your jeans and accessorize with a bag, rings, watch, and statement earrings to bring the look together.  
Go for pearl earrings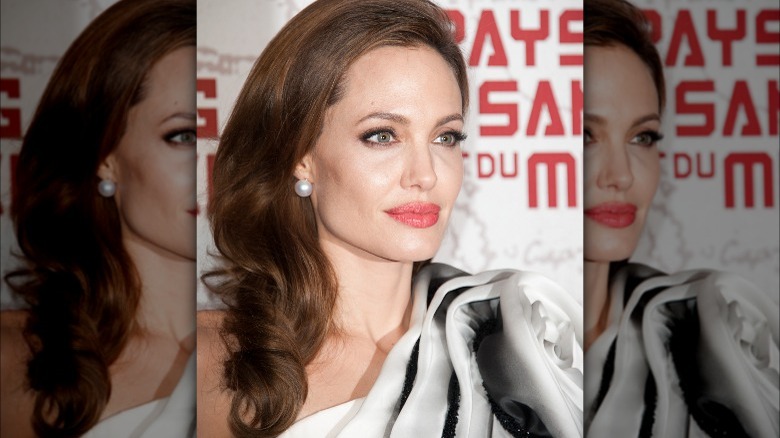 Francois Durand/Getty Images
Like with oversized diamond studs, you can opt to wear oversized pearl studs instead of the traditional, smaller size. 
Channel your inner Angelina Jolie or classic movie star, and pick a pair of super oversized pearl earrings to remix another timeless, classic style into a more on-trend style. Feel free to pair the earrings with a matching necklace for a sophisticated look, or keep your neck bare and make your earrings the only statement piece of your outfit.