Kate Middleton Strays From The Typical Green Look Expected For St. Patrick's Day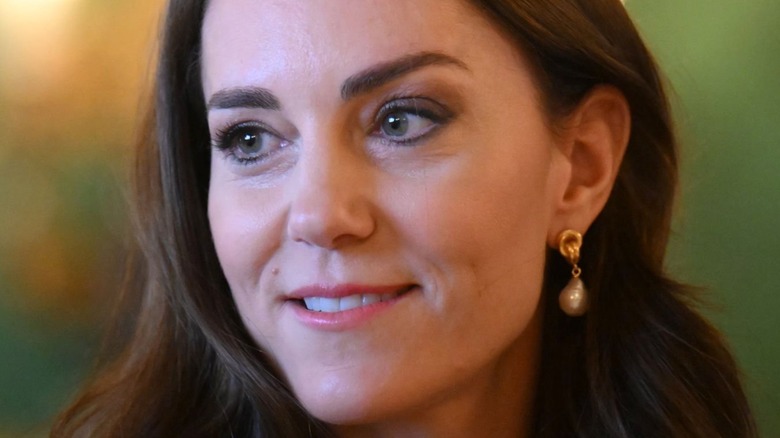 Midary/Shutterstock
Since 2012, Catherine, Princess of Wales, has participated in St. Patrick's Day festivities in the U.K. Following in the footsteps of the Queen Mother and Princess Anne, Kate continued the royal tradition of honoring the Irish Guards by distributing shamrocks for good luck. While her outfits have changed over the years, one accessory endures — a gold Cartier shamrock pin. The shamrock's leaves are made of textured god, and it's adorned with an emerald in the center. The brooch belongs to the Irish Guards, and each year they've lent the piece to the royal bestowing shamrocks.
Typically, Kate has attended this event wearing shades of pine and emerald green. Since it matches her eyes, green is a go-to color for the princess, even when it's not St. Patrick's Day. "Wearing colors that are innate to your coloring will make you appear graceful, fresh and elevated — Kate wearing her eye colors make her look effortlessly elegant, glowing and refined," color specialist Gabriella Winters explained to Hello! 
To complement her outfit, Kate's hats and fascinators have ranged from green to more neutral shades like black or brown. In 2015, Kate strayed from tradition and opted for an all-brown ensemble, combining the hat she first wore in 2012 with a brown coat. That year she was pregnant with Princess Charlotte, and it was believed she chose comfort over tradition. Once again, Kate has departed from traditional green, this time as a nod to one of her new royal duties.
Kate wore teal to match the Irish Guards' feathered plume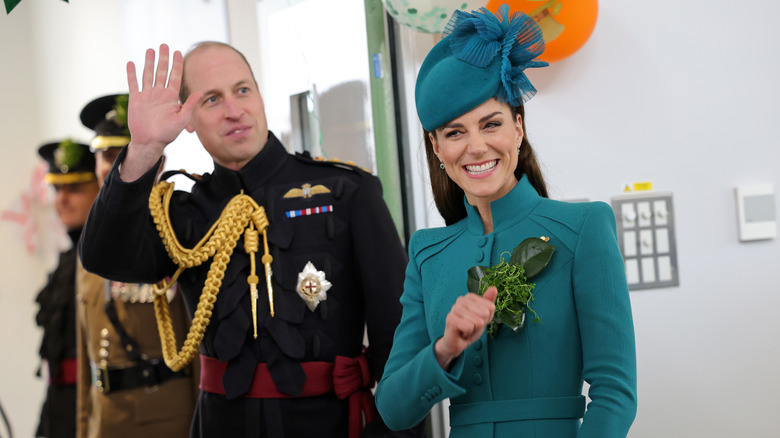 Chris Jackson/Getty Images
For St. Patrick's Day 2023, Catherine, Princess of Wales, dazzled in a teal coat custom-made by Catherine Walker & Co. The slim-fitting coat dress featured defined shoulders, along with a straight skirt and belted waist. The vibrant shade was chosen to match the feathered plume the Irish Guards wear in their bearskin headgear, a color known as St. Patrick's blue. Her striking fascinator and pumps were an identical shade, and she accessorized with emerald drop earrings and the Irish Guards' shamrock pin.
In addition to handing out shamrocks, Kate is now the honorary colonel of the Irish Guards, a title that previously belonged to Prince William. Kate took on the role in December when King Charles gave the position to her. He then made William honorary colonel of the Welsh Guard since he's now Prince of Wales. At the St. Patrick's Day event, William observed (per Mirror), "It has been one of the great honors of my life to hold that title; I'm proud of everything it stands for — just as I'm immensely proud of every single one of you." He then praised his wife, calling her "a committed, focused, and already incredibly loyal 11th colonel."
Kate took her first royal salute as colonel and pledged her commitment to the role (via The Telegraph): "I am here to listen to you, to support you, and to champion you in all you do  this is a responsibility I do not take lightly."