The Royals You'll See In King Charles' Coronation Procession (And The Ones Who'll Be Left Out)
Wpa Pool/Getty Images
King Charles III's coronation is a multi-event, three-day weekend of festivities. The ceremony takes place on the first day — May 6, 2023 — and that event is also subdivided into several parts and two different processions. To begin, in "The King's Procession," King Charles and Queen Camilla will travel by car from Buckingham Palace to Westminster Abbey. 
Next, Charles and Camilla will be crowned at the Abbey in front of approximately 2,000 guests, including many royals. While Queen Elizabeth's ceremony was 3 hours, Charles' coronation service will be significantly shorter. The end of the service will kick off a second, more lavish parade called "The Coronation Procession" as the newly crowned king and queen consort make a celebratory return to Buckingham Palace. Like the ceremony, this procession will be shorter than the 5-mile route that followed Queen Elizabeth's 1953 coronation. Even so, The Times reported that the Palace described the planned procession as "amazing in both scale and splendor."
Charles and Camilla will lead the way, this time riding in the spectacular Gold State Coach. This 4-ton, gilded coach has been the official coronation transportation since 1821. Even with a shorter route, the procession will still take a while since this historic, heavy heirloom travels at the top speed of a person walking. Other royals also will participate in the pageantry, traveling in separate carriages. And according to recent reports, it's a carefully curated list of 15. 
Prince George, Princess Charlotte, and Prince Louis will be among the 15 royals participating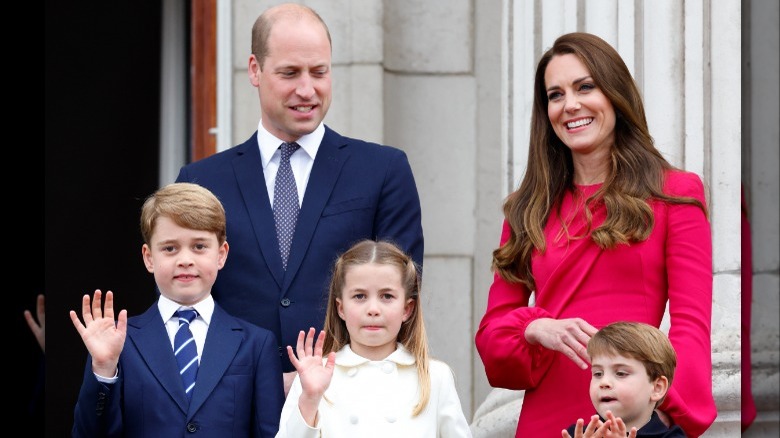 Max Mumby/indigo
As reported by The Times, plans for the May 6 coronation show that William, Prince of Wales and Catherine, Princess of Wales — as well as their three children — will all participate in the king's coronation procession. While Princess Charlotte of Wales and Prince Louis of Wales are projected to watch the service as guests, Prince George of Wales may also have a role during the service itself, provided it meets his parents' requirements of not being too high-pressure for the 9-year-old. 
Princess Anne and her husband, Vice Admiral Sir Tim Laurence, will also be in the parade, along with Prince Edward and his wife Sophie, Duchess of Edinburgh. Besides his siblings and their spouses, King Charles also invited some of his mother's cousins in recognition of their royal service. The Duke of Gloucester, also known as Prince Richard, and his wife, the Duchess of Gloucester, are planning to participate. At age 78, Richard has been a working royal since the early 1970s. Like her husband, the duchess is also a working royal with a diverse portfolio of over 60 patronages.
Prince Edward, Duke of Kent, and his sister, Princess Alexandra, are the final members of the royal group. In addition to their connection to Queen Elizabeth, the siblings are also second cousins to Prince Philip. The 87-year-old duke supports 140+ patronages, including sports and the military. Princess Alexandra, who enjoyed a close friendship with Elizabeth, is particularly devoted to causes related to healthcare. 
Harry and Meghan, along with Prince Andrew and his children, won't be in the parade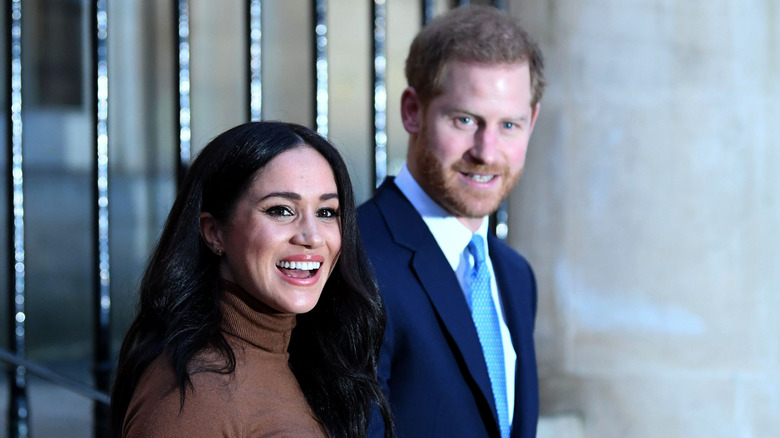 Wpa Pool/Getty Images
In choosing his list of royals participating in the coronation procession, King Charles has relied on a familiar criterion: status as a working royal. This means that Prince Andrew will be the only one of the king's siblings who won't be in the procession. Andrew stepped aside from royal duties in 2019 after being accused of sexual assault (and later settled with his accuser, Virginia Giuffre, per New York Magazine). Even his attendance at the service presents a special challenge for the king since Andrew lost his royal titles in early 2022.
Like their father, Princess Beatrice and Princess Eugenie won't be involved in the coronation procession, either, since they aren't working for the Firm. Back in 2016, the Daily Mail reported that while Beatrice was interested in pursuing a royal job, Charles was already working toward a slimmed-down monarchy with fewer working royals. In addition, since they stepped down as working royals in 2020, Prince Harry and Meghan Markle, Duke and Duchess of Sussex, won't be in the procession, even if they do decide to attend the service. In accordance with this precept, the Sussexes also weren't part of the balcony group at Queen Elizabeth's 2022 Platinum Jubilee.
Of the adults participating, the only exception to this working-royals-only rule is Princess Anne's husband, Vice Admiral Sir Tim Laurence. However, Laurence could be described as an unofficial working royal since the Court Circular notes that he "accompanied" his hardworking wife on her numerous royal appearances (per the Daily Express).