Almond-Shaped Nails May Be The Most Elegant Choice For A Bridal Manicure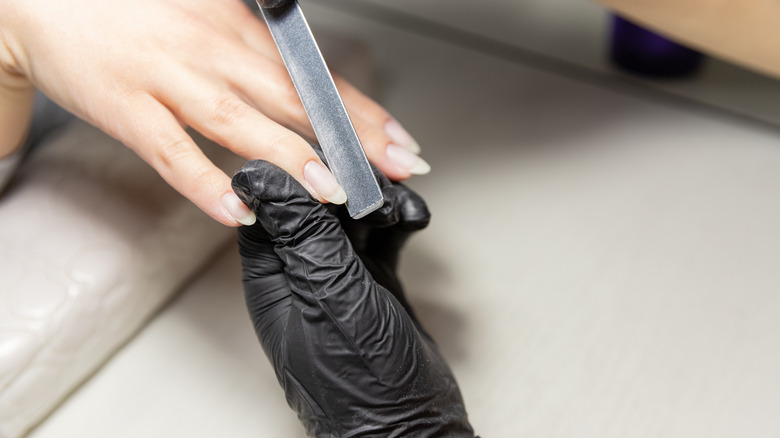 Haurashko Kseniya/Shutterstock
You've got the perfect dress. You have your hairstyle and makeup planned out and tested, and now, it's time to choose what you want your nails to look like on your big day. The rest of your look will be flawless, so you'll want to make sure your nails are just as perfect. With that said, almond-shaped nails are considered the perfect bridal nail shape because the shape prevents chipping by having the sides of the nail filed down. In other words, there's no opportunity for chipping at the corners, as there would be in a square-styled manicure. Plus, some may find it's aesthetically pleasing. 
Celebrity manicurist Deborah Lippman tells Harper's Bazaar her thoughts on the nail shape, "The chicest nail shape in the fashion world. Sexy, slenderizing, and strong is how I would describe an almond nail shape." So, if you're looking to feel sexy and elegant on your wedding day, almond-shaped nails might just be the way to go. 
Almond-shaped nails are the perfect shape for your big day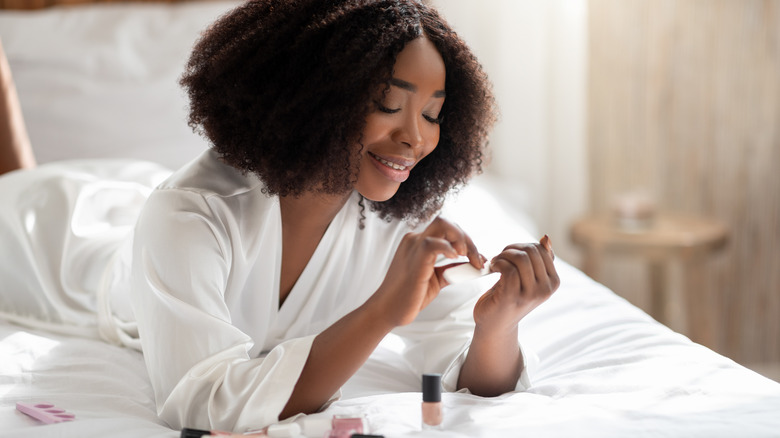 Prostock-studio/Getty Images
There are pros and cons to any nail shape, especially for an event that will be heavily photographed, such as your wedding day likely will be. Because of that, you want a manicure that's going to look timeless but isn't distracting from the rest of your look. Sophie Harris-Greensdale tells Harper's Bazaar, "Aim for medium-length almond-shaped nails, which look elegant and elongate the fingers." 
When you go to your nail artist for your bridal manicure, make sure to bring in plenty of pictures of what you want your manicure to look like so your stylist knows exactly what you want. If you don't want to go into the salon, you can also give yourself the perfect at-home manicure in the days leading up to your wedding day. If you choose to file your almond-shaped bridal nails, make sure not to file them down too much at the edges. It could make the nail weaker and more prone to chipping (via Women's Health). 
Dress up your almond-shaped nails or keep them neutral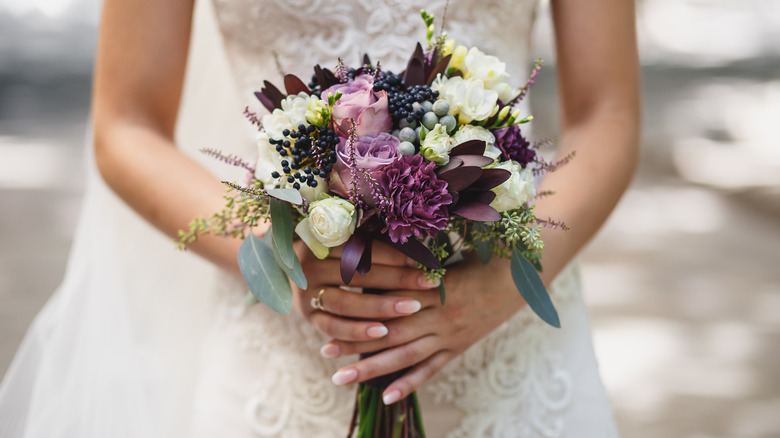 Olya94/Shutterstock
The great thing about different types of manicures is that you can really customize the entire look. You can choose different shapes, different types of manicures, and different finishes to get a completely unique manicure. The experts at Wedding Forward suggest sticking to a nude polish if you're looking for an elegant look. Plus, if you're headed on your honeymoon right after your wedding, a nude shade won't clash with any of your vacation outfits no matter the color.
You could also choose to go for a French-tip manicure or something more trendy, like the glazed vanilla French manicure, which delivers a mix of the classic French manicure and the viral glazed donut nails. Regardless of which style you choose, be prepared for any nail emergencies on your wedding day. Carry a kit that includes nail glue, a polish that matches the color of your manicure, and cuticle cutters.