Prince Harry's Coronation Request For Archie Is Sparking Backlash From Royal Fans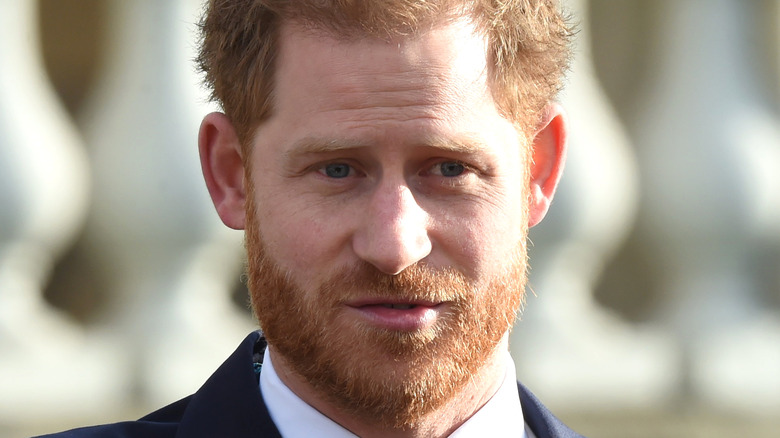 Wpa Pool/Getty Images
As the coronation for King Charles III approaches, rumors have been swirling about whether or not his son, Prince Harry, Duke of Sussex, and daughter-in-law Meghan Markle, Duchess of Sussex, will be included in the guest list. However, a representative for the couple confirmed that they did get an invitation, though they seem to still be undecided about attending the event.
"An immediate decision on whether the Duke and Duchess will attend will not be disclosed by us at this time," their spokesperson shared with Britain's Sunday Times of London (via Deadline). However, new requests from the Sussexes regarding their attendance at the big event have put even more question marks around the possibility that they will show up.
It appears that the pair are open to attending, so long as Charles takes into consideration one request surrounding his grandson, Archie, on the day of the coronation. According to the Daily Mail, a source said the royals are preparing for the couple's possible absence.
The parents reportedly want to see Archie celebrated during the coronation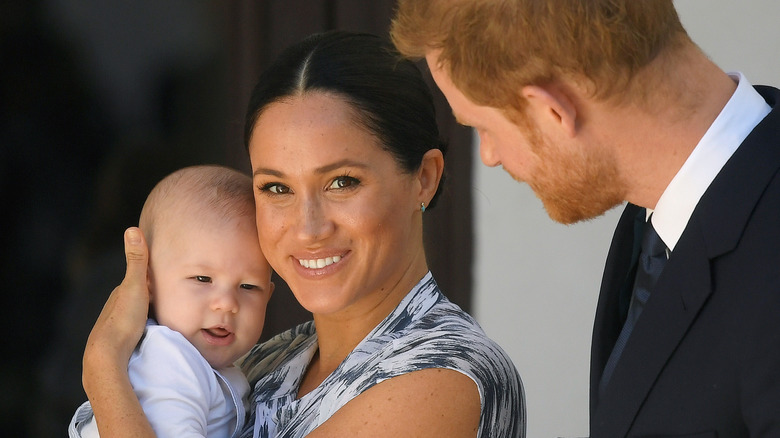 Pool/Getty Images
It's no secret that the relationship between Prince Harry, Duke of Sussex, and his royal family members is strained. Following his and his wife, Meghan Markle, Duchess of Sussex's choice to step away from their royal duties — and the public interviews they've given that have shown the brood in a negative light — there's a chance the couple may choose to skip King Charles III's coronation.
One way to ensure the pair will be there is by creating a special moment for their son, Archie, whose birthday falls on the May 6 coronation date, an OK! source claims (via the Mirror). The insider explained, "The Sussexes have asked for some kind of celebration or acknowledgement to be factored into the day's plans to ensure that [Archie's] fourth birthday won't get lost during the momentous day." However, naysayers find this a bit ridiculous, as Harry was busy for part of his son's third birthday the year prior. One Twitter user said about a headline, "Last year Harry played polo on Archie's birthday. Suddenly Archie's birthday is that big [of a] deal for them now?"
Though some found their request hypocritical, others thought the polo game didn't matter, as Harry still celebrated his son's birthday with him. "And? He played polo for a few hours for charity, a couple of miles from home. Are you trying to say parents can't go to work or run to the grocery store on their kid's birthday? Good grief. That's a whole lot different than being on another continent," one person tweeted in response to a headline about the drama.
Will Archie and Lilibet attend?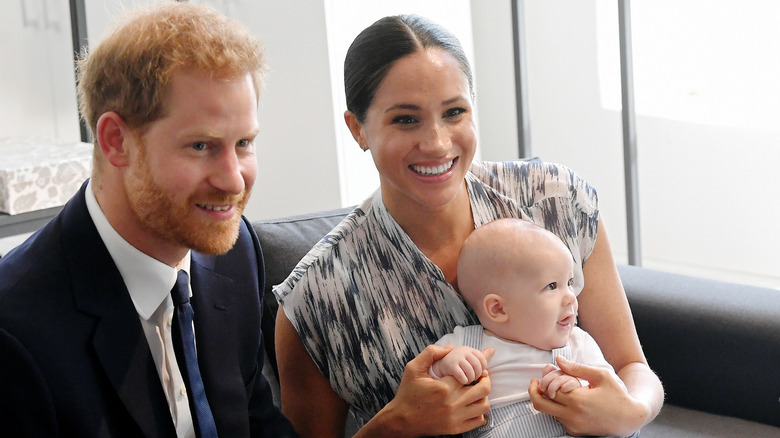 Pool/Getty Images
Aside from a potential birthday celebration, how prominently the Sussex's children will be featured during the ceremony is still up in the air. It's been reported that Archie and Lilibet's role in King Charles' coronation depends on their parents. William, Prince of Wales and Catherine, Princess of Wales' children, Prince George of Wales, Princess Charlotte of Wales, and Prince Louis of Wales are all confirmed to be included in the coronation procession. They will be accompanying King Charles and Queen Camilla following the ceremony, with George possibly even taking on a larger role. Yet, Archie and Lilibet reportedly weren't even invited until it was requested by their parents. 
Author and royal historian, Dr. Tessa Dunlop told True Royalty TV's "The Royal Beat," "If you look at the footage of the 1953 Coronation, who was very prominent, albeit briefly? Prince Charles. He was four. Archie on his fourth birthday is definitely not too young to attend the coronation. And if you want Meghan [Markle] there, you need to invite her son" (via Daily Record). Assuming that Archie and Lilibet do attend their grandfather's big day, whether or not they'll have the same front-and-center position as their cousins remains to be seen. Ultimately, no matter what decision is made regarding the roles of the Duke and Duchess of Sussex and their children at the coronation, it's sure to be one that the history books won't soon forget.