Royal Family Reportedly Prepping For A Possible Coronation Without Harry And Meghan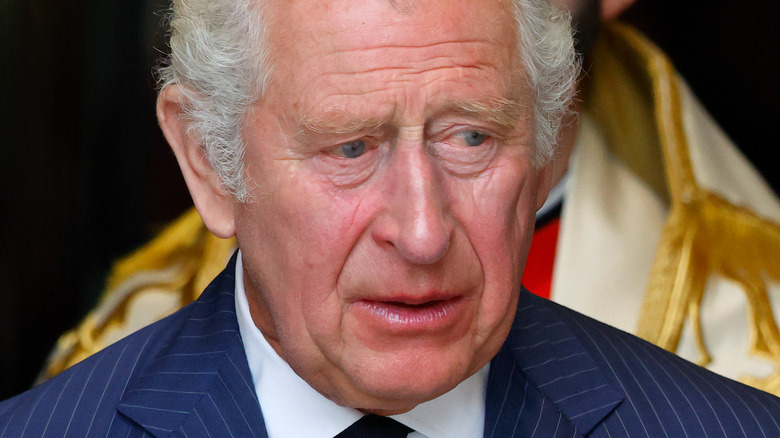 Max Mumby/indigo/Getty Images
With less than two months left until the historic occasion, more and more details of King Charles III's coronation are being confirmed. The bad blood between the Duke and Duchess of Sussex and the rest of the royals has sparked its fair share of questions. Yet, one particularly glaring question is how it will influence the upcoming coronation. Some believe that a King Charles and Prince Harry reconciliation is essential to the monarchy, but regardless of what this means for the future, the feud is sure to have an effect on the celebration where Charles will officially be crowned king. 
There have reportedly been "tense" negotiations between Harry and Charles to try to come to an agreement about whether or not the couple will attend (via Mint). While the Sussexes reportedly have demands that they wish to have met before agreeing to take part in the ceremony, the senior royals are said to want to come to an agreement as soon as possible in order to move forward with plans and put the drama behind them. In the meantime, however, the planning for the big day is still underway, and the question of whether Harry and Meghan will be there must be worked around.
The Sussexes cause plans to be put on hold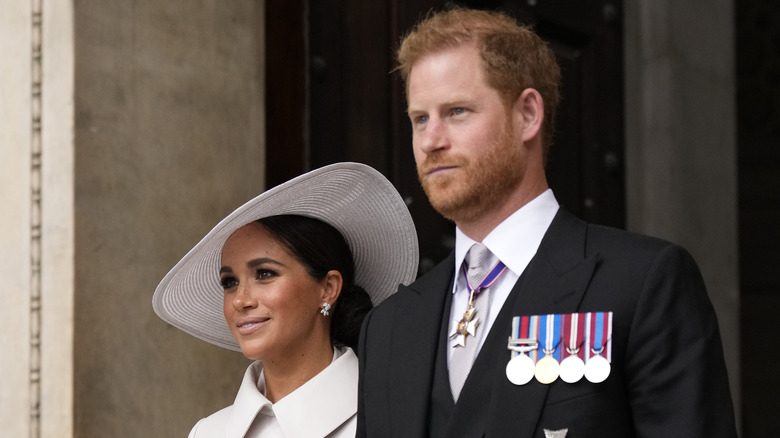 Wpa Pool/Getty Images
A source told the Daily Mail that there is a schedule in the works for the coronation, saying, "Timings are all approximate at this stage, but they are working towards a timetable now." Still, the plans are being held up by one important factor. "Two versions of the plans [for the day] are being drawn up. One includes Harry and Meghan and one doesn't," the source explained. 
According to the current plans, William, Prince of Wales, and Catherine, Princess of Wales, along with their children, Prince George, Princess Charlotte, and Prince Louis, will all be part of the post-ceremony procession from Westminster Abbey to Buckingham Palace. This is the plan despite the fact that Prince George's coronation role is reportedly causing a royal rift. The family members who are next in line for the throne will travel behind them, but until Prince Harry and Meghan Markle make a decision about whether to attend, their role is up in the air. The role of their children, Prince Archie and Lilibet, in King Charles' coronation also depends on their parents. 
While the senior royals may want to put the infamous falling-out behind them, it's important that they plan for the worst as they continue to put the day's schedule in place. While some parts of the royal family's bad press are out of King Charles' control, the coronation must go off without a hitch regardless of whether or not everyone chooses to attend.