Wet Or Dry Haircuts: What's Better For Your Hair?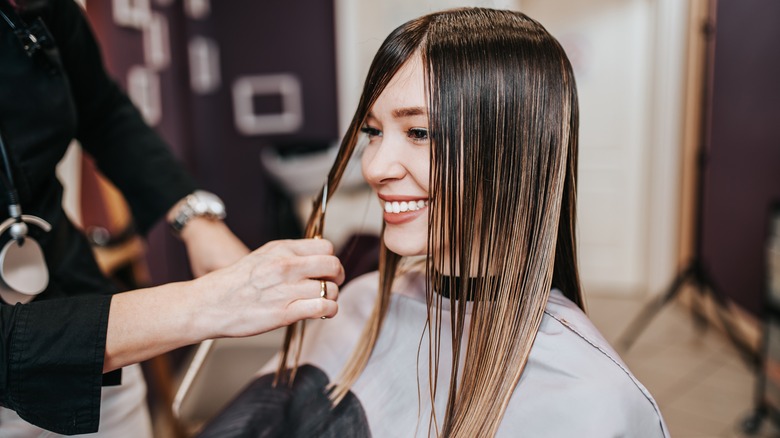 hedgehog94/Shutterstock
Anyone who has ever cut their hair at home has wondered whether they should wet their hair or keep it dry. That can be especially true about trimming bangs. Unfortunately, too many of us can remember a time when we cut our bangs while wet and then watched them shrivel way up our foreheads as they dried.
At the salon, haircuts usually come after a thorough shampooing and conditioning unless you specifically request that your hair not be washed. In those instances, the hairstylist often spray water from a water bottle to wet the hair.
The truth is that wet and dry haircuts have their own positive features, though they also have their own set of cons, too. Depending on what style you're looking for, you can decide what's best for you. However, your natural hair texture is also a deciding factor.
When to get a wet haircut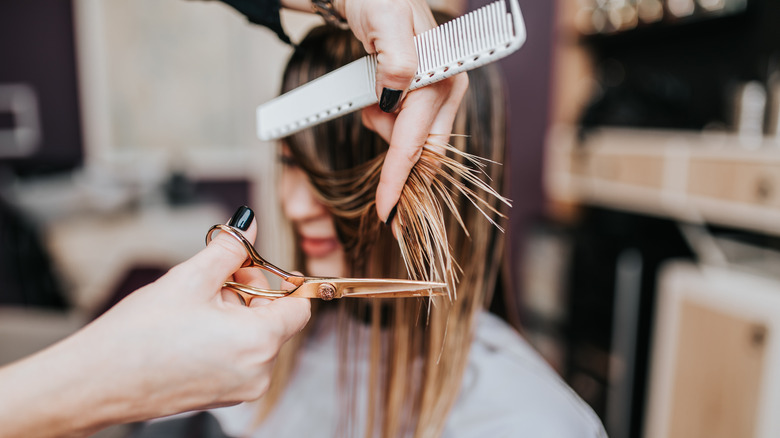 hedgehog94/Shutterstock
Cutting hair when wet is all about accuracy. During wet haircuts, stylists section off specific strands and painstakingly cut each small area with careful precision. The final result can be a wonderful cut in which hair is exact and falls into a beautiful style and formation.
This is especially true if you have straight and fine hair, as per L'Oréal Paris. Straight hair, especially when thin and fine, doesn't tend to change much when it dries. Having your hair cut wet is ideal when you want a look with distinct lines, such as when getting a bob cut or very straight bangs. Wet haircuts are also better for those with straight hair if you plan to cut your own hair at home since it is easier to cut accurately.
However, wet cuts may not be the best for those with thick, curly, or wavy hair simply because those types of hair textures will look very different when they dry.
Dry cuts work better on thick and curly hair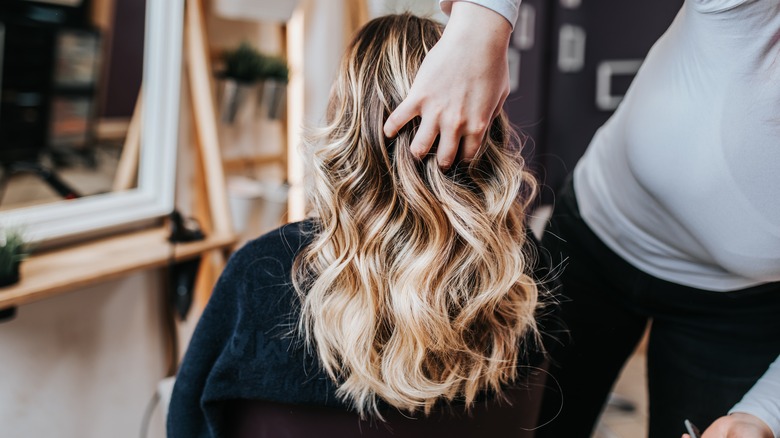 hedgehog94/Shutterstock
Hair stretches considerably when wet, giving an altered sense of its final length and depth. Knowing how the hair will fall when dry is helpful, which can be easily achieved in a dry haircut. "Since the hair is in its natural state, it is essentially its most truthful," stylist Pepper Pastor tells Hair.com. "You can really see the movement and how the hair actually lays day-to-day."
Dry haircuts are optimal for hair that is thick and curly or modern shag cuts. Then you can see how each curl falls in line with each cut. However, some stylists still prefer to cut hair when wet, but if you want to make sure your final version will look the way you want it, you can ask them to do the initial cut wet but then trim it up when dry.
"I highly recommend cutting hair both wet and dry every time. I love trimming hair and shaping when they just sit in the chair, and the hair is styled or air dried as they wear it every day," says Pastor. After I shampoo and treat it, I cut the hair again wet, then I check everything for balance and further details after their blowout."