The Modern Shag Is Undoubtedly The Haircut Of The Moment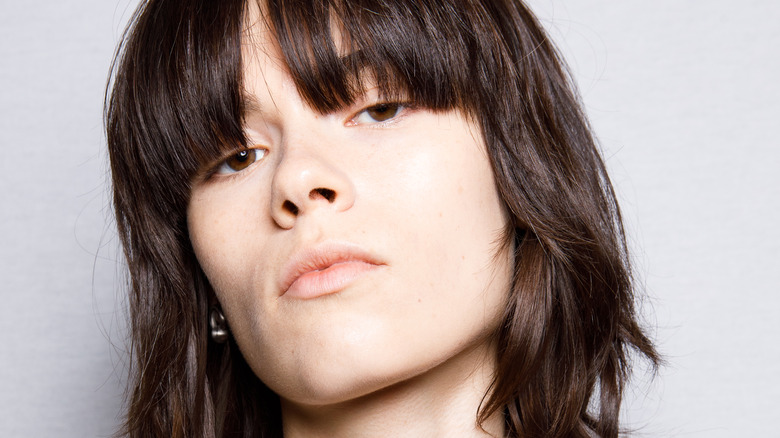 Rosdiana Ciaravolo/Getty Images
When the mullet resurfaced — thank you Miley Cyrus — we knew the '80s were back in a big way. As is the natural course of things, we dug even deeper into the past to revive the mullet's '70s cousin, the shag. Shane from "The L Word" rocked it in 2004, per Jezebel, and again in the series' 2019 reboot, "Generation Q," per SHOWTIME. Well, culture is finally catching up. Cyrus herself transitioned her growing mullet to a shag, mostly by keeping the sides fringed and letting her bangs curl, per NYLON.
What exactly defines a shag haircut? Allure makes it clear that the shag is an extremely adaptable style — one that lends itself to any length of hair or texture, as long as it's got lots of layers and frames the face. Stylist Andy Judd explained, "As a whole, a shag is cut by pulling everything forward with a more dramatic contrast of layering [rather] than the average long layers." A razor cut is the stylist's ideal tool for sculpting shags, which also comes in handy for razor-cut bangs, per Allure.
The shag's immortal rocker chic energy, along with its styling flexibility, may be the perfect choice to usher in your next style transformation.
The cut's cool versatility is its strength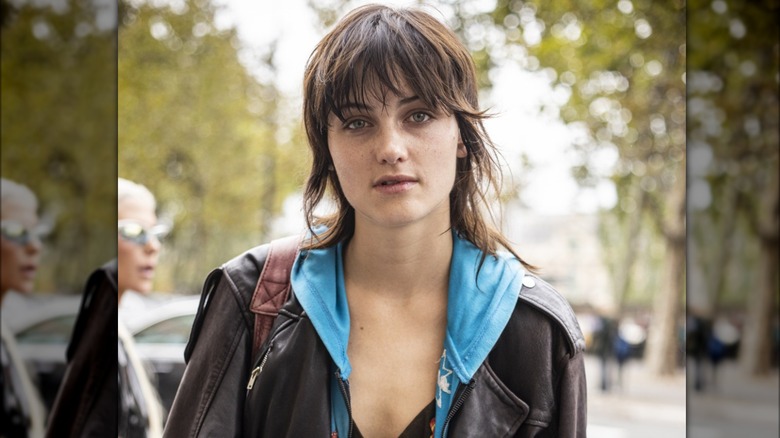 Claudio Lavenia/Getty Images
Hair trends change constantly, but Miley Cyrus has rocked her hair's mid-length transitions. Starting from her mullet, grown out to a wolf cut, then shaped up into a shag, Cyrus most recently debuted her post-mullet lob, going for a '90s grunge look with black lowlights under her blonde hair, per Glamour. If you haven't heard about the wolf cut, it's pretty much the transition between a mullet and shag. 
My Imperfect Life credited TikTok for popularizing the wolf cut as an offshoot of the mullet's '80s influence combined with curtain bangs.
To see just how much range is possible with a shag haircut, Allure turned to hairstylists across the country who are perfecting their own takes on the '70s style. Holly Seidel, whose Instagram bio calls her a razor specialist and educator, is teaching others just how to get the perfect look through her shag class.
Seidel's fashion-forward Instagram all but confirms that feathery '70s looks are back, plus a new style she calls a romantic mullet. She's cut pretty much every iteration of the shag look we could conceive of: the short shag, the bob shag, shags for long curly hair, and shaggy mullets. Seidel's own rock and roll bob, courtesy of Jenny Vatter, also has some shag-esque energy.
Though we'll probably always be a few steps behind Miley Cyrus' culture-making hairstyles, we can definitely attain the shag — in all of its low-maintenance, roll-out-of-bed cool.