Prince Harry And Prince Andrew May Look The Part Of Royal Family Black Sheep At King's Coronation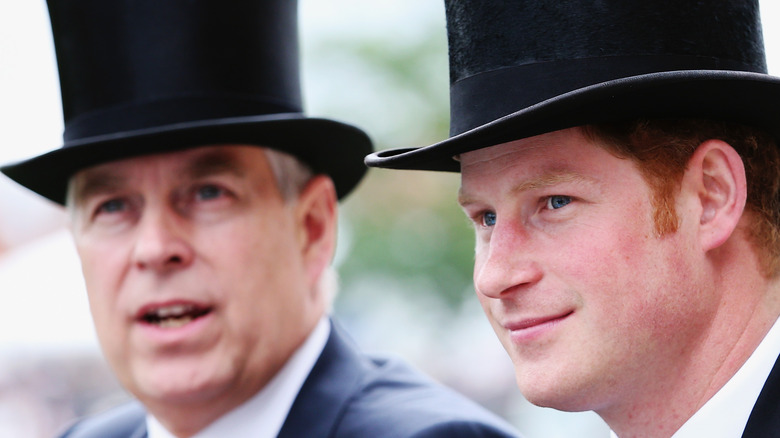 Chris Jackson/Getty Images
As the "one month remaining" mark to King Charles III's coronation draws near, plans for the major event are  being finalized. While the royal family has reportedly been prepping for a possible coronation without Prince Harry and Meghan Markle, they're also getting ready for an event that does include the Duke and Duchess of Sussex, since they seemingly have yet to RSVP "yes" or "no." The absence of his son and grandchildren at Charles' coronation might make an unpleasant statement, but it's likely that their attendance could be equally disruptive. 
While Harry and Meghan's presence or lack thereof is sure to be a focus on the big day, the king's brother, Prince Andrew being in attendance will also likely cause a bit of drama. King Charles is reportedly considering special coronation rules for Andrew, as Andrew's sexual assault allegations have cost him his working royal status as well as his military honors. Andrew is allegedly far from pleased about the way he's being treated by the senior royals. In fact, he's reportedly feeling inspired by Prince Harry to tell his side of the story in a tell-all book. These two royal "spares" have attracted enough attention in their personal lives as of late to make the entire coronation about them simply by showing up. 
The former senior royals will reportedly stand out on the big day, and not just because they're now the black sheep of the family.
Why Prince Harry and Prince Andrew's coronation attire will make them stand out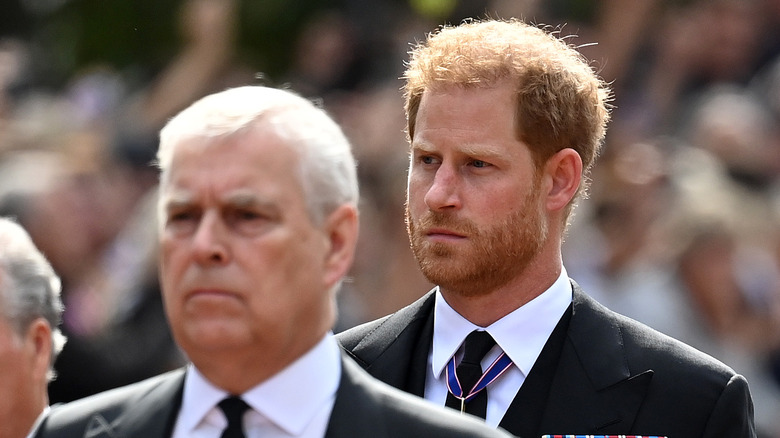 Kate Green/Getty Images
It's clear that in the eyes of the senior royals, both Prince Harry and Prince Andrew are the black sheep of their famous family these days. This isn't exactly a surprise to the public, yet it may be surprising how out of place they'll likely look at the coronation. Despite their family ties, since Harry and Andrew aren't working members of the royal family, they're not permitted to wear the royal regalia that indicates their specific British orders of knighthood. This consists of velvet robes and a type of crown called a coronet, and the working royals will be expected to don this attire. Harry and Andrew, on the other hand, will be barred from wearing the royal regalia and, instead, will wear suits, just as they did for Queen Elizabeth II's funeral.
While this may seem trivial to those of us who aren't royalty, royal historian Dr. Tessa Dunlop told the Mirror that this wardrobe distinction is actually very important. "In our changed times with a father-King who wants both his sons by his side, expect to see Harry there but minus a coronet and robe," she explained. "Like it or not this state occasion is all about royal hierarchy. Visual messaging through both costume and carriage will remind us who the future King and Queen are." 
Consequently, if anyone forgets where every royal family member stands, the visuals on coronation day will remind us.