Fashion Trends That Came Straight From The Royal Family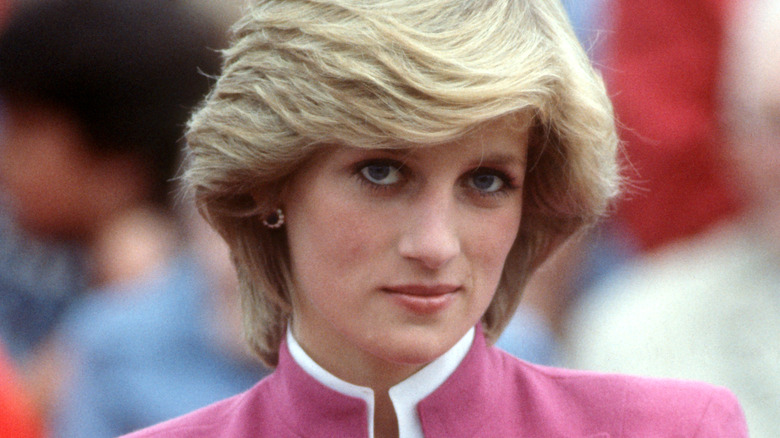 Anwar Hussein/Getty Images
The House of Windsor has been in power for over a hundred years. With the help of social media, paparazzi, and televised events, the world has been able to keep tabs on who's who in the royal family, gossip-worthy moments, and the family's modern-day influences with ease. It seems everyone wants to know how the royal family lives, from parenting to cooking, from relationships to their favorite outfits.
It's easy to point out how quickly Meghan Markle and Princess Catherine have become fashion icons, bringing about the "Meghan Effect" and "Kate Effect" seemingly overnight. They've shown off their royal fashion hacks and even conveyed hidden meanings with their outfits. However, many members of the royal family have actually been leaders in the fashion world for years, well before today's dukes and duchesses. The impact the royals have had on fashion spans back hundreds of years, maintaining a foothold on many of today's looks — some of which we'd bet you probably have in your wardrobe right now.
With so many icons within the royal family, and given their massive influence on today's British culture, it's crystal clear as to why we're rocking some of their styles. From Queen Victoria's shoes to little Prince George's ensembles, here are the fashion trends that came straight from the royal family.
Prince George's cord short and shirt set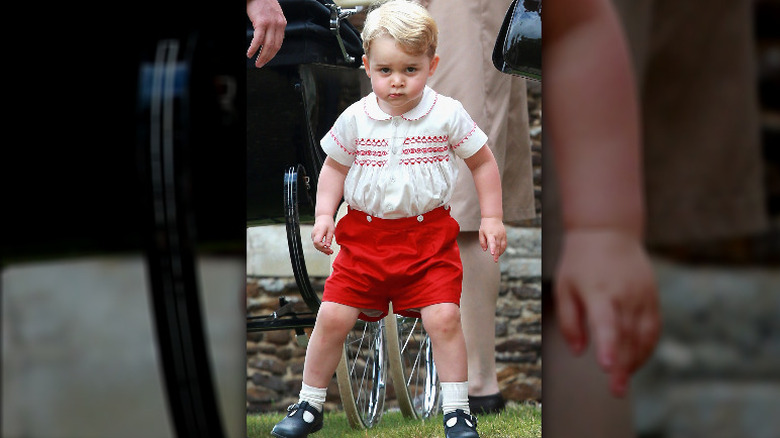 Chris Jackson/Getty Images
Catherine, Princess of Wales, is known for her iconic outfits and polished looks, and she spares no detail when it comes to her children's outfits, either. Prince Louis, Princess Charlotte, and Prince George have turned heads when it comes to the adorable, traditional outfits their mother adorns them in, but it's the youngest who has launched a fashion trend that parents can't get enough of.
Prince George has been spotted several times wearing a cord short and shirt set. Princess Catherine seems to primarily lean into one fashion designer's short and shirt set in particular: Rachel Riley's. The look Prince George has most often been seen sporting is a collared, short-sleeve shirt, shorts, and smart but kid-friendly shoes. Speaking with Hello, Riley said, "It's very common these days to see children running around in smocked outfits and classic styles, and I would attribute this renaissance to Prince George and in particular his mother's choices when it came to what she dressed him in when he was little."
Riley added that the best part of seeing the royal children wearing her designs was that it "kick-started a revival in traditional children's wear." The royal children have proven their influence, and Princess Catherine has again shown her knack for dressing well, as Rachel Riley's children's wear sells out quickly when the princes and princesses are seen wearing the looks.
Queen Elizabeth II's color blocking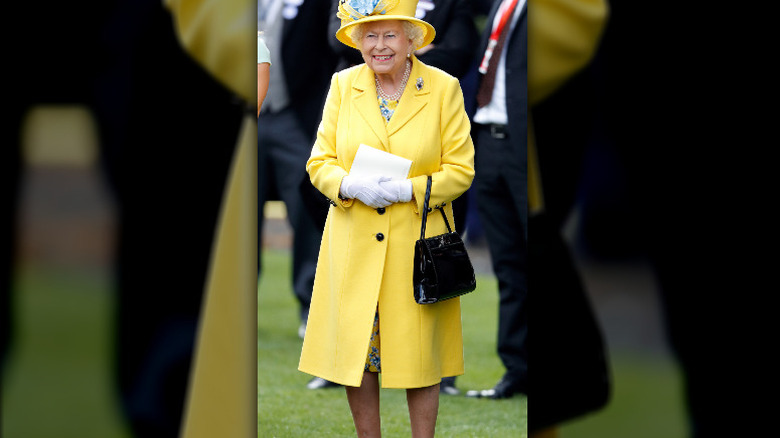 Max Mumby/indigo
With decades in the spotlight as an adored public figure, it would be shocking if Queen Elizabeth II didn't leave her mark on fashion. One of the looks she became most known for was her bright color blocking, using dresses, skirts, hats, and long coats. She would also match her outfits to an array of colorful umbrellas, which the English weather called for frequently.
In speaking with Today, royal expert Daisy McAndrew explained the reason for the queen taking on this trend. She said, "She's quite small — so sometimes just quite difficult to spot — so her dressers ... decided some years ago that it would be helpful if she was brightly colored so that people could spot her easily." McAndrew also confirmed that Queen Elizabeth had a famous motto: "You have to be seen to be believed."
The queen has worn every color of the rainbow, and her only accessories that weren't colorful were her shoes and purses, which were always black or white. This color-blocking trend has gained traction and became a prominent theme in high fashion in 2022, with designers like Christian Siriano and Anna Sui showcasing their color-blocked designs on the runway. Although the queen has sadly now passed, her mark on today's fashion can be seen everywhere.
Meghan Markle's power coat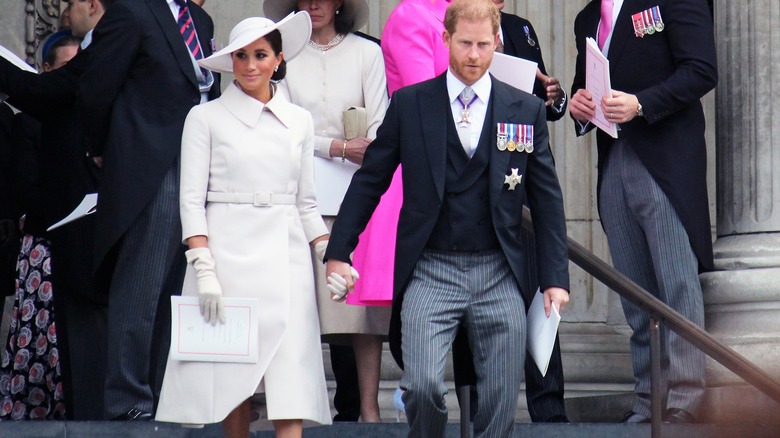 Lorna Roberts/Shutterstock
Some of Meghan Markle's best fashion moments have created what's known as the "Meghan Effect," which is something we saw when Diana was considered a reigning fashion icon in the '80s and '90s, dubbed the "Diana Effect." Elly Summers, a curator at Fashion Museum Bath, told the BBC, "People have always wanted to have the dresses worn by royalty but ... now it's more immediate, it is straight to the high street."
Meghan's impact on fashion has been evident, most notably in her power coats. Whether sporting a midi dress, wide-legged trousers, or a classic blouse and skirt combo, Meghan is sure to pair her outfits with one of these flattering statement pieces. Her power coats have ranged from double-breasted to wraps, ensuring her wardrobe is always warm, chic, and weather-appropriate.
Celebrities everywhere have been copying the look, proving that the power coat trend has truly caught on. In 2018, Mindy Kaling was photographed wearing a long, patterned coat worn over a mid-length dress. She shared the photo on Facebook with the caption, "Learning from the Meghan Markle power coat." Other famous faces, like Heidi Klum, Reese Witherspoon, and Danai Gurira, added a white power coat to their wardrobes. This happened right after "The Meghan" coat by Line the Label was worn by Meghan during her engagement announcement to Prince Harry, launching the trend into the spotlight.
Princess Catherine's athleisure style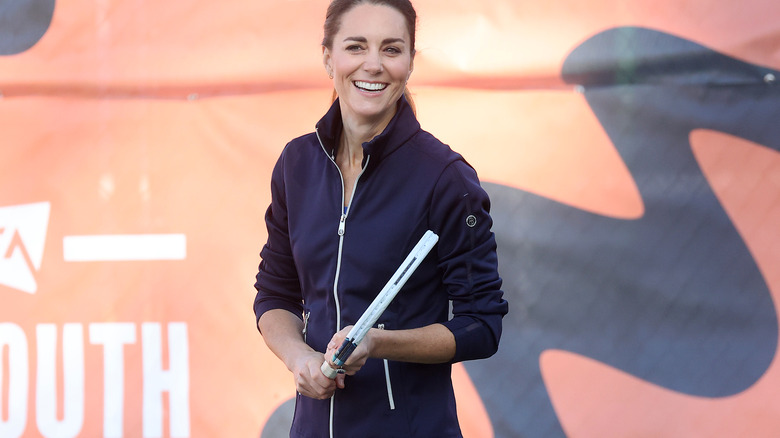 Chris Jackson/Getty Images
The Princess of Wales knows how to put an outfit together, whether she's attending a royal function or breaking a sweat on the tennis court. In 2015, the "Kate Effect" brought the UK economy an estimated $205 million, as fans everywhere shopped her looks (per Insider). She's also become a relatable fashion icon, as Princess Catherine has been known to wear affordable ensembles, including many of her athleisure looks that have skyrocketed in popularity.
The princess has visited many sports teams, charities, and outdoorsy areas over the years, along with Prince William, where they've played tennis, field hockey, and soccer. Catherine has also been seen sailing, skiing, and land yacht racing, somehow managing to always look chic and polished, even in action. Whether she's rocking leggings, polo shirts, track jackets, or tennis shoes, Catherine brings attention to brands like Asics, Lululemon, and Nike, and demonstrates that these brands are now considered to be royalty-approved.
This athleisure trend has caught on, giving Catherine another notch on her belt while portraying a laid-back persona for the public. Meghan Markle, Kylie Jenner, and Taylor Swift have also picked up and run with the style, just to name a few.
Queen Elizabeth II's Launer London handbags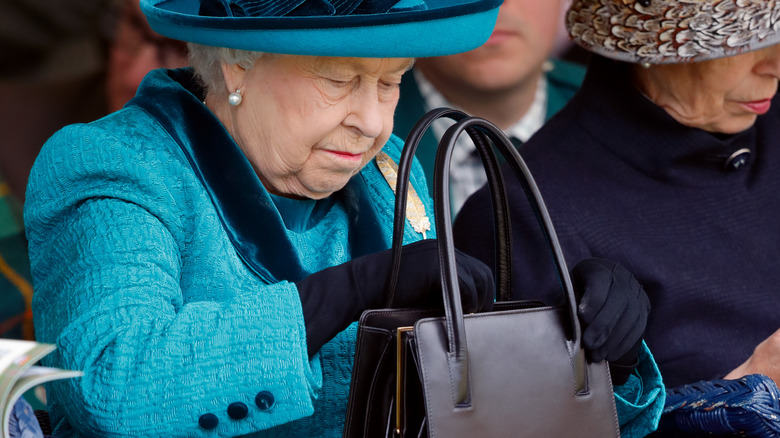 Max Mumby/indigo/Getty Images
The queen was a fan of larger handbags with top handles for decades, but it wouldn't be until the '70s that she fully embraced Launer London's handbags as her fashion staple. Queen Elizabeth II and her mother used to buy their handbags from Rayne, an English shoe manufacturer, which also sold products made by Launer. Supposedly, the queen received her very first Launer handbag from the queen mother in the '50s, and from there, she fell in love with the brand.
Gerald Bodmer, CEO of Launer, spoke about the queen to Vogue, saying, "She once told me that she doesn't feel dressed without a bag." With her signature style in place, the queen showed off her black Launer bags on every occasion. Bodmer said, "She had five or 10, maybe 11," and that she would add new bags to her wardrobe once every few years or so, which is already much more than many could afford, with several of the bags costing thousands of pounds a pop. The queen would also get her handbags customized with extra pockets and sometimes request colors based on an outfit she had planned for an event.
While the royal family certainly catapulted Launer, today, the luxury handbag is adored by many familiar faces, like Paloma Faith, Helen Mirren, and Katherine Jenkins.
Princess Diana's revenge dress
When you think of iconic royal fashionistas, Princess Diana is probably the first name that pops into your head — and rightly so. From her power suits to her studded tiara, Princess Diana changed royal fashion forever. So of course the entire world was watching when in 1994, she attended a gala in London at the Serpentine Gallery in a form-fitting, off-the-shoulder LBD dubbed her "revenge dress." She flaunted her figure in the sexy dress on the same day that her ex-husband, King Charles III, admitted in an interview on national television that he had been unfaithful in their marriage.
While some might have shied away from the extra attention that evening, she did exactly the opposite, in the dress that screamed, "I'm better off without you." The media noted that the dress was far from the royal dress code, but then, Princess Diana wasn't one to follow rules blindly. Dawnn Karen, a fashion psychologist, told Glamour, "Revenge dressing can be hugely therapeutic. Princess Diana was breaking the rules with her dress. ... She probably felt so controlled, like she was in a figurative prison, so the dress was a way to break out of that."
Revenge dressing has been prominent in pop culture for some time, but the use of a little black dress to make a point like this may very well stem from Lady Di herself.
Royal women have worn chokers for centuries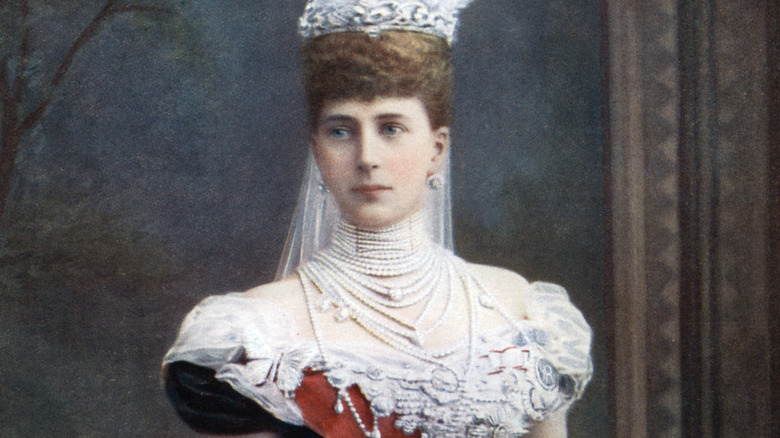 Print Collector/Getty Images
Although the choker necklace actually stems from the times of ancient Egypt, it was the royal family who brought this fashion trend into rotation, as Town & Country reports. From Anne Boleyn, who wore a pearl choker with the letter "B," all the way down to Princess Catherine who still wears a pearl choker today, the style has been prominent in the family from the start.
Back when Queen Victoria reigned, she incorporated a choker into her mourning jewelry, wearing a black velvet necklace embellished with gems. Layering pearl chokers became popular around the time of Queen Alexandra, who wore necklaces to hide a scar from childhood. Queen Mary would take this style even further, wearing upwards of 10 pearl and diamond necklaces on her neck at a time.
In later years, Princess Diana adopted the choker as one of her many staple trends. Queen Elizabeth II wore a pearl choker occasionally as well, which would be passed down to Princess Catherine. While the choker trend hit an all-time high in the '90s as part of grunge fashion, with many adopting a tattoo choker look, it circled around again in the 2010s and '20s with more versatile necklaces. While many accessorize with chokers today, it's clear that the icons who made the trend what it is today were the women of the royal family.
King Charles III's double-breasted jacket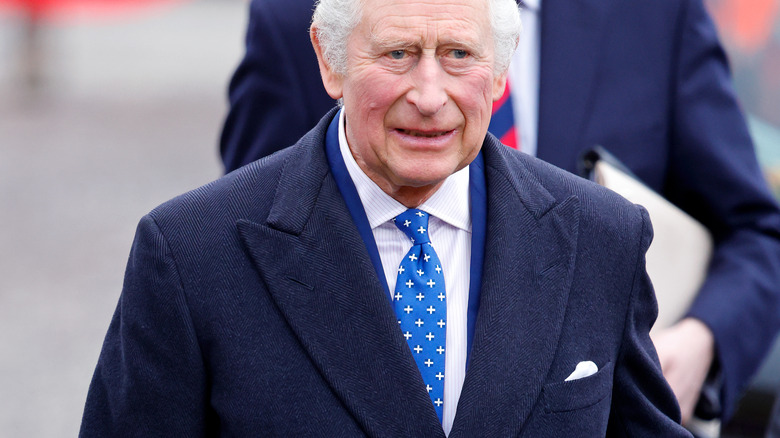 Max Mumby/indigo/Getty Images
In 2018, King Charles III received The Editor's Lifetime Achievement Award for Services to Philanthropy at the GQ Men of the Year Awards. In his acceptance speech, he said, "First of all, I really wanted to apologize for being wrongly dressed ... In fashion terms, I'm like a stopped clock. I'm fashionable once every 25 years" (via GQ). And technically, he isn't wrong, as he's known for a fashion trend that has come, gone, and come back again many times: The double-breasted blazer.
Even in his early days, he was known as a bit of a fashion icon. At one point, the double-breasted blazer was deemed a piece of casual attire, worn for sports. As time has gone on, though, it's become a popular item of clothing for formal occasions, and Charles has been at the forefront of this trend for decades. When he became king in 2022, following the tragic passing of Queen Elizabeth II, double-breasted suits from Prada, Dior, and Louis Vuitton were all over the runways.
Celebrities have been drawing eyes with this look as well, like Taika Waititi, Jake Gyllenhaal, and Kit Harrington. Esquire called Charles "the most powerful brand ambassador for Great British menswear," and given the sudden surge in double-breasted jackets we've seen, it seems like his trend is back in style.
Princess Diana's Gucci bag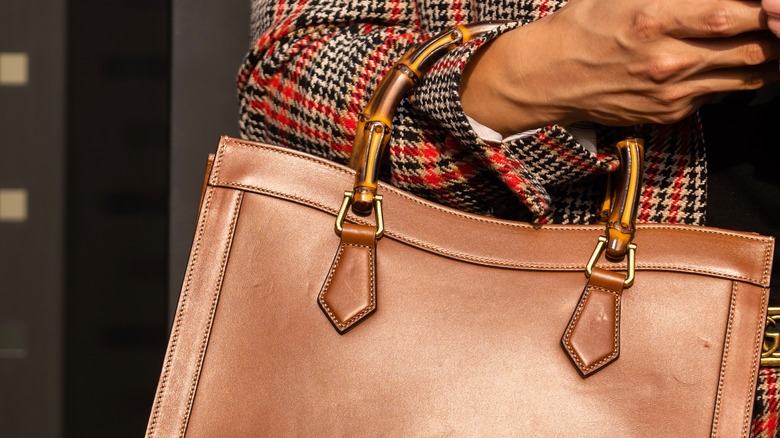 photo-lime/Shutterstock
There was one bag Princess Diana had with her regularly in the '90s, following both her split from the royal family and her rebirth of fashion. The bag in question was a tan tote from Gucci that featured bamboo handles, and Princess Diana actually wasn't the reason the bag became popular in the first place. The bamboo handle bag was actually invented in the '40s following a leather shortage and gained traction in the '50s and '60s.
However, since Lady Di sported the bag, it became one of her iconic fashion pieces everyone had to have. In 2021, on what would have been Diana's 60th birthday, Gucci's creative director, Alessandro Michele, announced that the bag would be relaunched in several sizes in colors. It was also named after the woman who brought them so much recognition, and countless celebrities have been seen with the Gucci Diana bag since. Among these names are Alexa Chung, Sienna Miller, and Elle Fanning, all fashion icons in their own right. This just goes to show how strong Princess Diana's fashion influence was, as she's still setting trends years after her untimely passing.
Princess Margaret's cinched waist
As the younger sister of Queen Elizabeth II, Princess Margaret had to be careful about what she wore but she certainly got away with much more than the queen would have been able to. One look Princess Margaret was privy to was the cinched waist.
Granted, corsets have been around for centuries, and creating an hourglass figure was far from a new trend, however, Princess Margaret had a hand in modernizing the look into what it is today. As far back as the '40s and '50s, Margaret showed off her cinched waist while posing next to her sister. She was also one of the first to be pictured wearing a Christian Dior gown, a name that was new in 1951, and the dress hugged her at her waist. She became a longtime fan of Dior's work and would go on to wear many more of his designs.
Cassie Davies-Strodder, the curator of a fashion exhibit at Kensington Palace called Fashion* Rules*, told Grazia, "Margaret was a distinctive fashion icon because she was so glamorous — with all the beauty of a Hollywood film star, she brought a new kind of style of the royal family." She dared where many royals wouldn't for many years, paving the way for many royal women to express themselves through fashion in unconventional ways.
Queen Victoria's Chelsea boots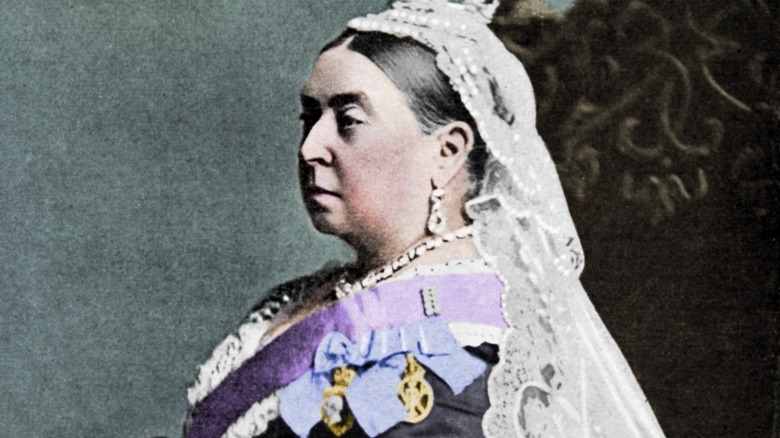 Print Collector/Getty Images
Chelsea boots are the perfect combination of comfort and chic, with countless celebrities adding them to their wardrobes over the years. Some of the famous Chelsea boot fans have included Harry Styles, Julia Roberts, and of course, Princess Catherine. With such a universally loved shoe, the history of the Chelsea boots has often fallen to the wayside.
Back in the mid-1800s, Queen Victoria was an avid horse rider, as many royal figures have been. However, she struggled with the laces of her riding shoes, which would often get caught and tangled. She requested J. Sparkes-Hall, a shoemaker, to make a pair of laceless alternatives. And he did, patenting what were initially called "paddock boots," in 1851. It wouldn't be until the 1950s that the name "Chelsea" caught on, after the prospering neighborhood in London where they became increasingly popular.
This may very well be the closest tie a member of the royal family has had to actually starting a fashion staple that has stood the test of time. The shoes that started off as riding boots 170 years ago are now a statement piece worldwide, and the royals continue to wear them today.