The Adidas Sneaker Trend That Works With Every Outfit, Including Dresses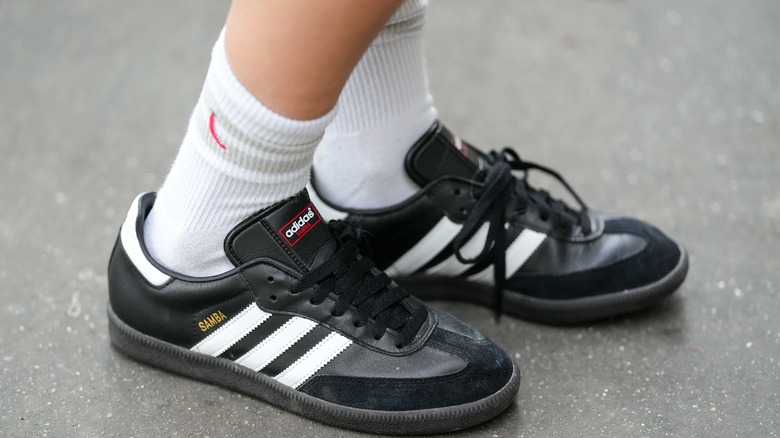 Edward Berthelot/Getty Images
Aside from its activewear, Adidas is best known for its iconic sneakers. The classic Stan Smiths were chosen as one of the best sneakers of 2022, and now the Samba sneakers are enjoying their turn in the spotlight. The surprisingly affordable sneakers have been worn by Hailey Bieber, Kendall Jenner, and Bella Hadid, which means only one thing — they're definitely back in fashion. 
It isn't just one style, either. The Adidas Samba sneakers come in two colors: A white version with black stripes, and a black version with white stripes. Both have a gray front and feature a faux leather finish so both vegans and non-vegans can wear them with pride. Conveniently, the two color choices also mean you can pick the one that corresponds most with your existing wardrobe. 
If you can't wait to ditch chunky sneakers in 2023, the Sambas are a solid alternative due to their sleek and slim design. These shoes can be styled with anything from baggy jeans to a slip dress (yes, really). However, because of this versatility, they have a habit of selling out quickly, so get your hands on a pair ASAP and then take inspiration on how to style them from the looks below.
This laidback look is perfect for lazy Sundays
Take notes from the look above by pairing your Sambas with your comfiest oversized knit and wide-leg jeans or trousers. By keeping the colors in your look neutral, a bright accessory like a scarf will pop even more. We love that this outfit is casual without making you look like you just rolled out of bed. If you want your Sambas to be even more on display, go for cropped pants instead of wide-legged ones. 
Embrace Scandi neutrals with this ensemble
If you're wondering how to pull off the monochrome fashion trend, the Sambas are your best friend. Either white or black would work perfectly with this ensemble, though black would create more visual interest. If the idea of a completely monochrome look doesn't appeal to you, add a black top to match the black Sambas or a white top for white Sambas. Ideal for sightseeing and museum days, this look is the epitome of cool-girl casual.
They also pair perfectly with low rise pants
Love it, hate it, or feel neutral about it, low-rise is back, and low-rise leather-look pants and Sambas are an undeniably cool pairing. The Sambas are eye-catching shoes, so keep the rest of your outfit pared down with a tank top or simple jacket. Make sure your pants fall above or on the ankle point of your leg so the top of the Sambas is clearly visible — this will also naturally give you the illusion of longer legs, so it's a win-win. 
The black and white aesthetic of this look is totally on point
Who said sneakers can't be worn with skirts? We love the sharp contrast of this colorway thanks to the black top and white midi skirt. The skirt has a real Y2K vibe to it, so why not lean into this and accessorize with a tiny handbag and butterfly belt? Or, keep things sharp and contemporary by sticking with a flowy silhouette on top to contrast the more fitted design of the skirt. 
Pair light and dark colors together to really stand out
The Samba sneakers are practically made for laidback dressing, which is why a look like this one works so well. Using the white Sambas as an accent piece to an otherwise non-white outfit will allow them to stand out even more (just prepare to be asked a lot where you got your new sneakers from). Oversized blazers are a staple layering piece and look just as good with a sweater and jeans as they do with a dress.
Nail two trends in one by adding a denim midi
In case you haven't heard, denim midi skirts have stuck around since their recent re-emergence, gradually becoming one of the hottest fashion trends. However, the denim midi can be a little intimidating to style if you've never worn one before. Let the Sambas do the talking by pairing a simple T-shirt with your denim midi for a '90s-inspired look that's updated for now. To create a cute little extra touch, scrunch up your socks (making sure they show under your skirt) for a ballet-core aesthetic.
Look cool and collected in all black
You can never go wrong with an all-black ensemble. The oversized fit of the leather jacket gives it a more casual edge. If you want to show off your new Sambas, opt for a skirt of a similar length. This style is also extremely flattering on lots of different body types, as black creates a more streamlined silhouette. If you don't want to shorten your leg line, opt for low sneaker socks that won't take up as much leg room as regular ankle socks.
Start spring right with an easily-layered look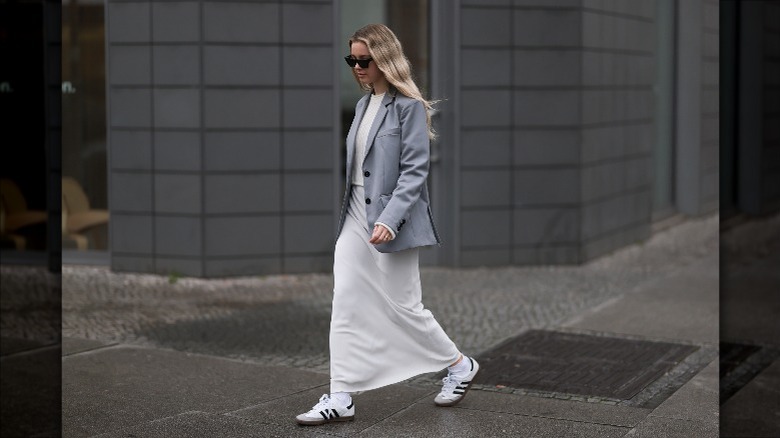 Jeremy Moeller/Getty Images
Another cool-girl way to style the Sambas is with them barely peeking out. Much like midi skirts, long maxi skirts are a staple once spring hits, as they can be layered or worn by themselves. Once again, an oversized blazer in a contrasting color prevents the outfit from looking too dull. Don't be afraid to mix cream and white together, either — it's barely noticeable in most cases and adds an extra textural element if it is.
A striped t-shirt and baggy jeans go together hand in hand
In this case, the white Samba sneakers and striped T-shirt create a relaxed vibe that's great for everyday wear. The straight-leg jeans err on the side of being baggy for a nod toward street style, whereas the distressed moto jacket is a subtle way to lean into the trending bikercore look. Finish with a large, slouchy bag and messy hair for a look that says "I'm running errands but in a cute way."
Play around with different textures in your look
As mentioned before, white, off-white, and cream actually make for a pretty nice color combination. Instead of an all-white look, which runs the risk of making you appear overly formal, an outfit with a neutral color palette will soften the look and turn it into a more achievable everyday one. We especially love the idea of pairing an oversized sweatshirt and cap with a pretty skirt — a sweetly feminine mixture of street style and dressed up.
Short skirt season is all year round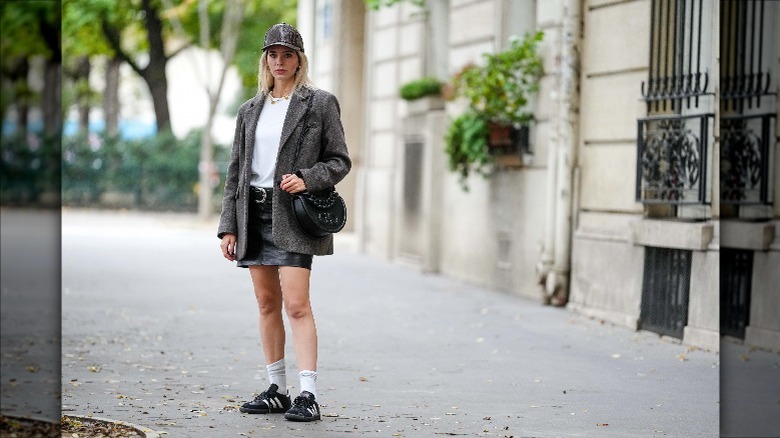 Edward Berthelot/Getty Images
Endlessly versatile, the Sambas can go with short skirts, too. Layer up with a jacket and sweater during spring and go for an oversized t-shirt when the weather starts to get warmer. Both the black and white Sambas work with this sort of ensemble, but we think black Sambas with white socks create a truly unique look — especially if you wear a lot of black skirts. However, white Sambas go with everything, so either choice will effortlessly create an on-trend look.
Changing weather? No problem with this outfit
An additional, and very stylish, way to layer, wearing a trench coat with your Samba sneakers will automatically create a chic outfit. Trenches are a solid layering piece for spring, or early summer depending on where you live. TikToker @jezrivera styled her trenchcoat with a dressier top and skirt combo as well as a plaid green scarf for a kitschier aesthetic. If you wanted to make this ensemble slightly warmer, swap the mini skirt out for a midi or even some straight-leg pants, both of which would also look great with a trench coat draped over them. 
Sambas and a dress are a match made in heaven
Taking her love of Sambas to a new level, TikToker @wh**e4cashmere made up a new version of the song "La La Land" by Demi Lovato while showing off her super cute outfit. Proving you can indeed wear Sambas with a dress, her black sneakers add a cool edge when styled with her black Realisation Par slip dress. Finish the outfit off with ankle socks as she did for an ultra-casual vibe or sneaker socks for a more streamlined look.