A Simple Hack To Save You Time When Painting Your Nails At Home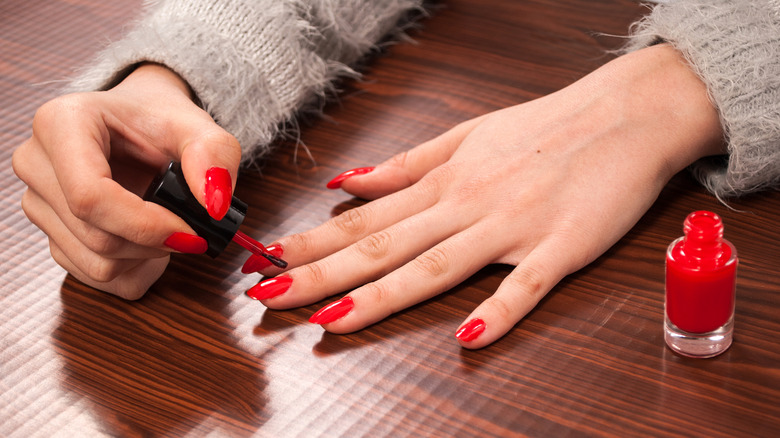 Emmily/Shutterstock
There aren't many things worse on the home beauty front than ruining a fresh manicure. You try to be painstakingly careful to make sure that you spread the nail polish at home as evenly as your manicurist does to get salon-level results, figuring that may be the biggest hurdle. Unfortunately, that's not always the most challenging part.
Whether you forget your nails are drying and innocently put away the dishes or attend to another chore, or if you have no choice and have to pick up a crying baby, smudging your nail polish is incredibly frustrating. 
The time of day that you polish your nails can be a determining factor. Of course, we often think our nails are dry and go to bed only to find them with slight indentations from our blankets the next morning. For this reason, it's never a good idea to do your nails in the evening. Ideally, you want to set aside a time when you don't have to use your hands until the polish has dried, but if you can't, there is a trick to speed up your drying time.
Put your nails in cold water
Urvashi9/Getty Images
When in a pinch, there is something that is always readily available in your home that can significantly speed up the time it takes for nail polish to dry. Best of all, it's free. To accelerate the drying process, put some cold water on your nails. "Yes, you can speed up your drying time by submerging your nails in cold water. Simply fill a bowl, dip your nails, and wait 3-5 minutes – or however long you can spare," celebrity manicurist Michelle Humphrey tells Good Housekeeping. "You can even add a few ice cubes to make the temperature cooler." The cold water will help the polish dry faster.
Still, you have to be mindful of allowing your hands to dry without compromising the polish. Humphrey advises, "But be sure to take care when drying your hands and nails afterward as they may still get marked." Carefully dry the palms of your hands while shaking off the excess drops on your nails.
More ways to dry nails faster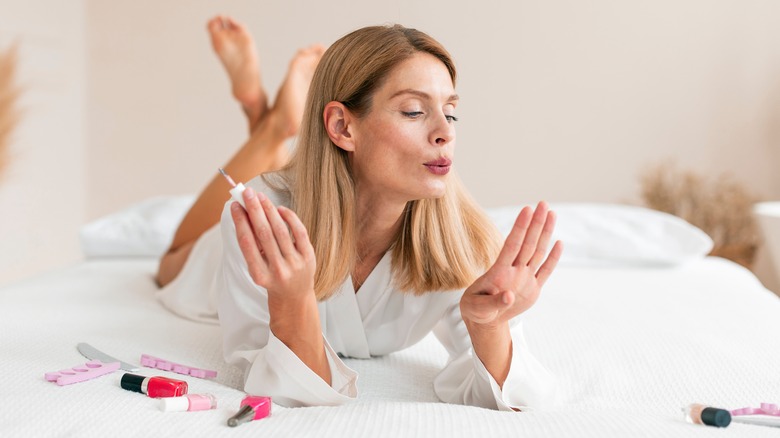 Prostock-studio/Shutterstock
If you want to dry your nails as quickly as possible, you must start with nail polish. There are many quick-dry nail polish formulas on the market that seem to dry instantly, including Sally Hansen, Essie, and Revlon. Yet whether you use quick-dry nail polish or not, your nail polish must be fresh. Old polish can clump, making it look uneven and chunky and taking much longer to dry.
You'll also want to use very thin layers of polish and allow each coat to dry thoroughly before adding another. "Waiting five to 10 minutes in between coats makes a world of difference," Gibson Tuttle, founder of nail company Olive & June, tells Byrdie. "It will decrease the chance of bubbles and it dries faster." Ultimately, the best time to polish your nails is when you have some extra time and don; have to attend to anything. Taking the time to apply nail polish properly will also make it a more pleasant experience.