Prince Harry & Princess Margaret: All The Details About Their Relationship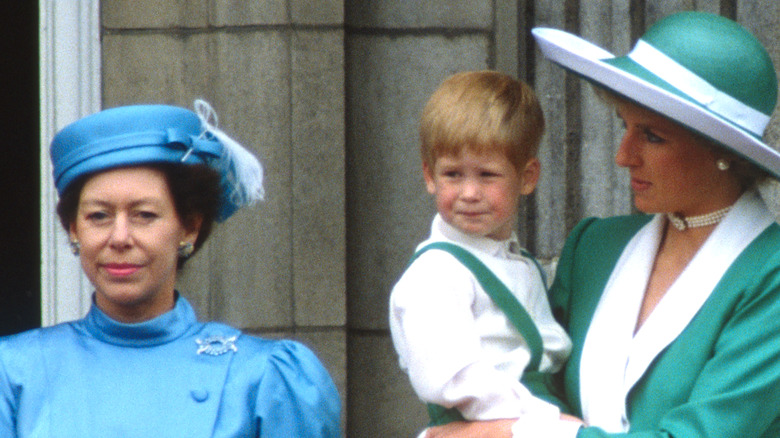 Anwar Hussein/Getty Images
The following article contains references to drug abuse, alcohol abuse, and suicide.
At first glance, Prince Harry and the late Princess Margaret might not seem to have a lot in common. Born in 1930, Margaret was from a traditional generation of royals that prioritized duty over all else. Throughout her childhood, Margaret was shielded from the prying eyes of the press, thanks to her mother's efforts to keep the details of palace life under wraps. As royal expert A.N. Wilson once wrote, the world that Margaret and her sister, Queen Elizabeth II, inhabited could be described as a "cocoon of unknowability." However, even in private, royals enforced protocol. Per royal nanny Margaret Crawford's book, "The Little Princesses," Elizabeth and Margaret lived in a bubble in which "the royal discretion held" firm.
In sharp contrast to Margaret's upbringing, Harry was raised in a new generation of royals that was thrust into the spotlight. Hours after he was born, Harry was presented to the press on the steps of St. Mary's Hospital, and by the time he was 8 years old, international tabloids were debating the sanctity of his parents' marriage. While protocol was still relevant in Harry's upbringing, the young prince was often found challenging these royal rules.
While Harry and Margaret essentially came from different universes, growing up in such vastly different times, they both fully understood what it was like to be the palace spare. Consequently, the pair forged an unusual relationship — one that left the prince wishing that he and his great-aunt had gotten more time to bond.
Prince Harry was intimidated by 'Aunt Margo'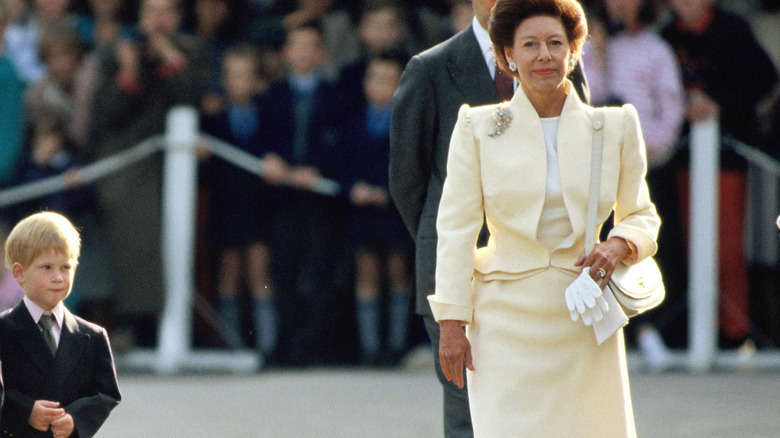 Georges De Keerle/Getty Images
Despite the genetic relationship between Prince Harry and Princess Margaret, the two didn't always get along. Apparently, in Harry's earlier years, he felt intimidated by his great-aunt's more intense presence. As the Duke of Sussex wrote in his book, "Spare," Growing up, I felt nothing for [Margaret], except a bit of pity and a lot of jumpiness. She could kill a houseplant with one scowl." Because the young prince viewed his great-aunt as a "cold" figure, Harry wrote that he tried to avoid her by staying at a distance.
On the occasions that the pair did interact, Harry claimed that he wondered what Margaret thought of him. Unfortunately, however, at a young age, Harry believed that Margaret didn't think of him at all. "It seemed that she didn't [have any opinion of me]. Or else, given her tone, her coldness, the opinion wasn't much," the prince wrote in his memoir. Despite Harry's feelings at the time, royal expert Gareth Russel believes that Margaret liked Harry just fine. Speaking on the "To Di For Daily" podcast, Russel divulged, "I did not get the impression that she didn't like him."
Even in "Spare," Harry had to admit that he and Margaret didn't really interact enough to have bad blood. "I didn't know Princess Margaret, whom I called Aunt Margo. ... She was almost a total stranger," the prince wrote. 
Harry said that Margaret tried to connect with him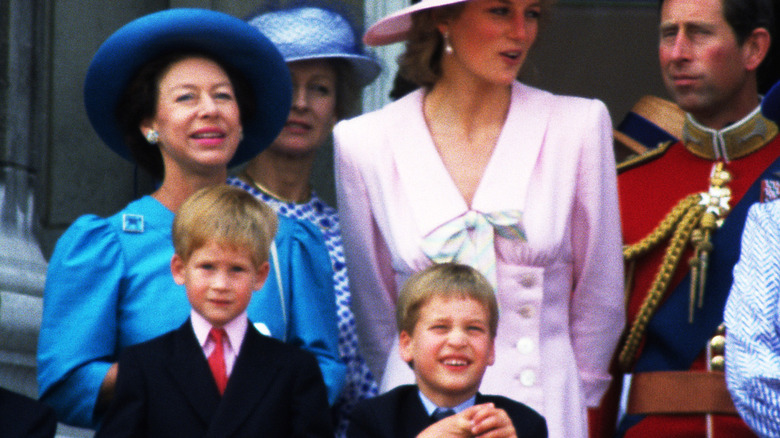 Anwar Hussein/Getty Images
Prince Harry and Princess Margaret might not always have had the closest bond, but that doesn't mean that Margaret never tried to bond with her nephew. In his book, "Spare," Harry recounted a time when the princess tried to connect with him via an admittedly bizarre holiday present. Per the prince's recollections, Margaret gave him a decorated ballpoint pen one Christmas. She apparently told him, "I do hope you like it." Unfortunately, Harry explained that his younger self did not understand the gift, prompting Margaret to try to defend it. The Duke of Sussex recalled, "But it wasn't just any biro, [Margaret] pointed out. It had a tiny rubber fish wrapped around it."
Despite the princess' best efforts, the young Harry didn't see this moment as one of connection — nor did he consider the significance of a writing utensil as a present for a young boy. While he responded to the present, telling his great-aunt, "Oh. A fish biro! OK,'" he revealed that he said to himself, "That is cold-blooded."
The gift didn't exactly sit right with the prince, but the princess did have a habit of giving people unusual presents. Apparently, she was very careful about choosing something unique for each person. Even so, she often missed the mark. Chatting with The Telegraph, Margaret's lady-in-waiting, Lady Anne Glenconner, revealed, "Though she went to a lot of trouble, you never quite knew what you were going to receive. Sometimes we'd be given handbags that had clearly been worn by her."
Princess Margaret felt a great deal of sympathy for Prince Harry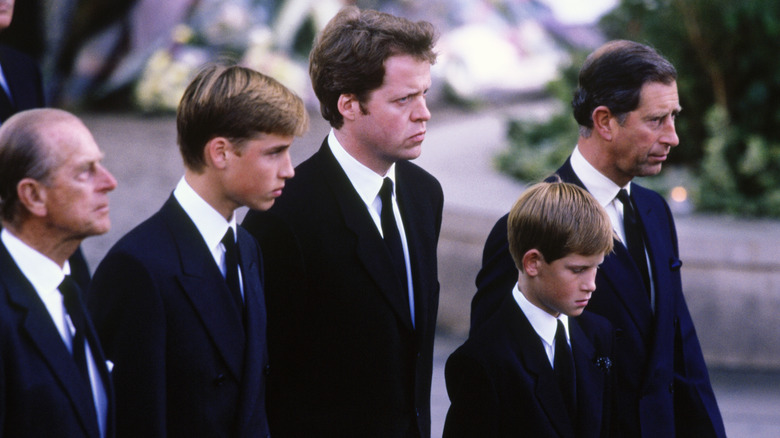 David Levenson/Getty Images
In 1997, when Princess Diana died, Princess Margaret and Prince Harry were far from being best buddies. Nevertheless, Margaret felt especially sympathetic toward her nephew following the tragic events. On the podcast "To Di For Daily," royal expert Gareth Russell revealed that Margaret actually empathized more with Harry than with then-Prince Charles or Prince William. "She said: 'It's so awful, but particularly for poor Harry because his birthday was quite close,'" Russell recounted.
Apparently, that wasn't the only reason Margaret felt bad for Harry. The princess was also concerned with the fact that the young prince was only 12 years old at the time. In his book, "Do Let's Have Another Drink: The Dry Wit and Fizzy Life of Queen Elizabeth the Queen Mother," Russell wrote, "Princess Margaret felt desperately sorry for Diana's sons, especially the youngest, since it is 'terrible to lose your mother at that age.'"
Despite these kind feelings, Margaret's negative view of Diana could have very well prevented her from bonding with Harry. According to Russell, the Countess of Snowdon wasn't a huge fan of the people's princess and actually resented the way the world mourned her untimely death. "She had no sympathy for the public's mood," Russell wrote of Margaret. "She told a friend that the reaction was unhinged, 'rather like Diana herself.'"
Prince Harry compared Princess Margaret to his mother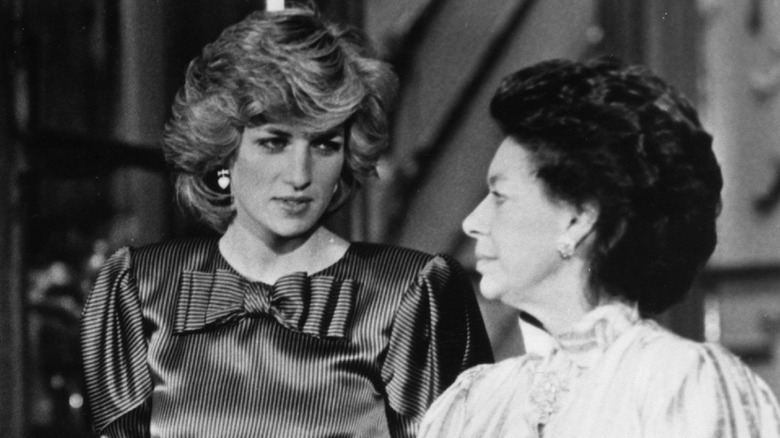 Getty Images/Getty Images
It is no secret that Princess Margaret and Princess Diana did not get along. As royal expert Gareth Russell wrote in his book, "Do Let's Have Another Drink," Margaret had such a bad impression of Diana that she refused to refer to her directly. Instead, she would apparently call her "the girl who married my nephew." Despite all the bad blood flowing between the two princesses, they were actually quite alike.
In, "Spare," Harry confessed that his vision of his great-aunt evolved considerably after his childhood, and he even drew comparisons between Margaret and Diana: "Aunt Margo also wasn't that dissimilar from Mummy." The prince continued, writing, "Both rebels, both labeled as sirens." Indeed, both Margaret and Diana deviated from their expected roles by pursuing extramarital affairs. During her ill-fated marriage to Antony Armstrong-Jones, Margaret went out with winemaker Anthony Barton. Similarly, Diana had lovers of her own, including an intense relationship with military officer James Hewitt. 
Ultimately, both Diana and Margaret ended their respective marriages, breaking protocol and becoming divorced princesses. The press reacted explosively to the resulting scandals. Margaret was portrayed as selfish, while Diana was accused of being attention-hungry, with one 1995 Women's Wear Daily article alleging that she'd "always longed to take her place in the front row."
Prince Harry came to see himself as similar to his great-aunt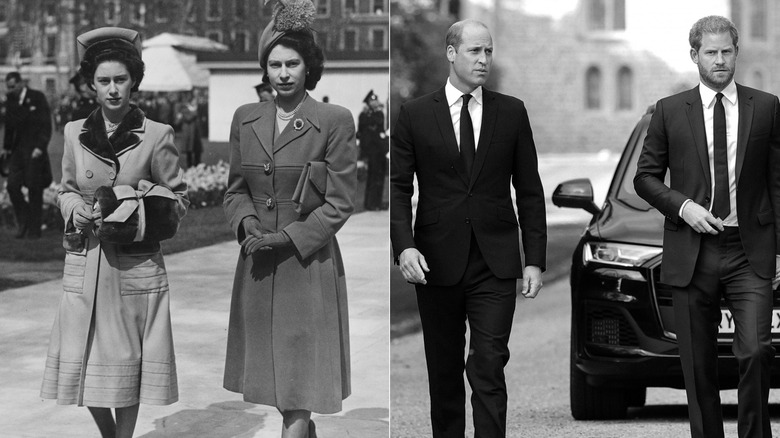 Fox Photos/Getty Images, Chris Jackson/Getty Images
Prince Harry may have been spot on when he wrote that Princess Diana and Princess Margaret were similar. However, it is not the only accurate comparison that the prince drew in his book, "Spare." Harry wrote that certain elements of Margaret's story remind him of his own. After all, like Harry, Margaret was once second in line to the throne — the spare to the heir. Harry explained, "[Margaret's] relationship with Granny wasn't an exact analog of mine with Willy, but pretty close. The simmering rivalry, the intense competition, it all looked familiar."
Indeed, not unlike Harry, Margaret was said to lament certain aspects of being the second-born princess. For one thing, she apparently struggled with the discrepancies between Queen Elizabeth's education and her own. For another, she detested the way that the press treated her as Elizabeth's unruly younger sister. American writer Gore Vidal remembered Margaret telling him: "It was inevitable when there are two sisters and one is the queen, who must be the source of honor and all that is good, while the other must be the focus of the most creative malice, the evil sister."
In "Spare," Harry echoed these sentiments, bemoaning his role as the younger prince. "I was summoned to provide backup, distraction, diversion and, if necessary, a spare part. Kidney, perhaps. Blood transfusion. Speck of bone marrow. This was all made explicitly clear to me from the start of life's journey and regularly reinforced thereafter."
Princess Margaret and Prince Harry had an eerily similar relationship with alcohol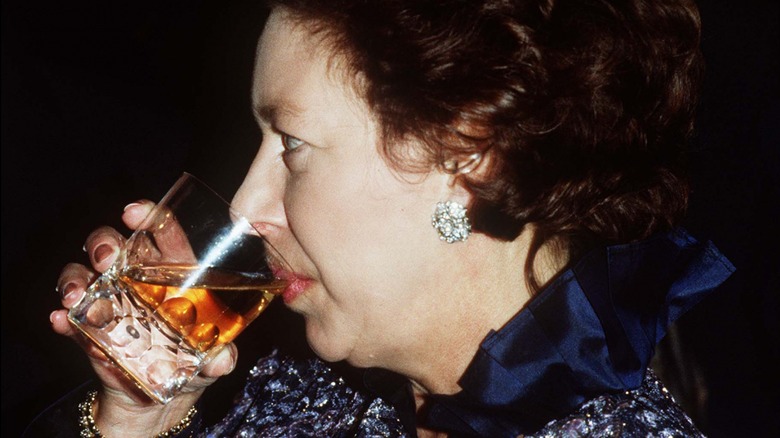 Anwar Hussein/Getty Images
Perhaps because they were both second in line to the throne, Princess Margaret and Prince Harry were given more freedom than their older siblings. Throughout the 1960s, Margaret partied with some of the biggest names in Hollywood, including Barbara Streisand, Marlon Brando, and Elizabeth Taylor. Just like his great-aunt, Harry has been known to rub shoulders with celebrities. The prince is even rumored to receive drunk texts from Cara Delevinge. 
With Hollywood-style parties, however, comes a massive culture of excessive alcohol consumption. According to the book, "Ma'am Darling: 99 Glimpses of Princess Margaret" by royal expert Craig Brown, Margaret became so entrenched in booze and tobacco that she even invented a way to do both at the same time. Apparently, the princess "tried to combine the smoking and drinking by gluing matchboxes onto tumblers, so she could strike matches while drinking."
Harry, too, has abused alcohol. In his docu-series, "The Me You Can't See," Harry told Oprah Winfrey, "I would probably drink a week's worth in one day on a Friday or a Saturday night. ... I was willing to drink, I was willing to take drugs." Interestingly, both Harry and Margaret eventually committed to living a healthier lifestyle. While Harry quit drinking in order to maintain his relationship with Meghan Markle, Margaret did so temporarily out of concern for her health.
If you or anyone you know is struggling with addiction issues, help is available. Visit the Substance Abuse and Mental Health Services Administration website or contact SAMHSA's National Helpline at 1-800-662-HELP (4357).
They both fell in love with divorced commoners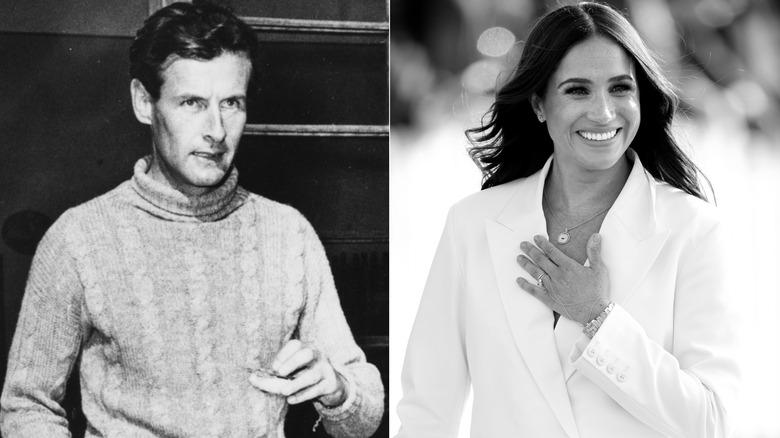 Central Press & Max Mumby/indigo/Getty Images
The two spares shared similar views on romance. Princess Margaret and Prince Harry each fell in love with people from outside of the royal fold and, ultimately, suffered the consequences. Margaret's story stems back to 1953 when she became engaged to Captain Peter Townsend, a divorced man many years her senior. Because of a combination of Townsend's marital status and his position as a commoner, Margaret would only be permitted to wed him if she renounced her rights to the throne.
On October 31, 1955, Margaret decided to prioritize duty over romance. She ended things once and for all with the captain, a decision which she shared with the British people via the BBC. "I have been aware that, subject to my renouncing my rights of succession, it might have been possible for me to contract a civil marriage," Margaret divulged. "But, mindful of the Church's teaching that Christian marriage is indissoluble, and conscious of my duty to the Commonwealth, I have resolved to put these considerations before any others."
Like Margaret, Harry also became engaged to a divorced commoner, Meghan Markle. Unlike his great-aunt, Harry was not forced to renounce his title. However, he and wife Meghan eventually stepped down as working members of the royal family, citing a "lack of support and lack of understanding" from within the royal family. 
Princess Margaret and Prince Harry each struggled with their mental health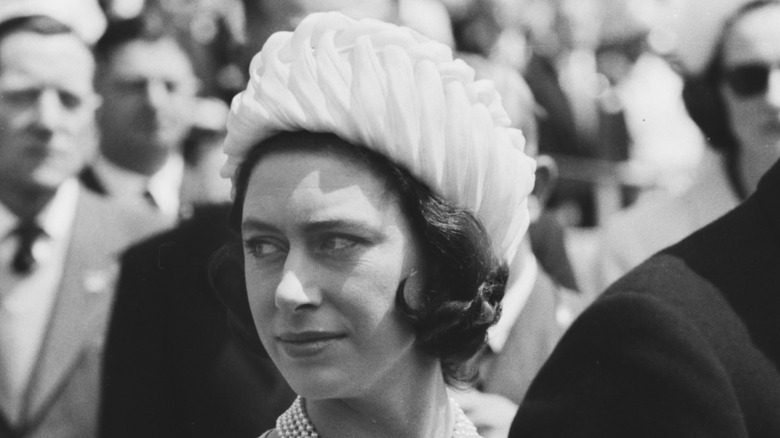 Evening Standard/Getty Images
Royal life can take its toll, and Princess Margaret and Price Harry both faced a lot of pressure in their public roles. Ultimately, great-aunt and great-nephew alike reported struggling with their mental health. In 1967, as Margaret's marriage to Anthony Armstrong-Jones was deteriorating, the princess reportedly experienced symptoms of psychological distress.
In an article for the Daily Mail, royal expert Andrew Morton explained that Margaret contemplated suicide. Per Morton's account, "Margaret had phoned a friend while he was hosting a party, threatening that if he did not check on her immediately, she would throw herself from her bedroom window." When the friend called Queen Elizabeth, the monarch seemed unconcerned, apparently telling him, "Carry on with your house party. Her bedroom is on the ground floor."
While some believe that Margaret's mental health challenges were never officially diagnosed, the same cannot be said about Harry. In his memoir, "Spare," the Duke of Sussex wrote, "I was an agoraphobe. Which was nearly impossible given my public role." The prince went on to describe having a panic attack in front of his brother. "Him of all people. He'd been present for my very first panic attack. With Kate," he explained. Additionally, Harry has been diagnosed with post-traumatic stress disorder (PTSD).
If you or anyone you know is having suicidal thoughts, please call the National Suicide Prevention Lifeline​ at​ 1-800-273-TALK (8255)​.
Compared to Princess Margaret, Prince Harry was likely more impacted by the heir/spare dynamic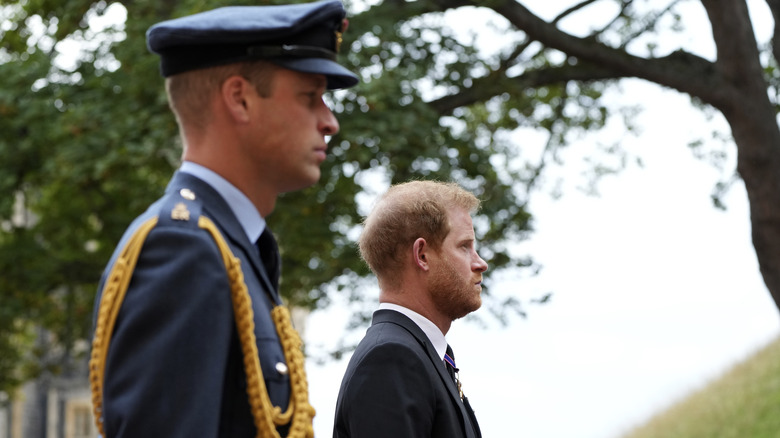 Wpa Pool/Getty Images
It goes without saying that both Prince Harry and Princess Margaret, at times, found royal life to be challenging. However, at least one royal expert believes that Harry struggled more with the heir/spare dynamic than Margaret ever did. Appearing on the podcast "To Di For Daily," royal expert Gareth Russell revealed that Queen Elizabeth and her younger sister got along better than some people imagine. "I don't think I would necessarily buy into the idea that there was an antagonistic relationship between Margaret and Elizabeth," he revealed. "I don't think that is how either sister characterized it — from the records that we have."
Princess Margaret's lady-in-waiting, Lady Anne Glenconner, echoed this sentiment in an interview with People. The socialite told the outlet, "She was terribly loyal to the Queen." And, as for any sisterly competition, Glenconner says that in all the years she knew Margaret, the princess "never said anything."
This portrayal of Margaret as someone who mostly supported her big sister instead of constantly competing with her contrasts greatly with Princes William and Harry's dynamic as described in "Spare." The prince went so far as to describe William as his "beloved brother and arch-nemesis." Speaking with "Good Morning America," Harry explained this characterization, saying, "There has always been this competition between us weirdly. Again, I think it really plays into, or is played, by the heir/spare."
Prince Harry wished he had more time with Princess Margaret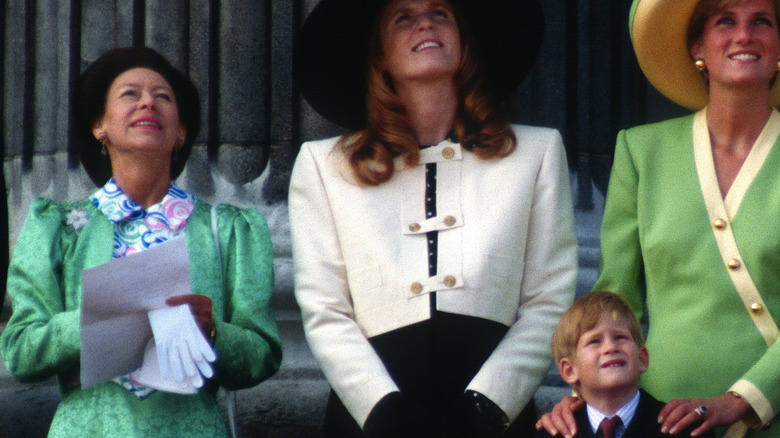 Anwar Hussein/Getty Images
Although Prince Harry and Princess Margaret had a lot in common, the pair did not have much of an opportunity to discuss their similarities. On February 9, 2002, Margaret died in her sleep following a series of strokes. At the time, Harry was only 17 years old. He would never get the chance to talk to his great-aunt about falling in love with Meghan Markle, nor would he ever get to go to her for advice. Despite all of the similarities between Margaret and Harry, the pair did not have enough time to connect on all of these points.
In his memoir, Harry mourned the adult relationship that he and Margaret were never able to build. "It struck me that Aunt Margo and I should've been friends," he wrote. "We had so much in common. Two Spares." Margaret once opined that she was born too late, but perhaps author Jenny Diski put it best: "She was born too early."