Carrie Underwood's Sequins Were Shining, But Her Legs Stole The Show At The 2023 CMT Music Awards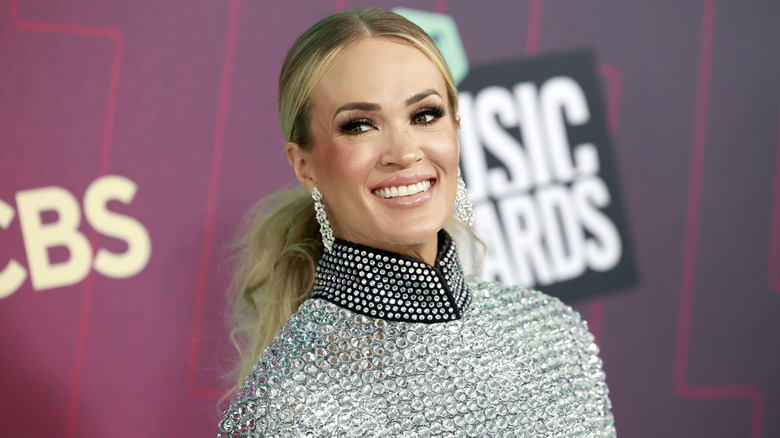 Emma Mcintyre/Getty Images
No matter how brightly the country stars were shining on the CMT red carpet, the fashion shone even brighter — even though Shania Twain's 2023 CMT Awards look was a relatable fashion mistake. This year's red carpet was filled with sparkly and metallic looks, befitting a night showcasing some of the brightest stars in the industry. Unfortunately, this led to the 2023 CMT Awards being every stylist's nightmare with four copycat looks walking down the red carpet.
Still, few ensembles were as eye-catching as the one sported by stunning country music sweetheart Carrie Underwood. Yet, what made Underwood's outfit so show-stopping wasn't solely the major sequin moment; it was more about the star donning it. Underwood is the very definition of country music royalty, so it was no surprise that she was nominated for two major awards this year: Video of the year and female video of the year. 
This is one star who certainly isn't afraid to look the part of a winner before she even knew if she'd be taking any CMT awards home. Yet, while folks are always talking about Underwood's impressive pipes, after seeing her in this particular red carpet outfit, most of the internet is now discussing how boldly she showed off her incredible legs.
Carrie Underwood's short shorts showed off her toned gams on the red carpet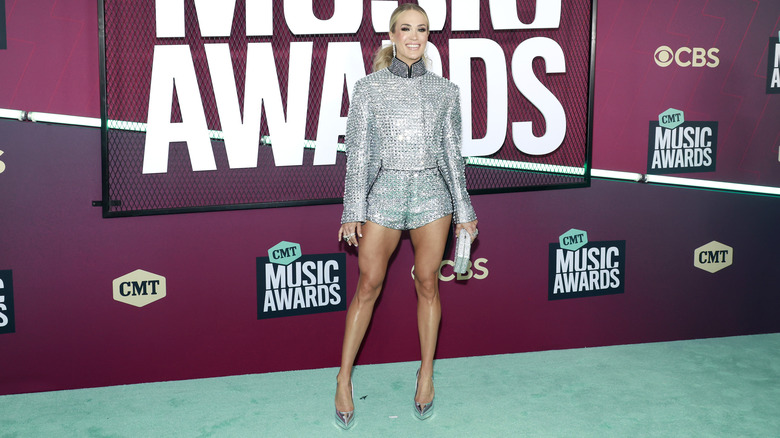 Emma Mcintyre/Getty Images
Whether you're a fan of the unique style Carrie Underwood chose for the 2023 CMT Awards or not, it's impossible to disagree with just how good she looks. Instead of sporting a gown or a suit like most other stars do at major award shows, Underwood opted for a fit that effortlessly showed off her toned legs. Underwood's super-sparkly sequin suit was completely covered up on top with a mock neck collar, structured shoulders, and long sleeves. 
The covered-up jacket struck the perfect balance with her super short shorts that were daringly paired with ultra-shiny silver pumps. While her outfit was nothing if not bold, Underwood's hair and makeup created a more pared-down vibe with a slicked-back low ponytail teased at the bottom and dark, edgy eye makeup with nude lipstick and some sparkly earrings. 
It's clear that the singer-songwriter wasn't afraid to turn heads at this year's CMT Awards, and it's easy to see why — she's looking as glowing as she is confident. Underwood has completely transformed her body since "American Idol" and, evidently, she wants to show off all that hard work every chance she gets. 
The country superstar works incredibly hard to stay in shape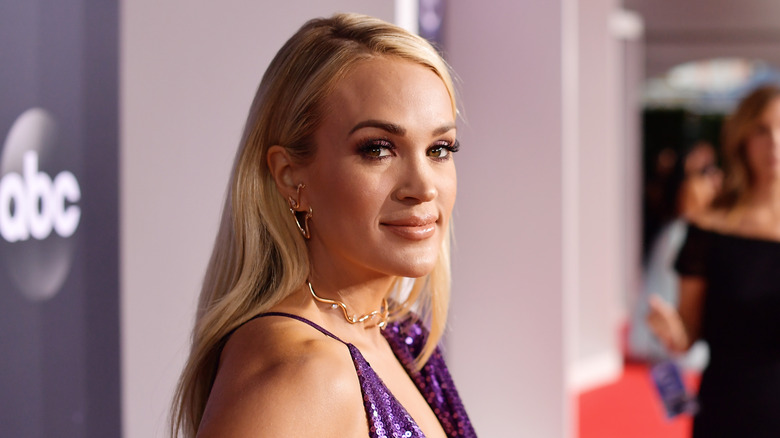 Matt Winkelmeyer/Getty Images
Naturally, this isn't the first time the country icon has dominated the red carpet with her toned physique. In a stunning purple leopard print mini-dress, Carrie Underwood's legs took center stage at the 2022 CMT Music Awards too. Fans are wondering how she got her gams into such incredible shape and, luckily for us, the multi-award winner's personal trainer shared her routine with Shape. 
Eve Overland, who's worked closely with the singer-songwriter for years, confirmed, "Working out and staying healthy is just a way of life for Carrie. It is who she is, what she does." Underwood's personal trainer continued, "Carrie understands that staying strong, mobile, and conditioned is so important in all aspects of her life, on and off the stage. Working out is self-care and her me time." 
In fact, the duo keeps things consistent even when Underwood is out on the road, which is some serious commitment. The country star ensures she never gets bored or complacent by regularly mixing up her workouts too. However, if you're looking to achieve her enviable legs, you can't go wrong with the old classics such as squats, lunges, hamstring curls, and deadlifts. Sparkly shorts suit optional.