Sick Of Your Bangs? Here's How To Hide Them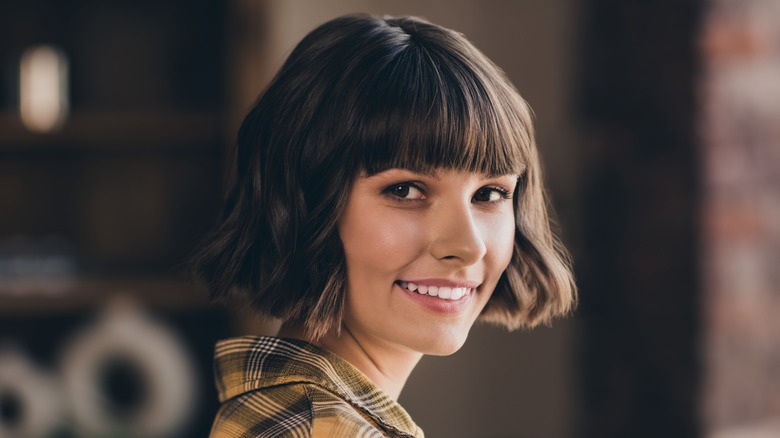 Roman Samborskyi/Shutterstock
Everyone who has gotten bangs at one point in their life likely has gone through awkward phases when growing them out. Due to the prominence of shows featuring lead characters with bangs such as "Emily in Paris" and "Wednesday," bangs have only continued to grow in popularity. The style can sometimes get a bad reputation because it has become known as one that people choose only by impulse. However, they're also a great choice for those who just want to change up their style in a noticeable way or try something new with their hair.
Still, if your bangs are just not working for you anymore or you've grown tired of styling them every day, then you might be thinking about how to hide them while they're growing out. Or, you might just want to take a break from doing the same hairstyle every day. Luckily, there are several easy ways to hide your bangs so you can feel like your most confident self.
Hide your bangs with accessories
If you really want to hide your bangs but you don't have a lot of time, try adding accessories to your look. The first easy way to hide your bangs is to use a headband. Experts at All Things Hair suggest grabbing your favorite headband before brushing your bangs back behind your ears and spraying them in place with hairspray. Then, pull your headband into place and you're good to go.
You can also consider reaching for hairclips. To hide your bangs with one clip, comb your bangs back toward the crown of your head before clipping them into place, like you would if you were doing a half-up ponytail. If you have longer hair, brush your bangs to one side and then clip them back above your ear. This is a perfect style to make use of your more eye-catching hair clips rather than bobby pins. Finally, if you don't want your hair clips to show at all, consider parting your hair down the middle before combing your bangs back on each side. After clipping them into place, pull the rest of your hair back over them so they are hidden under the rest of your hair. TikTok creator @angelsign_ also suggests pulling your bangs back to each side and clipping them into place with claw clips as a stylish alternative.
Use hair products and different styles to hide your bangs
If you have a little extra time or just don't want to rely on accessories, you can try different hairstyles or hair products to hide your bangs. Experts at Essence suggest braiding your bangs to the side or throwing your bangs back into a chic updo. Make sure you use plenty of hairspray and bobby pins to pull your bangs back seamlessly. Consider doing one French or Dutch braid on each side of your part and incorporating your bangs into them as you go to seamlessly hide them.  
Another suggestion is to slick your bangs back to each side without using accessories. To do this, comb your bangs back before putting a dollop of hair gel in your hands, as TikToker @jessicaasosaa recommends. Apply the hair gel directly onto your bangs, sweeping them back toward your ears while keeping them flat against your head. As long as you use enough hair gel, they will stay in place without any other assistance and give you a trendy, slicked-back look. 
Unfortunately, there aren't any surefire ways to make your hair grow more quickly since hair growth can be a time-consuming process, so you'll likely have to wait while your bangs grow back out. There are ways to make your grown-out bangs seem purposeful, however, so you can go about your day confidently while hiding your bangs or embracing them.