The Biggest Question From Trump's Press Conference Had Nothing To Do With His Felony Charges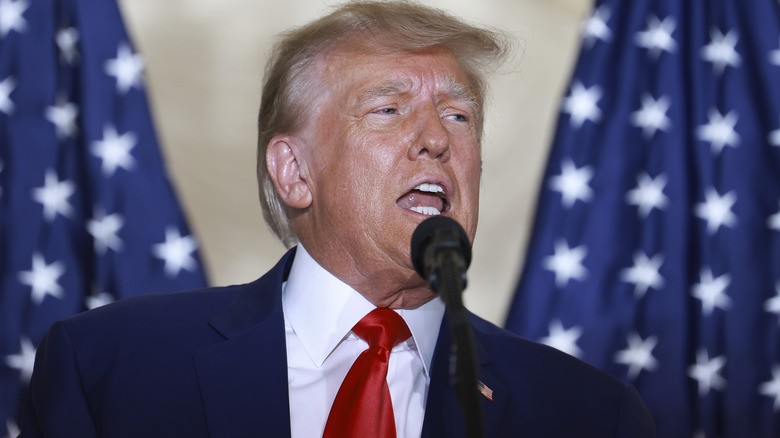 Joe Raedle/Getty Images
Former President Donald Trump got in front of an audience at his Mar-a-Lago on April 4 to address his arrest, but people are more interested in who was — and wasn't — in the room instead of what he had to say.
In case you missed it, Trump, the first president to be arrested after their White House stint, pleaded not guilty to 34 felony counts associated with falsifying business records, which could all be traced back to the alleged hush money he paid adult actor Stormy Daniels, in a supposed effort to conceal their rumored affair. While BBC noted that hush money payments are not categorized as an illegal activity, he allegedly attempted to hide the transaction by fabricating business records. "Manhattan is home to the country's most significant business market. We cannot allow New York businesses to manipulate their records to cover up criminal conduct," Manhattan District Attorney Alvin Bragg said in a statement.
In Trump's speech, the real estate mogul insisted that "there's no case" and that the real "criminal" is Bragg. He also made sure to mention his family but failed to acknowledge his wife, Melania. "I have a son here who has done a great job, and I have another son here who has done a great job," he declared. "And Tiffany, and Ivanka. And Barron will be great someday. He is tall, he is tall and he's smart... But I have a great family and they have done a fantastic job and we appreciate it very much." Interestingly, Melania was nowhere in the room, either.
People think Melania Trump ditched her husband entirely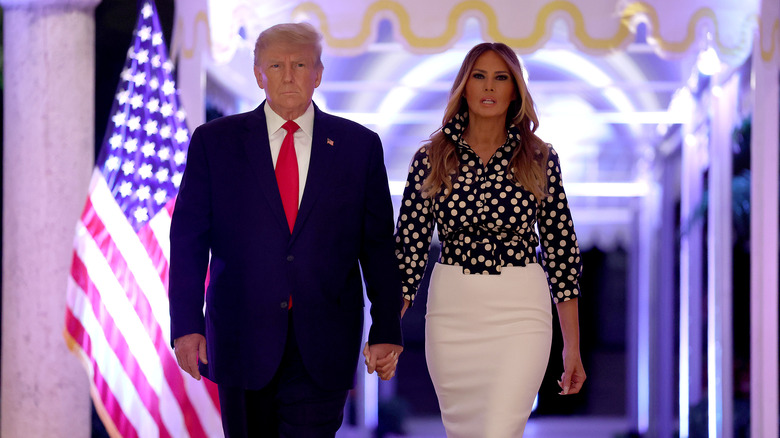 Joe Raedle/Getty Images
Melania Trump has been with Donald Trump through hell and high water, but she was notably nowhere in sight at Mar-a-Lago when the former president conducted a press conference.
On Twitter, people expressed doubts about her support (or lack thereof) or if she's keeping her hands off due to Stormy Daniel's involvement. "Where is Melania? I guess she doesn't support her man. I wonder why. Could it be she believes he had the affair with the porn Star & he may be guilty because she knows her man?" one person tweeted. "Where's Melania? She didn't make the trip to NYC. She's not gonna stand by her man I guess," tweeted another, with another wondering, "Where's Melania? When your own wife can't stand by your side and support you, how does anyone else?"
Melania's absence comes off the heels of reports claiming she wants to stay as far away from her husband's legal proceedings as possible. "She remains angry and doesn't want to hear [the alleged hush money payment] mentioned," an insider told People. "She is aware of who her husband is and keeps her life upbeat with her own family and a few close friends." And apparently, she doesn't care if the former president ends up incarcerated. She "wants to ignore it and hopes it will pass, but at the end of the day, she "doesn't sympathize with Donald's plight."