Inside Tom Hanks' Relationship With Rita Wilson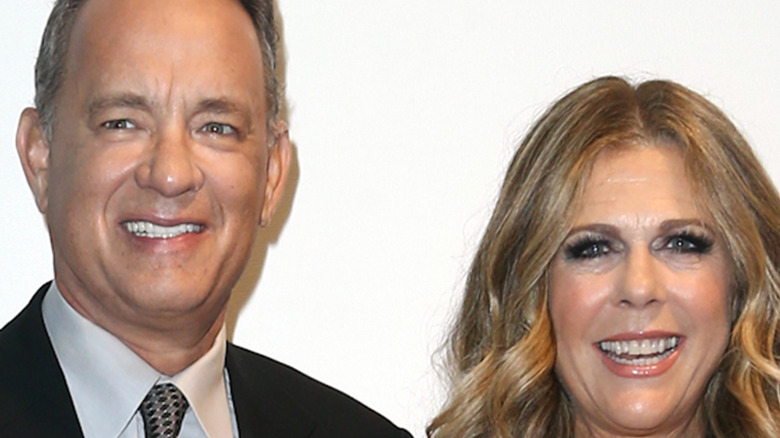 Shutterstock
Tom Hanks celebrated his 65th birthday on July 9, and his wife, Rita Wilson, commemorated the day by posting an adorable picture of the actor to her Instagram (via People).
In the photo, Hanks is mounted on a bicycle and Wilson captioned her post, "Riding into 65 better than ever!" Back in May, the two celebrated their 33rd wedding anniversary together. Wilson also posted to social media that day, marking the special occasion with a photo of the two of them together with the caption, "33 years of marriage to my BFF, my lover, my man," (via People). 
As many can recall, it's been quite a year for these two as both Hanks and Wilson tested positive for COVID-19 in March 2020. They have since fully recovered, according to The Guardian, but Wilson said at the time, they "were just trying to get through it" together. Having Hanks by her side made it a "little bit easier" to weather the virus, according to Wilson. On the anniversary of the day they found out about their coronavirus diagnosis, Wilson shared a heartfelt message to Instagram saying how "grateful" she and Hanks were for their health (via Deadline). 
Tom and Rita fell in love on the set of this TV series
Tom Hanks and Rita Wilson have always been very supportive of each other. While Wilson is more active on social media, the last time Hanks posted was to promote his wife's new record in September 2020 (via Instagram). Wilson has ventured more into a singing career recently, but the two actually met on the set of "Bosom Buddies" which Hanks starred in and she guested for an episode in 1981 (via Oprah Daily). 
The two would later work together on the film "Volunteers" in 1984, which is where their real love story begins (via Us Magazine). At the time, Hanks was married to someone else, but instantly felt a connection to Wilson. He said that he and Wilson "just looked at each other and — kaboing — that was that" (via People). After divorcing his first wife, Hanks and Wilson married in 1988 (via Good Housekeeping). 
The two actors would later share the screen again in 1993, but this time, they played best friends in "Sleepless in Seattle." A year later, Hanks would win his first of two back-to-back Oscars for Best Actor in "Philadelphia" and later "Forrest Gump." In his speech for "Forrest Gump," Hanks gave a special shoutout to Wilson saying, "I am standing here because the woman I share my life with has taught me and demonstrates for me every day just what love is" (via Oscars). 
One of their sons has an interesting internet presence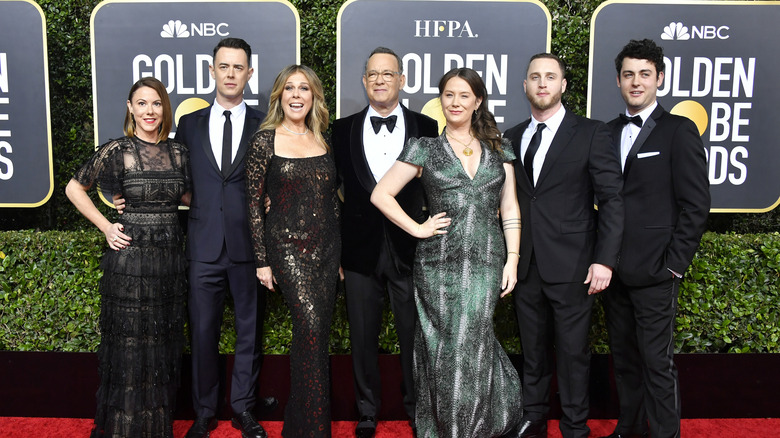 Frazer Harrison/Getty Images
Aside from being one of the cutest couples in Hollywood, Tom Hanks and Rita Wilson have also always been there for each other. Back in 2015, Wilson was diagnosed with breast cancer, according to USA Today. Through it all, Hanks stood by her side, and now, she is cancer-free and celebrating. 
The two also share two sons together — Chet and Truman (via Us Magazine). Hanks' son Colin and daughter Elizabeth are from his previous marriage to Samantha Lewes. During Hanks and Wilson's COVID-19 recovery, their son Chet Hanks was actually updating fans on how his parents were doing on social media (via CNN). While Hanks and Wilson are two beloved celebrities in Hollywood, Chet has found himself in a bit of hot water in recent years. Most recently, he's been criticized for dubbing this summer as "white boy summer" (via Vanity Fair). He's also run into some legal troubles, which has caused his parents to cut him off financially, according to Pop Culture. 
Aside from their controversial son, Hanks and Wilson have a pretty solid relationship that has stood the test of time. Even with a COVID-19 pandemic, breast cancer battle, and just Hollywood drama, these two have shown that true love can make it through anything.