Why Your Makeup Brush Collection Isn't Complete Without A Pencil Brush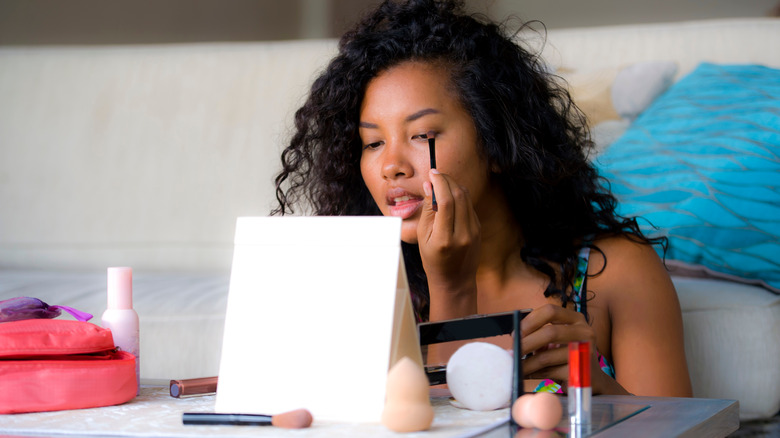 TheVisualsYouNeed/Shutterstock
If you are a person who loves playing around with your makeup and trying new things, then it's likely you have an extensive collection of makeup brushes. However, one underrated brush that might be missing from your collection is the pencil brush.
A pencil brush can be used to smudge your eyeliner or put color on your lash lines, and it can also be used for eyeshadow. Cosmopolitan suggests using your pencil brush to achieve the perfect smokey eye or adding bright colors to the inner and outer corners of your eyes with precision. Basically, you can use the pencil brush for any smaller details or for anything too small for any of the rest of your brushes to handle. It's a versatile brush, but there are some specific uses for it that you might be missing out on if you don't have it as a go-to in your collection of makeup brushes.
Your pencil brush can help create the perfect smokey eye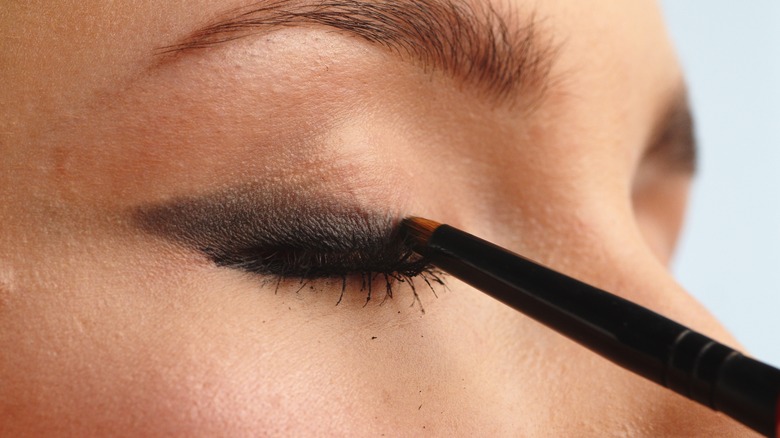 VALUA VITALY/Shutterstock
A pencil brush can help smudge your eyeliner or carve out creases on your eyelids. It is perfect for creating a smokey eye or the perfect reverse smokey eye because it's perfect for putting eyeshadow under your bottom lashes.
Experts at BeautyJunkees suggest using the pencil brush to create that perfect smudged-liner look by covering the brush with your dark shadow and applying it to your lash line beginning at the outside edge of your eye. Then, sweep the brush toward the center of your eye while smudging the color to create that smokey effect. Keep going until you reach the inner corner of your eyes, keeping the shadow thinner at that inner corner. Be sure to start at the outer edges of your eyes to ensure you're applying more product to the outside rather than to the inside of your eye, and wiggle the brush to smudge the shadow along the way.
Your pencil brush can help you embrace the less is more look
If you're going for the clean makeup aesthetic for your look, a perfect pencil brush might help you achieve exactly what you're looking for. Makeup artist Jen Tioseco tells Byrdie, "People are finally starting to embrace 'less is more' when it comes to their makeup routine. Because of this, opting for a more subtle liner to enhance your eye shape will complement a lighter base as well."
She suggests achieving the look by first grabbing an angled makeup brush with a dark eyeshadow and taking that to the outer corners of your eyes before using your pencil brush to smudge it along both the top and bottom lashes. While this look can be achieved without the pencil brush, the precision it offers while smudging the shadow will allow you to get there more quickly and easily than other techniques might.