How To Reshape Your Brows After Over-Tweezing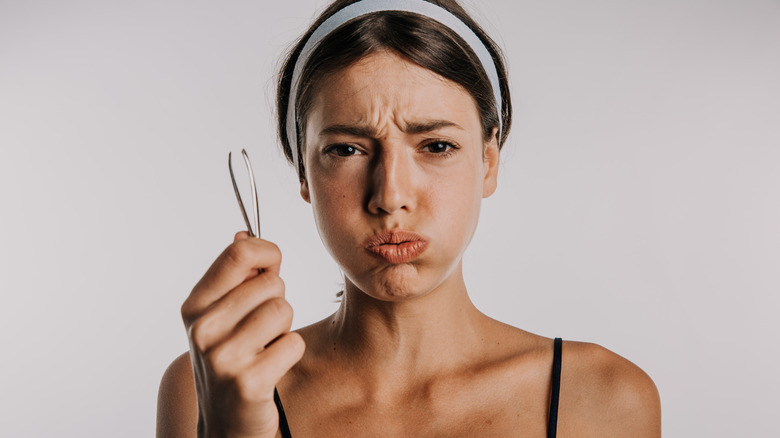 Studio4/Getty Images
We may receive a commission on purchases made from links.
Do you have a love-hate relationship with your tweezers? Know that you're not alone. Just think about the '90s beauty trend that was actually harmful to your brows. Back then, everyone was sporting skinny brows — and some say this trend is making a comeback. But just because something is popular doesn't mean it's right for you. Over-tweezing your eyebrows can ruin their shape and alter your facial expression.
"Brows are the most important element [of the face], key to expressiveness. So when you change them, it fundamentally changes the structure of your face," said makeup artist Isamaya Ffrench in an interview with The Guardian. The truth is that your eyebrows can tell a lot about your personality. For example, V-shaped brows are associated with hostility and anger. On the other hand, people with straight brows are perceived as rational, logical, and objective.
However, there's no need to panic if, for some reason, you went overboard with the tweezing. With a bit of patience, you can regrow or reshape your brows and achieve a look that flatters your face. It won't be easy, but it will be worth it. But here's something you can do in the meantime.
Fix overplucked brows with makeup
First things first, put down the tweezers and head to the beauty store. Choose a high-quality tinted brow gel, pencil, and/or powder in a color that matches your eyebrows. Next, try to figure out the perfect eyebrow shape for your face. Place a pencil along each side of your nose to determine where your brows should start. After that, turn the upper end of the pencil to the outer corner of your eye — this is where your brows should end. Last, align the upper end of the pencil with the center of your iris to see where your brows should arch.
Once these steps are completed, use an eyebrow pencil, powder, or similar products to fill in the gaps. An even better option is brow pomade, which usually lasts longer and helps create a more natural look. For example, you can use the Anastasia Beverly Hills Dipbrow Pomade to apply hair-like strokes and create the illusion of fuller brows. If you have any stray hairs, cover them with a dab of concealer in a lighter shade than your skin tone.
Last, consider using translucent powder for a natural look. Apply it with a thick brush over your brows, temples, and cheekbones. Another good choice is this highlighter powder from Maybelline, which offers a subtle, healthy glow. Use a tiny amount over your eyebrows — just enough to even out their color and hide darker tones.
Ditch the tweezers and grow out your eyebrows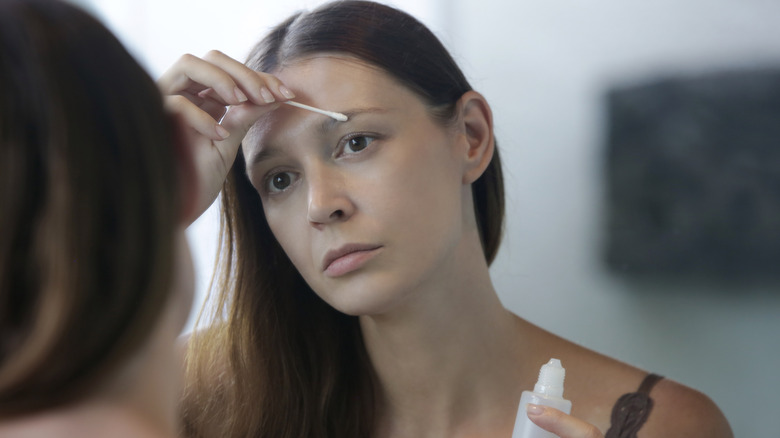 Triocean/Shutterstock
The right makeup can make your brows look fuller, but it won't fix the root cause of the problem. Your best bet is to let your eyebrows grow and stop plucking them for a couple of months. Celebrity stylist Joey Healy recommends putting down the tweezers for 15 weeks. "You want to be truly hands-off with your eyebrows; doing maintenance doesn't necessarily help them grow in any better," he said in an interview with The Cut. In the meantime, apply an eyebrow growth serum and tweak your diet to get faster results.
Shilpi Khetarpal, a dermatologist at the Cleveland Clinic, recommends taking 3 to 5 milligrams of biotin per day. Make sure your diet is rich in omega-3s, iron, protein, and other nutrients that support hair growth. Dr. Khetarpal also suggests using Latisse or over-the-counter serums containing 2% to 5% minoxidil. "Latisse works by increasing the number of hairs, the thickness of each hair, the pigmentation, and the length," dermatologist Patricia Wexler told The Cut. Alternatively, look for natural ways to grow fuller eyebrows, such as applying castor oil to your brows or taking vitamin E supplements.
Meanwhile, consider brow lamination or microblading, especially if your brows are very sparse. You could also try temporary eyebrow tattoos, which come in different shapes and colors. The results last up to a week, and you can apply the tattoo at home within minutes.