Kelly Green Is The Newest Handbag Color Trend - Here's How To Style It For Everyday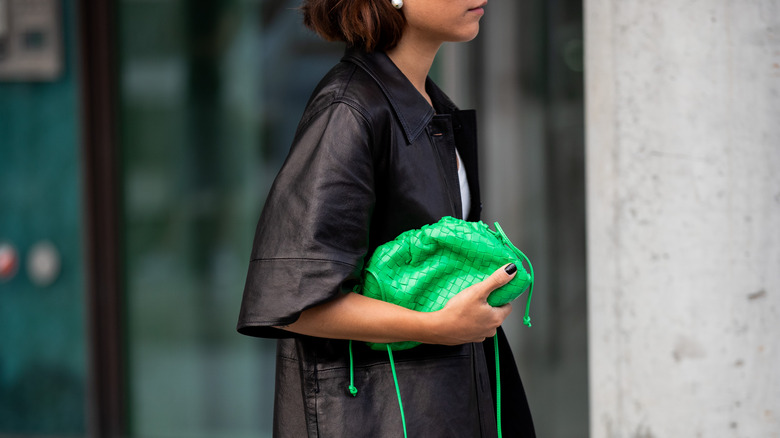 Christian Vierig/Getty Images
If you're looking for a new handbag to bring in the warm weather and long nights, make sure it's Kelly green. This color, named after the Irish because of the color green worn on St. Patrick's Day, is making a strong comeback after its last big appearance in 2021. And it's surely been missed!
Although Kelly green can be worn in many different ways from jackets to earrings to tees and tanks, the Kelly green handbag is a favorite among fashionistas because of its ability to stand out and enhance the overall style of an outfit. It's a go-to signature piece that can be mixed and matched with whatever is in your closet. Plus, these bags come in a million different styles and if you're on a budget, you can certainly find one that isn't the most expensive handbag in the world. So, whether you like tote bags or fanny packs, finding a Kelly green will be no trouble now that it has made its way back into the fashion scene. 
If you're not completely sold on adding Kelly green bag to your wardrobe, check out these outfit ideas that'll spark a shopping trip!
Pair it with a patterned dress and boots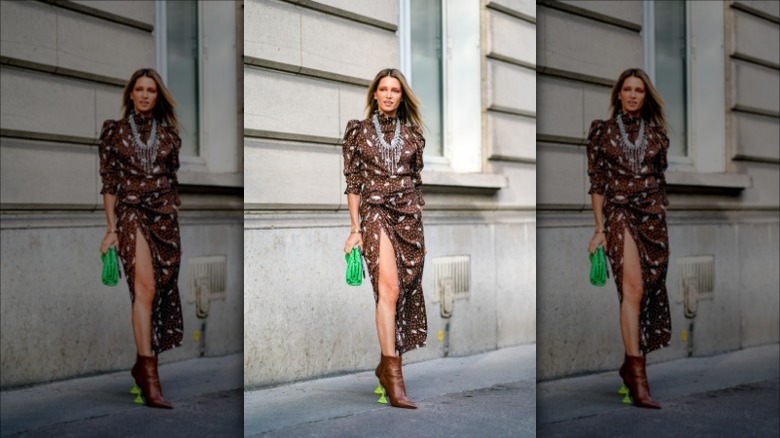 Edward Berthelot/Getty Images
A patterned dress or two are great staples to have in your closet to dress up or down. But, of course, since a patterned dress has such a distinct design, you may be tentative to wear it more than once or twice. That's where accessories come in! A Kelly green clutch can transform your outfit into something entirely new. The dynamic color alongside a patterned dress, especially if it's neutral in color, will create a whole new look that people will be raving about. 
Add it to black and white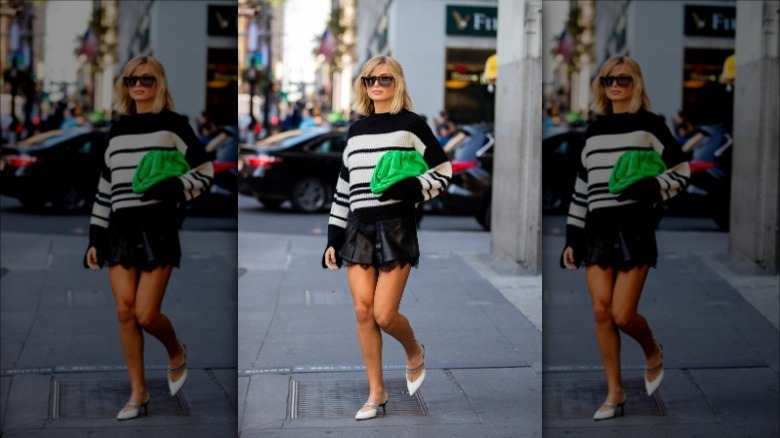 Christian Vierig/Getty Images
Pairing a vibrant color with black and white may feel scary, but the outcome is worth it. Having a Kelly green handbag in your wardrobe is like gold for any black-and-white look. The Kelly green not only stands out among the neutral canvas, but it also upgrades your entire look to make you look as if you're ready to walk down the runway, even if you're just running to the bank on your lunch break. 
Match your colors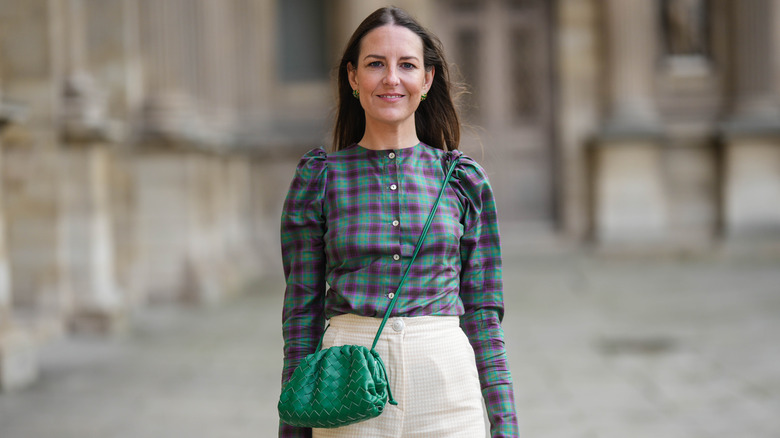 Edward Berthelot/Getty Images
It's always a good idea to pull colors from your outfit to match your purse. Of course, not everyone has Kelly green laying around so you may need to start browsing online for some patterned Kelly green items to complement your new purse. This look pulls the greenish-blue color from the plaid blouse and enhances it with the cross-body bag, making the outfit look well thought-out and conscious. Add some neutral heels for a more done-up look or stick with some slip-on sneakers for running errands. 
Try an oversized blazer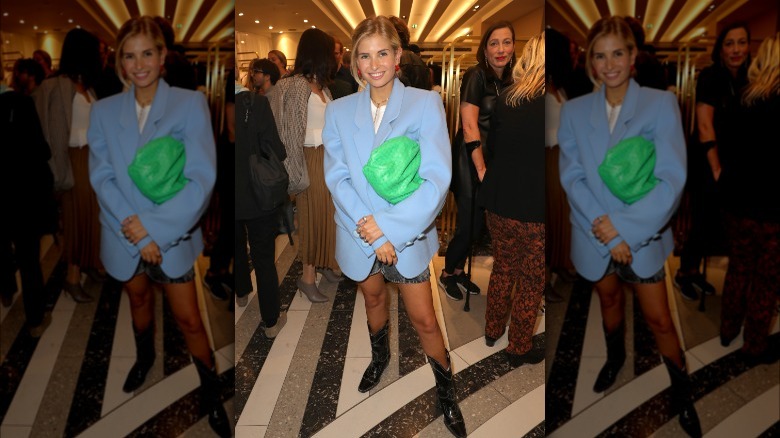 Andreas Rentz/Getty Images
Oversized blazers are in and out of the fashion world all the time, and while they're in try pairing one with a Kelly green purse for a dynamic and bold look. Whether you opt for a colorful blazer or try something a little quieter, a Kelly green purse will still allow you to stand out amongst the crowd. Blazers, like this purse, can be dressed up or down so where you wear this is totally up to you.
Slip on a dress and sneakers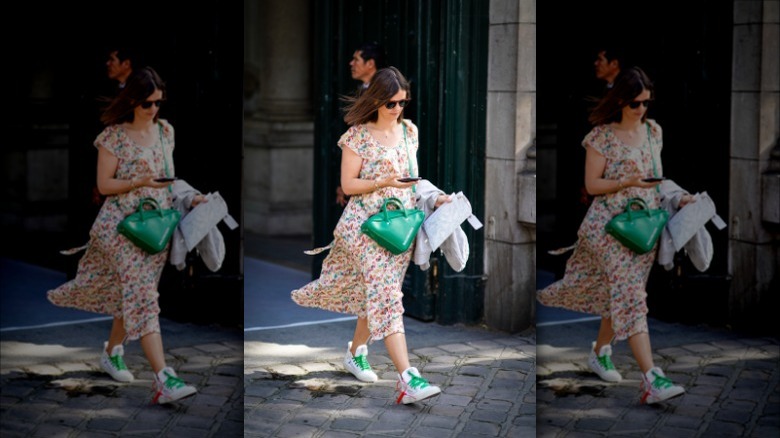 Edward Berthelot/Getty Images
Dresses and sneakers used to be enemies, but thankfully the fashion world has turned around and combined the two to make a comfy, casual, and girly look. To amp up those stylish vibes, pair it with a Kelly green cross-body purse, which is perfect for when you're out and about and need a safe place to stash your wallet, keys, and lip gloss. Choosing a floral dress with traces of green makes it more feminine and allows the Kelly green cross-body to mesh even easier. 
Opt for a classic look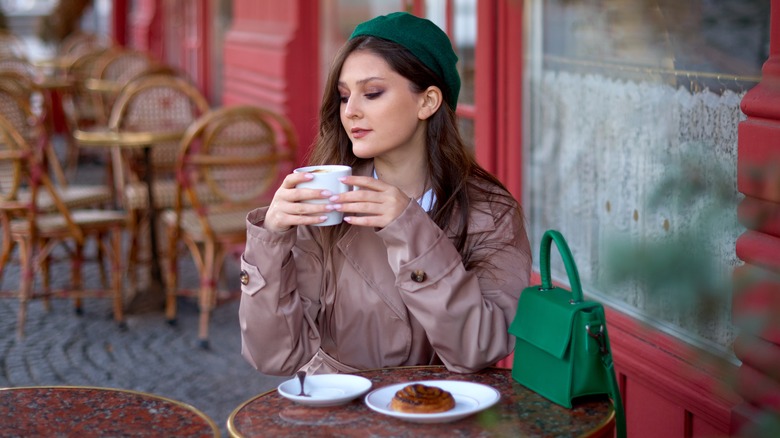 Olha Nosova/Shutterstock
For someone with a more classic style who doesn't want a ton of color, sometimes one bold color in an outfit is enough. So, use the Kelly green bag as it was intended, as a signature piece. The structured look of this purse, paired with a long neutral-colored trench coat creates a high-class vibe that anyone can pull off. You probably already have many of these items for a classic look in your closet, making the outfit even easier to style. 
Dress up a casual look with heels and contrast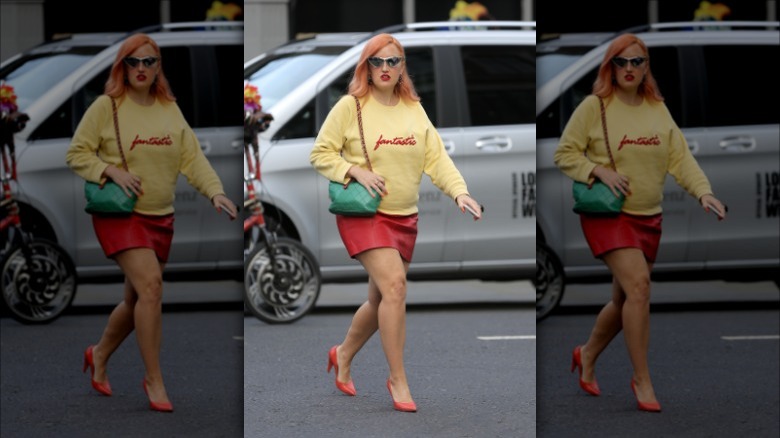 Ricky Vigil M/Getty Images
A lot of people are timid about playing with contrasting colors, especially red and green. But, this combo isn't just for Christmas anymore. Mixing some primary colors with a secondary color creates a bold look. A casual sweatshirt paired with a red skirt and heels is an ideal way to showcase your Kelly green purse, which brings the whole look together. Your Kelly green purse can act as your everyday bag to upgrade every outfit, without using a 'purse planner' to help you switch bags daily.
Style a colorful knit for spring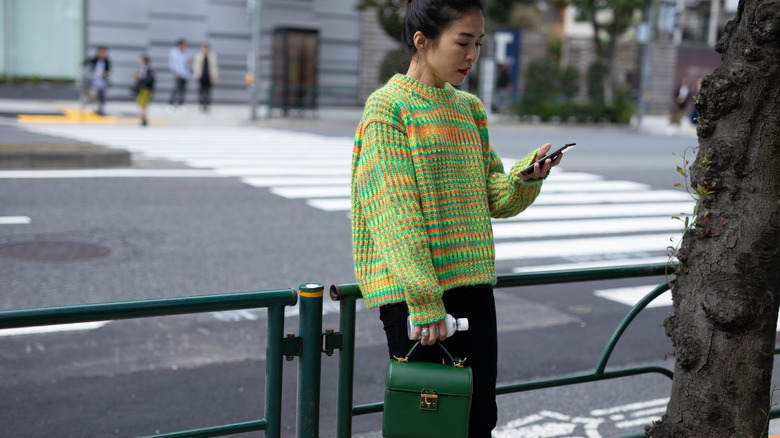 Matthew Sperzel/Getty Images
Since Kelly green is reminiscent of springtime, pairing it with other spring and summer colors is a surefire way to draw attention to your outfit. A colorful knit may just be the most ideal way to add some brightness and enhance the look you're rocking. A patterned lightweight sweater with multiple colors makes this outfit way more fun. Plus, a good spring sweater is a great way to add some pattern to your outfit so the Kelly green purse can shine as a solid.