Princess Charlotte Could Reportedly Inherit A Special Title From King Charles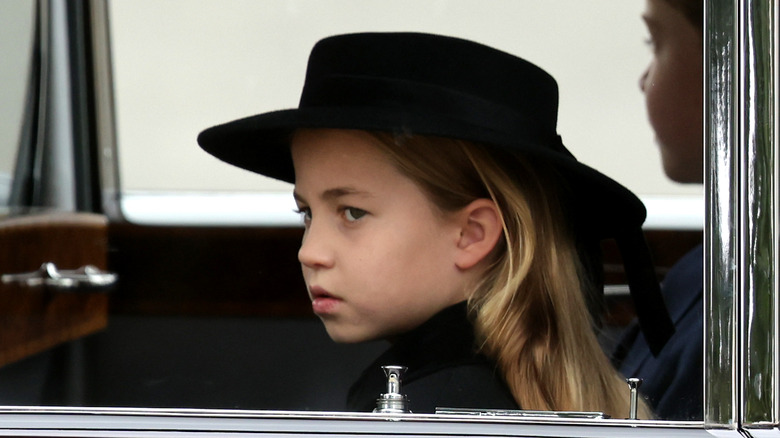 Chris Jackson/Getty Images
The relationship between King Charles III and his granddaughter Princess Charlotte is special. As a parent, Charles had hoped for a daughter, and he was delighted when his oldest granddaughter was born. "She is beautiful," he said at a 2015 royal appearance, per Express. "I was hoping for a granddaughter — someone to look after me when I am very old." In addition, the two are connected by name since Charlotte is the female variation of the name Charles. 
Currently seven, Charlotte is the second child of William, Prince of Wales, and Catherine, Princess of Wales. She's third in the line of succession due to a change in the royal rules. Before Prince George was born, UK Parliament passed the 2013 Succession to the Crown Act. For royal children born after October 28, 2011, gender no longer determines the succession lineup. So when Charlotte's younger brother, Prince Louis, was born in 2018, he didn't get to jump ahead of her.
Since she's so close to the crown, Charles is thinking ahead to Charlotte's potential career as a senior royal, and in preparation, he's considering a prestigious title to match. "It is constitutionally significant that Charlotte should be given such a corresponding title because it is not beyond the realms of possibility that she will accede the throne if, for example, Prince George does not have children," a source explained to the Daily Mail. Now a royal author has revealed the title the king has in mind for Charlotte.
Princess Charlotte is slated to become the future Duchess of Edinburgh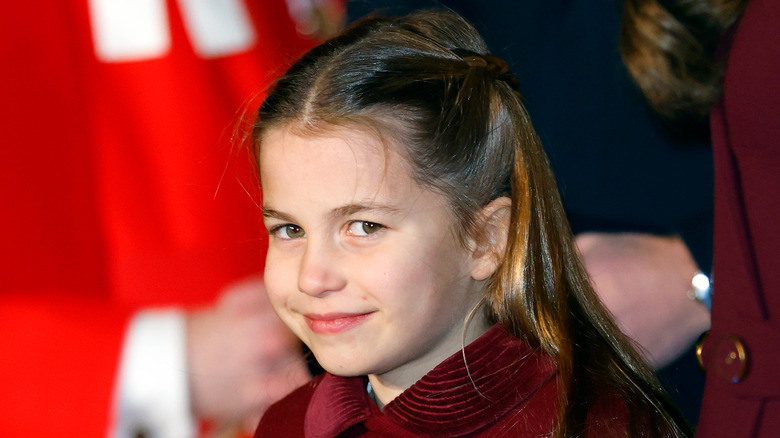 Max Mumby/indigo/Getty Images
In November 2022, it was reported that King Charles III intended to reserve the title of Duchess of Edinburgh for Princess Charlotte. "It would be a fitting way to remember the Queen — who, of course, had the title Duchess of Edinburgh — and a way for His Majesty to honor the line of succession," a source informed the Daily Mail.
However, Queen Elizabeth and Prince Philip once had a specific request for the title. In 1999 when their youngest son Prince Edward got married, the Palace announced, "The Queen, the Duke of Edinburgh, and the Prince of Wales have also agreed that Prince Edward should be given the Dukedom of Edinburgh in due course when the present title held now by Prince Philip eventually reverts to the Crown" (per The Times). After Prince Philip died in 2021, the title was inherited by Charles. Once he became king, it went back to the Crown, where it was up for grabs. After some consideration, Charles found a way to fulfill his parents' wishes and his own. 
In March 2023, he bestowed Prince Philip's former title on Edward in honor of his 59th birthday. However, since the title is no longer hereditary, it won't be passed down to his son James, the current Earl of Wessex. "After Edward dies, Charles has made it clear Charlotte (now aged seven) should become Duchess of Edinburgh," royal author Robert Jobson writes in "Our King Charles III" (via The Mirror).
Princess Charlotte might also be Princess Royal one day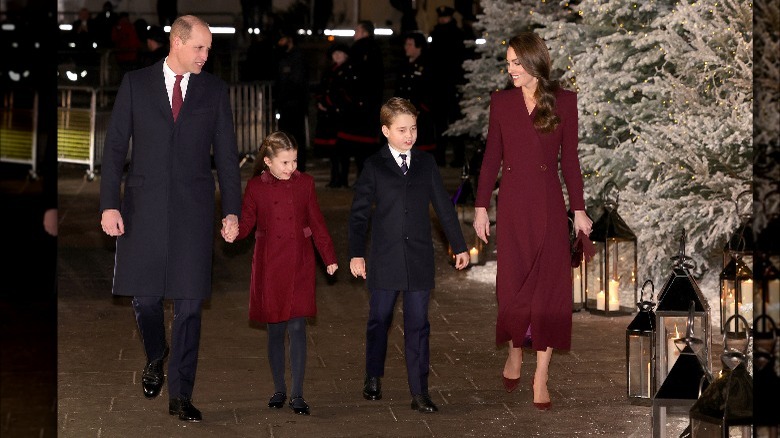 Chris Jackson/Getty Images
Given her high royal ranking, it's possible that Princess Charlotte could receive another prestigious title in the future: Princess Royal. Currently, this title is held by Queen Elizabeth's daughter, Princess Anne. In 1642, the Princess Royal title was created to honor the monarch's oldest daughter, drawing its inspiration from French royal styling. Like the current incarnation of the Duke of Edinburgh title, Princess Royal is a lifetime role that is not hereditary. 
Before Anne, her great-aunt, Princess Mary, held the title until she died in 1965. That's why, despite being the oldest daughter of King George VI, Queen Elizabeth never had the role. Even though Anne met the eligibility criteria, Queen Elizabeth didn't give the title to her daughter until 1987. Choosing a time to bestow this title is the monarch's prerogative, and it's unclear exactly why Elizabeth chose to wait. On one hand, Anne wasn't particularly interested in titles, and in 1973, she declined the opportunity to receive any as a marriage gift. On the other, Princess Royal has an unusual criterion that may have given the queen pause before bestowing it upon a teenage Anne in 1965. "Under ancient British law, any man who sleeps with the Princess Royal before they are married is guilty of high treason — punishable by execution," royal author Duncan Larcombe told Town & Country. Regardless of when Charlotte becomes eligible for the historic title, Larcombe observed that Prince William might wait until she's older, even married, to give it to her.