The Ultimate Guide To Building Your Dating Profile If You're Older And Looking For Love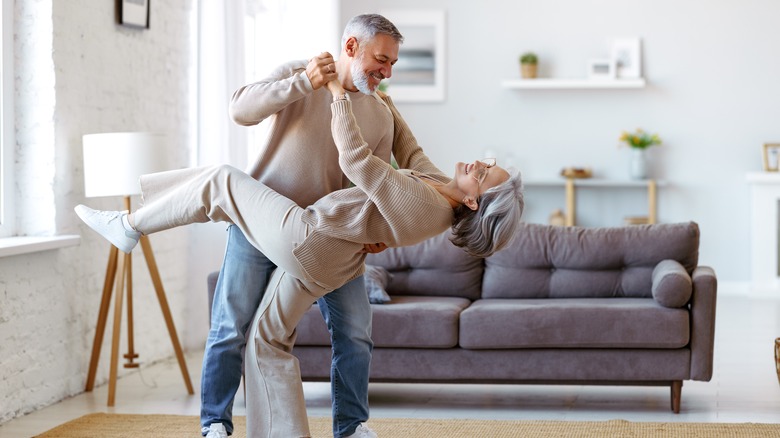 Evgeny Atamanenko/Shutterstock
It is no secret that dating has seriously changed throughout history – the definition of romance has drastically evolved, courting has been replaced by late night "u up?" texts, and modern meet cutes mostly occur when both of you have swiped right.
In this day and age, dating can be extremely overwhelming, especially with the rise of online dating. According to a study conducted by Pew Research Center, 3 in 10 American adults have used a dating app, and 1 in 10 Americans reported a long-term relationship blossoming from a connection made online. Navigating the myriad of dating apps and swiping on all the eligible singles until you make a potential match is just the tip of the iceberg, not to mention actually going on a first date afterward. With so many obstacles to overcome just for the potential of a first date, many people are spooked by dating apps, especially those who didn't exactly grow up with the technology at their fingertips. For many of the older generations, dating apps may not feel extremely accessible.
There has long been a stigma about dating later in life, but those who say dating is a young man's game are obviously mistaken. While singles over 45 may be the smallest demographic currently on dating apps, they still represent a solid 17% of the overall dating pool; long story short, there are plenty of older, single fish in the virtual sea.
Choose the right online platform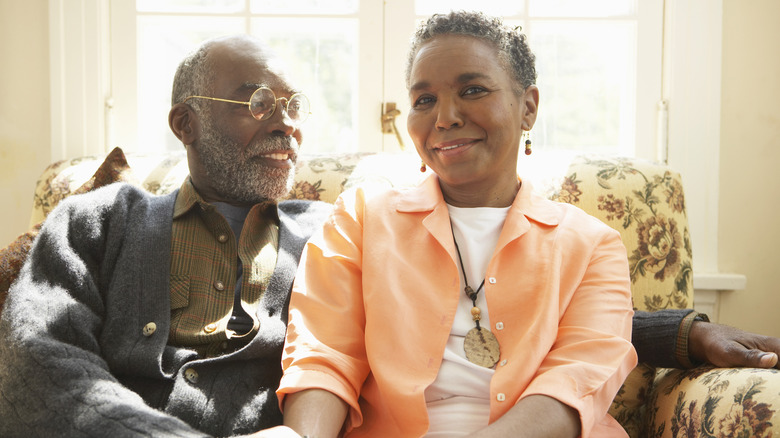 Siri Stafford/Getty Images
Not all dating sites are created equal. Before you join Tinder and find out why it is dubbed "the hookup app," make sure to do your research on what different dating apps offer.
For those looking to join the world of online dating for the first time, eHarmony is reported to be a favorite amongst singles over 60, followed closely by Elite Singles and OkCupid. There are also dating apps exclusively for people over the age of 50, such as SeniorMatch, Singles50, and Silver Singles – If you can get past the punny names, Forbes recommends these apps for older generations who are looking to find love. There are also dating apps for different cultural backgrounds, religions, and political preferences, which older generations have found to be extremely helpful when identifying a partner.
If you're looking for a long-term relationship on a dating app, don't be afraid to make it clear. Most singles don't have the time or energy to play mind games with potential matches, especially those who are older and looking for love. Most dating apps like Bumble and Hinge now have a feature where you can explicitly state what type of relationship you are looking for, so you don't have to waste your time with matches who "aren't quite sure what you two are just yet."
Don't settle for less than you deserve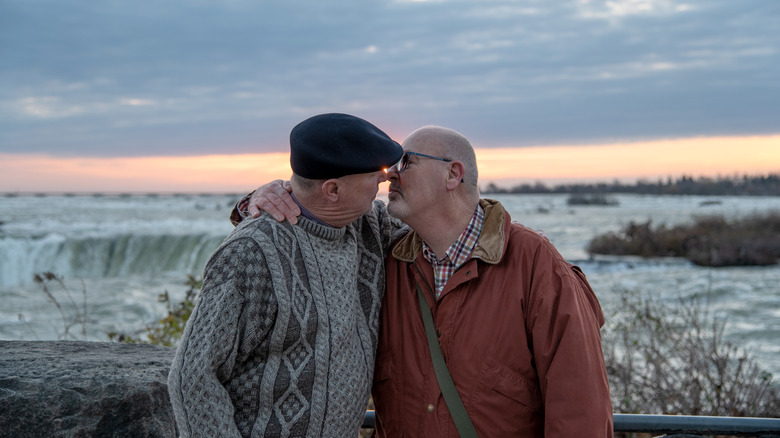 Robert Reed/Shutterstock
When you're getting back on the dating horse, try to focus on the positives – if you have been around the dating block a few times, you know exactly what you don't want out of a partner, but potential matches don't always take kindly to this kind of mindset. Identify what you like and what you bring to a relationship, and state that you're looking for a partner with similar attributes. Make it clear that you're looking for someone you can talk to all night long or someone who will respect your long-established career. If you aren't sure how exactly to spell it out, your dating profile will give you plenty of opportunities. In addition to your bio, there are plenty of prompts to answer that give other singles on the app a clear idea of who you are. Instead of reminding potential matches that your ex never bought you flowers, answer your prompts with your eyes towards the future: "Buying flowers is a good way to win me over."
And after you've considered what you're looking for while online dating, don't settle for any less. Dating when you're older can sometimes feel like slim pickings, and you may find your spirits dwindling when such a large majority of the online dating pools are younger crowds. But that doesn't mean your match isn't out there – love has no age limit, and neither does beauty. When you're searching for love in the virtual world, confidence is key.
Taking the right photos is essential to online dating success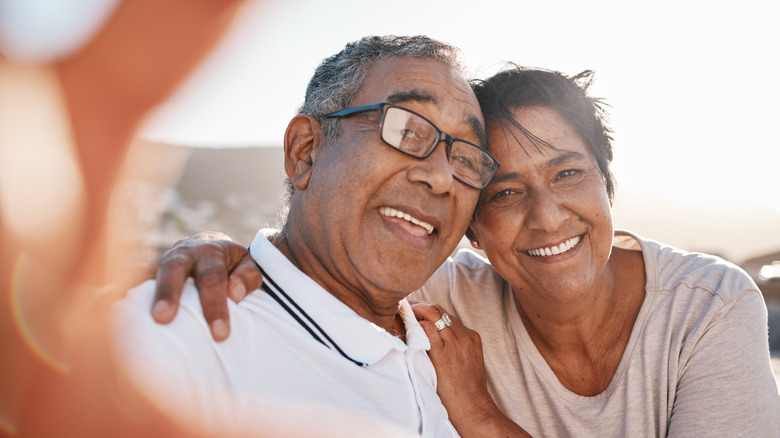 Peopleimages/Getty Images
According to dating coach Amy Nobile, choosing which photos to post on your dating profile is one of the hardest parts of online dating. "A lot of times we are presenting an image of what we think our audience wants to see versus who we really are," she told Katie Couric Media. In reality, the best way to present a full, honest image of who you are on a dating app is by choosing photos that showcase all sides of you, both physically and personality-wise. It is recommended by Nobile that you upload five or six photos: two should highlight your face and smile, followed by two "full body shots" that show off your physique and personal style. The final few are wildcards that can display you at your happiest: photos that showcase your unique hobbies and interests are great conversation starters. Just make sure you are clearly present in all the photos – uploading pics of only your dogs isn't the way to go; this isn't Facebook.
We hate to say it, but selfies on dating apps are widely considered a no-go. We know! It's tough to get a good-looking image that you're happy with without seeing it for yourself. Dating app experts recommend enlisting your trusted friends and loved ones to help capture your beauty; and as a bonus, you get to have a fun photoshoot with your besties!
Work on your witty banter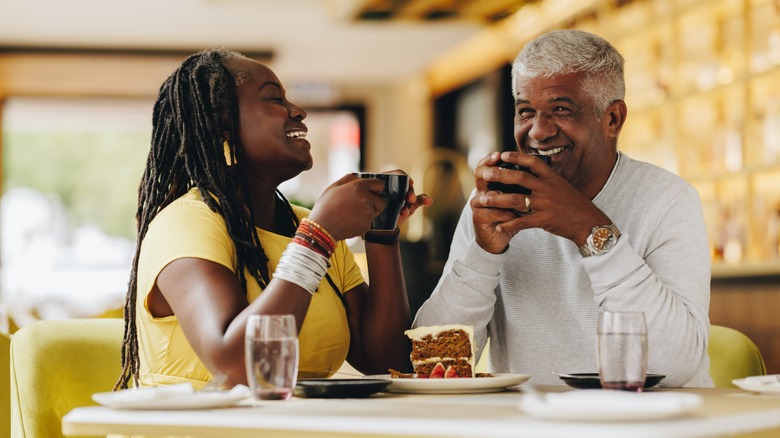 Jacob Lund/Shutterstock
We get it, dating apps can be awkward. After all, what do you even say to a virtual stranger who has "swiped" on you? But if we are being honest, we think dating apps might be just as awkward as agreeing to a blind date or mustering up the courage to talk to that cutie across the bar. Dating in general can be really strange if you don't know what to say. You may see many matches open up a conversation with one word: "Hey" (punctuation, capitalization, and spelling may vary...). While this may seem simple, there are so many better opening lines that strike up more interesting, meaningful conversation.
Let your matches know right away that you are interested in getting to know them by commenting on something in their profile. If their pet is present in their profile pics, try, "I see that you are a dog lover too!" Once you start up a convo, ask genuine questions that require detailed answers, such as, "What does a perfect Saturday look like to you?" If you're connecting with another mature single, inquire about their family – asking about their grandkids is always a great way to get people talking.
Texting can be fun but beware of too much online chatter. Dating experts warn that talking to a match for multiple weeks without meeting in person can quickly become a text-only relationship – once you are comfortable chatting virtually, you may never move your relationship to the next level.
Identify your deal breakers before you start swiping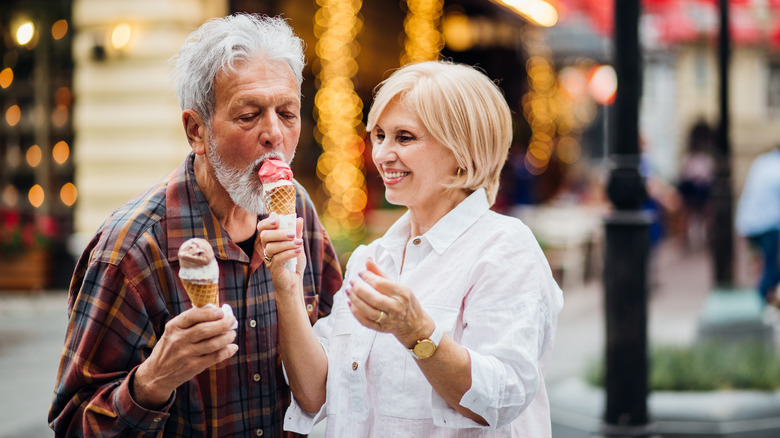 Mixmedia/Getty Images
Before you start chatting it up with online cuties, don't forget to stay safe. Meet any potential matches in a public place before spending time alone. Even if you're only looking for a one-night stand, grabbing a cup of coffee or a drink at a well-lit bar is a good way to ensure your new boo is who they say they are. Unfortunately, there are certain characters to watch out for that are walking red flags. In particular, men who fetishize older women are most likely not on dating apps for the right reasons, and may not be long-term partner material.
Another potential speed bump is the possibility of connecting with someone who is a different age. While age gaps in relationships aren't always a red flag, it is important to decide what you are comfortable with before pursuing someone who is much younger (or older). You may find that you don't connect on things because of your age difference, or it might feel too awkward when you are together in public. If you are hoping to find someone with similar viewpoints and life experience, maybe limit the age range to 5 years younger and older than you are now. Of course, if you've decided you just don't vibe with people close to your age, feel free to venture beyond your generation; just make sure your potential partner is also comfortable with the age gap.