Tips For Washing Out Temporary Hair Dye When It's Time For It To Go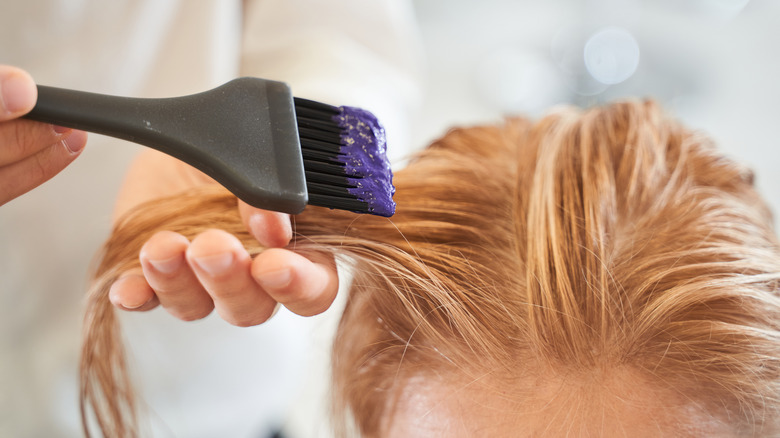 Olena Yakobchuk/Shutterstock
We may receive a commission on purchases made from links.
Did you recently use a TikTok filter that had you longing for red hair? Or maybe you had an event last weekend that called for the perfect touch of pink in your blonde locks? Either way, you may have used some temporary hair dye that you no longer want. Temporary hair dye — not to be confused with permanent or demi-permanent hair dye — is a great alternative to regular dye. Not only does it wash out quickly, but it also leads to zero hair damage — a win-win if you are just looking to add a bit of fun to your hair for a short amount of time. 
Temporary dye works by simply coating the hair with color. Temporary hair color comes in a variety of options, from hair chalk that's great for that piece-y look to sprays, waxes, and gels. You can usually regulate how deep the color is by how much dye you add to your hair, but the color or type of hair you have can greatly affect how the dye washes out and how quickly. If you are ready to say goodbye to the temporary dye, here are the best tips for washing it out.
How to wash out temporary hair dye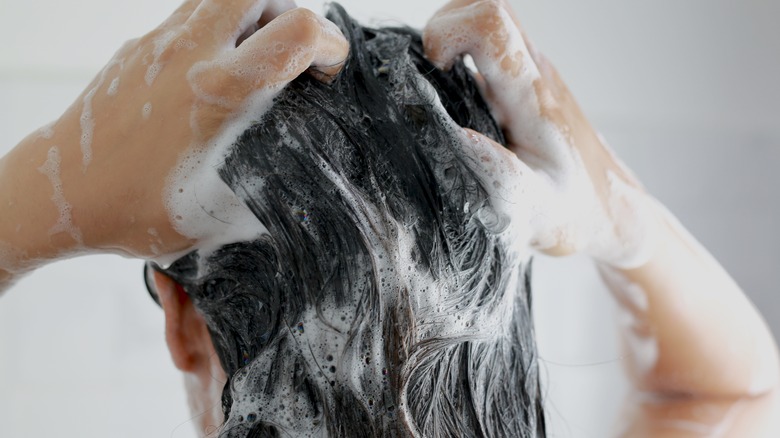 fongbeerredhot/Shutterstock
Despite what you may believe, not all hair dyes are created equally. While temporary dyes do not penetrate the hair shaft and therefore are easily washed out, some dyes may last longer than others. If you need the dye out of your hair ASAP and one wash isn't cutting it, you may be doing it wrong. Makeup.com recommends always reading the full label before adding dye to your hair. If you want something that will wash out after one shampoo, you need to make sure you are using a temporary dye. Anything that is marketed as semi-permanent may sound temporary, but it will last a lot longer and be harder to rinse out.
If the dye isn't budging as well as you thought, consider using a clarifying shampoo. A good clarifying shampoo not only helps get rid of product buildup and gives your hair a deeper clean, but it will also help get rid of the temporary color on your hair. Color-removing treatments are also great options, as are at-home concoctions you can make with common ingredients.
The best DIY and store-bought hair dye removal treatments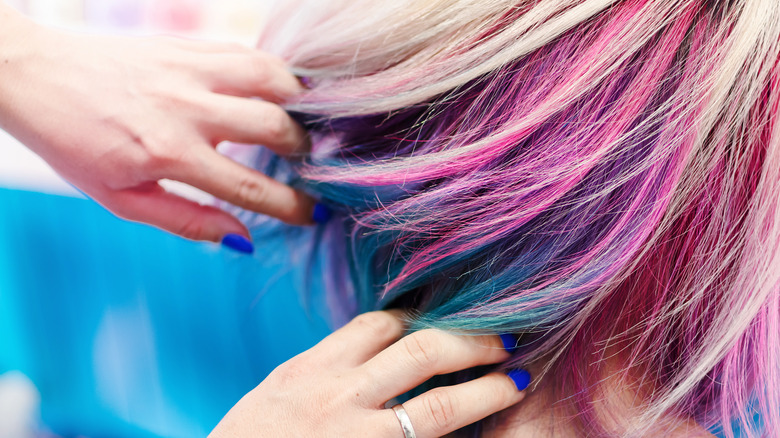 Focus and Blur/Shutterstock
If you need to get that blue dye out of your hair after a night out and your normal shampoo isn't cutting it, consider looking for materials in your kitchen. The Glam House recommends simply mixing the same amounts of baking soda and water together to lather into your hair. After a few minutes, you can wash the mixture away as well as any lasting hair dye. Other possible options are mixing water with vinegar or lemon juice to wash out your hair. If you have a bit more time to sit and wait, consider using hydrogen peroxide and letting it sit in the hair for about 30 minutes before rinsing.
If you'd prefer to go the store-bought route, you also have some options. The Biolage Normalizing Clean Reset Shampoo is a great clarifying shampoo that gives you the double benefit of getting rid of your temporary hair dye and cleansing the scalp. We also love Ouai Detox Shampoo and the Matrix Total Results High Amplify Root Up Wash Super Clarifying Cleanser.