Tailoring Is The Simple Solution To Elevating Your Wardrobe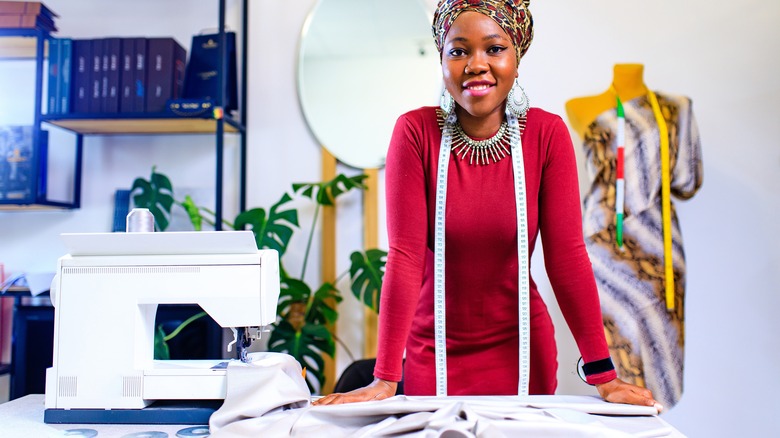 yurakrasil/Shutterstock
You may have gotten special-occasion outfits tailored before a big event, but it might not have ever crossed your mind to take your everyday tops, pants, or skirts in for tailoring. Buying ready-to-wear clothing is the reality for most people, but that means that our clothes don't always fit us like they were made for our bodies. That's where tailoring comes in. You might think it's not worth it to invest in tailoring your entire wardrobe, and while that might be true, choosing a few of your favorite pieces that you wear often and getting them fashioned to fit you perfectly could be a game-changer and completely elevate your wardrobe.
Custom designer Kiya Tomlin tells Who What Wear that tailoring was popular when ready-to-wear clothes first became normalized, but it eventually fell out of fashion. She adds, "For the last few decades, we have been trying to make our bodies fit the clothes when, in reality, we should be making the clothes fit our bodies." The first step to getting your wardrobe to look tailor-made is to find an expert that you trust to help you with the process. A professional tailor will know exactly how to shape and cut your garments to flatter your figure.
Tips for getting your clothes tailored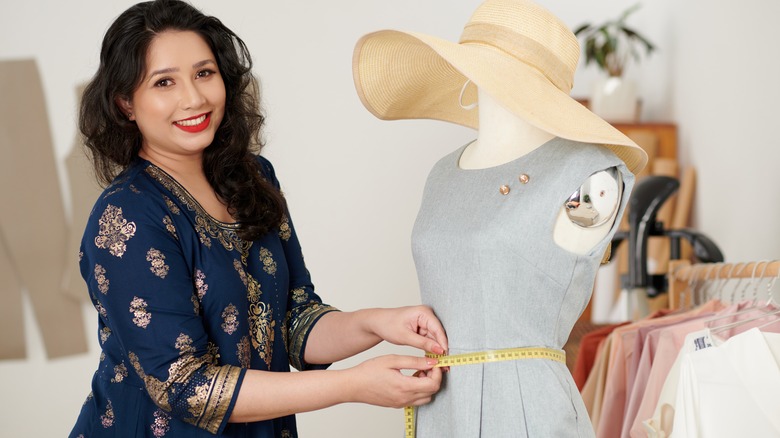 Dragon Images/Shutterstock
The first step to getting your clothes professionally altered is to find a tailor near you. It's a good idea to visit with simple projects first, like hemming your jeans or shortening the sleeves on a shirt or blouse. Then, if you have more complicated items of clothing or more involved requests, such as expanding or reducing the size of a pair of pants, ask your tailor if they can handle those projects as well. Special tasks, like tailoring your wedding dress, will take extra time, so make sure you ask well in advance for special events.
Finally, make sure that you're always asking for the price of alterations up front, so there's no room for sticker shock at the register when the work is complete. Since tailoring a more elaborate piece of clothing can take more time than simpler pieces, the prices can vary. Prices may differ based on which garments you're having altered, what type of alterations you're looking for, and how soon you need the clothing back. Rush jobs will likely cost more because of the shortened timeframe you're giving your tailor.
Tailoring makes your clothes look high-end
One of the great things about getting your clothes professionally altered is that you can have little adjustments made to pieces that fit well overall, but may fall awkwardly in spots. Tailoring your favorite items helps make them fit your body perfectly, which gives you a high-end look that may cost less than it looks like it would, even with the price of tailoring included. Going from clothing that fits you just okay to garments that fit you like they were made for you is really what tailoring offers. That's why it's the perfect way to class up your wardrobe, especially when it comes to elevating versatile closet staples that you'll wear all the time.
You can also look into learning about altering your own attire, especially for simpler projects like hemming your jeans or taking in seams in your shirts or dresses. Learn to adjust your clothes by practicing on your older or worn-out items before moving on to newer pieces. You might even use some cheap discount or thrift store finds to hone your skills.