Thomas Markle Has A Public Plea For Daughter Meghan In Run-Up To King Charles' Coronation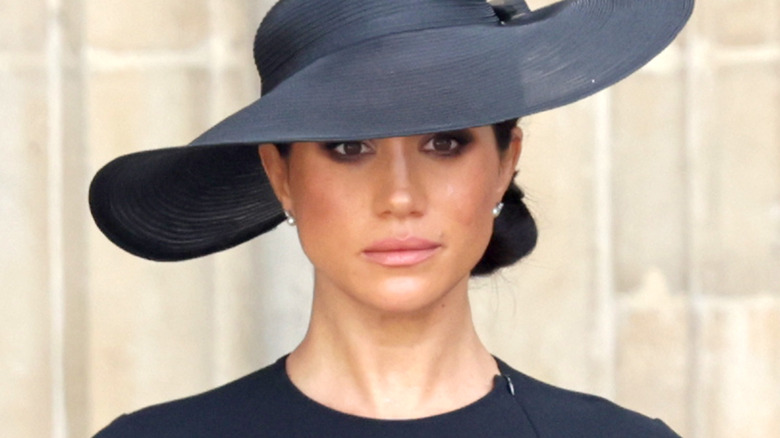 Chris Jackson/Getty Images
Meghan Markle, Duchess of Sussex, has had a difficult relationship with her father, Thomas Markle. Meghan became estranged from her dad in 2018 after she approached him with concerns that he was taking money for paparazzi photos. "I said, 'I just need you to tell me and if you tell me the truth, we can help,' and he wasn't able to do that," Meghan explained during the Sussexes' groundbreaking interview with Oprah Winfrey (via People). As a parent herself, the duchess couldn't condone her father's actions, adding, "I genuinely can't imagine doing anything to intentionally cause pain to my child. I can't imagine it. So it's hard for me to reconcile that."
Over the years, Meghan's in-laws have tried to help mend the rift between the duchess and her father. According to royal author Tom Bower, in 2020, King Charles and Queen Elizabeth were pressuring Meghan to reconcile with Thomas. At the time, the duchess declined to visit her father in Mexico, citing concerns that it would lead it to "a frenzy of media attention and intrusion that could bring more embarrassment to the royal family," per Bower (via Page Six).
Now the rift between Meghan and her dad is in the spotlight once again, in a dramatic interview trailer that includes Thomas. With the coronation just over a week away, royal author Andrew Lownie expressed dismay, telling Express, "A plague on both their houses many will say and it will help no one's reputation in the Markle family."
Thomas Markle wants to repair his relationship with Meghan
In a trailer for 7News Spotlight, an Australian media outlet, Thomas Markle is shown asking a single question: "How can I fix this?" presumably indicating his relationship with estranged daughter, Meghan Markle, Duchess of Sussex. Meghan's half-siblings, Samantha and Thomas Jr., will also participate in the April 30 program.
While the program's interviewer indicates "This would be [the family's] last interview ever," and that Thomas' hope for reconciliation is a "deathbed plea," it's far from the first time he's been in front of the camera. During an October 2021 interview with "Good Morning Britain," one of the show's hosts theorized that Thomas used TV appearances to talk to his daughter. Meghan's father agreed, saying, "I've made it quite clear that until I hear from her, until she does speak to me, that I will continue to do this."
In May 2022, there were indications that Meghan was trying to reach out to Thomas after he had a serious health scare. "Despite their estrangement, Meghan is concerned," a source told the Mirror. "She wants to know if there is any way to contact her father privately, without other family knowing about it or having to get involved." However, it seems the duchess wasn't able to achieve this plan. During a September 2022 interview with the Daily Mail, Thomas indicated that he hadn't spoken with Meghan after his stroke. "I love my daughter. She talks about forgiveness, so why not start with her own family?" he questioned. "What about forgiving me?"