Why Hallmark's Jake Foy Was Drawn To Joining New Hit Series Ride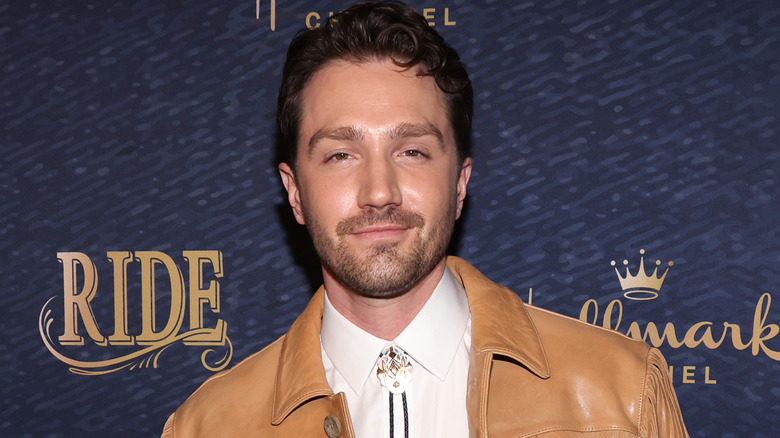 David Livingston/Getty Images
While the United States is not the only country with farming and ranching embedded into its history and contemporary lifestyles, people around the world often associate the cowboy with the U.S. Perhaps this is because western, Americana, and cowboy themes have always held a significant place in American pop culture. We see it in country music, western films from the past and present, and even in westerncore fashion aesthetic.
In recent years, television has seen its fare share of cowboy-centric dramas. Paramount's series "Yellowstone" and its prequel "1883" have been among the most popular shows of the 2020s. Then, in 2023, the Hallmark original series "Ride" premiered. The show follows a family with generational rodeo traditions who are also in danger of losing their ranch. Jake Foy, one of the show's stars, was happy to jump on board for the new series. He admired aspects of the show from the characters themselves to their lifestyles.
Jake Foy admires the characters in Ride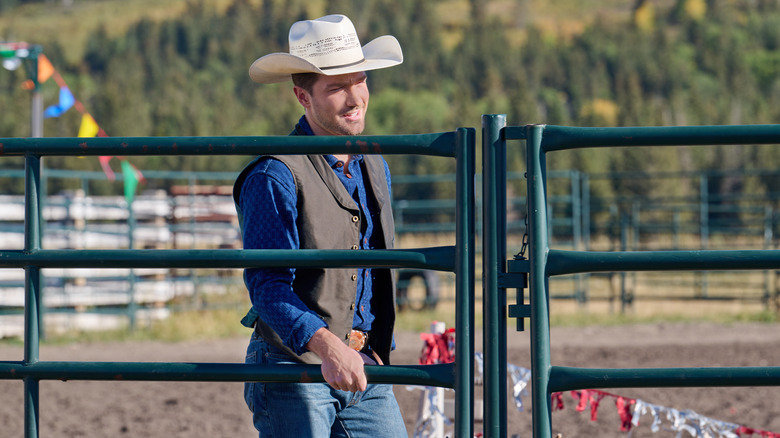 Michelle Faye/Hallmark
Jake Foy plays Tuff McMurray, a cowboy working to save his family's ranch. While Foy gets to use his musical background on "Ride," he shared why he wanted to be a part of the Hallmark series. "What drew me to the story was just the integrity of these characters and their work ethic and authenticity," Foy explained to UPI. He also explained that he envisions "Ride" as a way for families and friends to enjoy something together. "I think people miss getting together. That's why we're excited about the show — it's an opportunity to get on the couch with your grandparents, your cousins, your nieces, and your nephews and share that experience of watching TV or going to the movies," he stated.
Foy's comments on why he was drawn to "Ride" and his hopes for the series fall right in line with Hallmark's branding. Hallmark Media is known for being family-focused both in its programming and in its viewership demographics. While known for its feel-good content, Hallmark does not only depict picture-perfect families. The McMurray family in "Ride" is a prime example as they face the challenges of ranch and rodeo life along with personal loss. 
Hallmark helped the entire cast get into character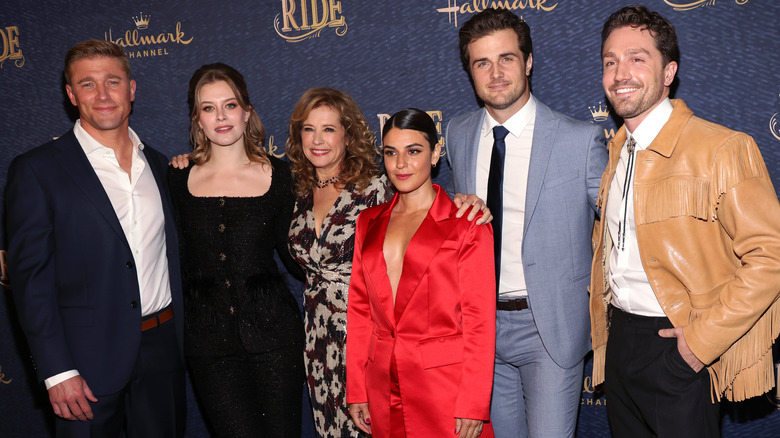 David Livingston/Getty Images
Jake Foy's character Tuff McMurray is an out gay cowboy. How this fits into the story was another aspect of "Ride" that appealed to Foy. Foy enjoyed "getting to represent a queer character where that's not the whole story for him" (per UPI). Tuff McMurray is not simply reduced to just a queer character. "What is exciting for me is that this is a character that brings some new representation to western stories. His character is not rooted in victimhood at all. Tuff is bravely himself, courageous and loyal, and those are traits that I value as an individual," Foy told Digital Journal. "[He] puts family, love and loyalty first."
The process of getting into character also made working on "Ride" a valuable experience. Hallmark sent the cast to a real ranch, where the actors on "Ride" trained for their roles. Foy stated to UPI that this helped them all "immerse in the world, no matter how high the stakes get between characters or what we are facing. From that standpoint, we couldn't be more lucky."