Queen Camilla's Workout Routine Happens To Be Princess Diana's Known Passion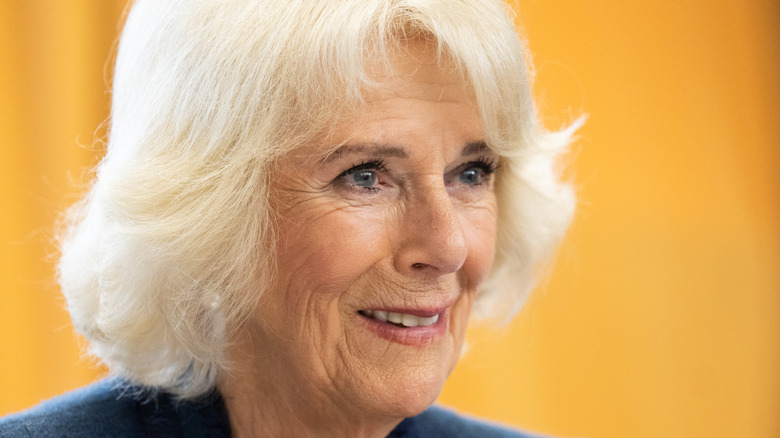 Samir Hussein/Getty Images
While some might consider imitation the highest form of flattery, the mirrored dynamic between Princess Diana and Queen Camilla was seemingly less amicable. The two women's long, complicated relationship began in the early '80s as the new wife and ex-lover of then-Prince Charles, respectively, and has been the subject of global intrigue ever since. Even now, decades after Diana's untimely death, Camilla shares similar interests with the late princess. 
Of course, not all similarities between Diana and Camilla are as intimate as being in a "marriage of three," as the princess and mother of Princes William and Harry famously lamented in a BBC interview (via The Sydney Morning Herald). Nor are they all tied to the royal institution, as Camilla now stands in the position Diana once referred to as fodder for her nightmares (via Daily Mail). Indeed, some shared interests are just that — interests and hobbies.
Her Majesty, The Queen Consort, revealed her workout routine in a 2020 interview with Tatler. And as it turns out, it mirrors one of Princess Di's great passions since childhood.
Princess Diana's childhood dream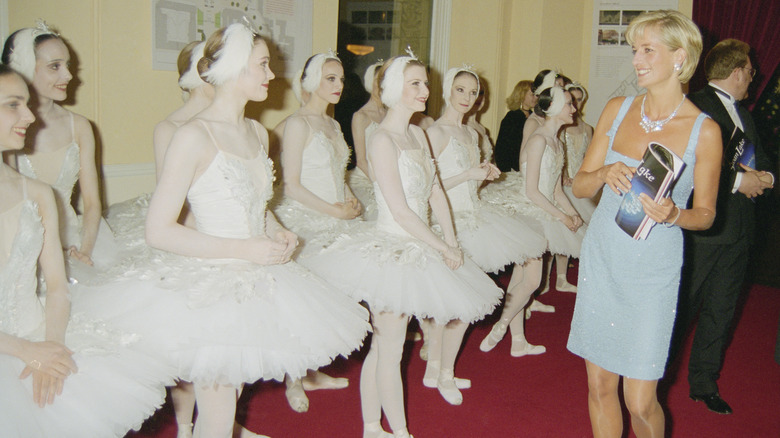 David M. Benett/Getty Images
Before she was known around the world as the effervescent and, at times, rebellious royal Princess Di, Diana Spencer was a tomboy who loved the outdoors and dreamed of becoming a ballerina. However, her height would end up squashing this dream. According to Reader's Digest, the princess' approximate height of 5 feet 11 inches was too tall to qualify as a career ballet dancer. 
Still, this didn't stop the people's princess from investing in her love of dance in adulthood. She jumped on any opportunity to revisit her long-held passion — whether with movie star John Travolta at a White House Dinner or onstage with Royal Ballet principal dancer Wayne Sleep. Moreover, she was an avid supporter of the art form, serving as a devoted patron and friend of the English National Ballet from 1989 to 1997, per the ENB's Instagram. 
According to Tatler, Queen Camilla has taken up this same interest — though admittedly much later in life.
From non-dancer to Silver Swan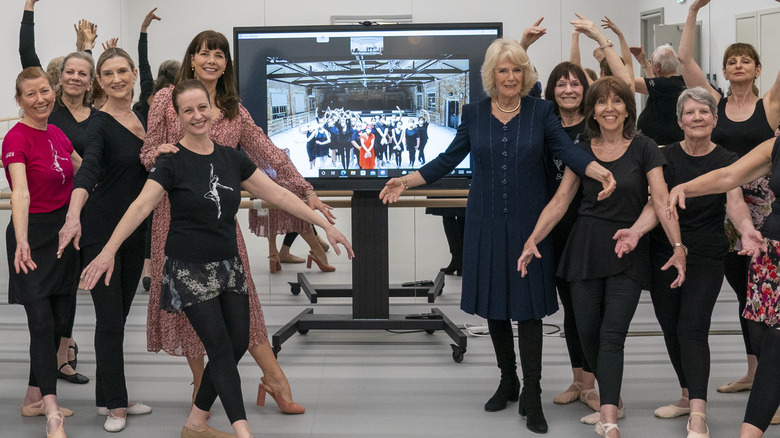 Wpa Pool/Getty Images
Per Tatler, Camilla began taking ballet lessons for exercise after a 2018 visit to the Royal Academy of Dance. The royal attended a Silver Swans class, a program designed for older dancers of all experience levels. While initially doubtful that such a class could compare to its younger dancing counterparts, she recalled being surprised at how much the class impressed her. 
After attending that fateful class, Camilla and a group of similarly aged friends also began taking Silver Swan lessons. "We thought at first it was going to be very funny," she recounted, "but we concentrate so hard that we don't even know what our friend next door is doing. You don't have to have any experience with ballet before. It's just something that makes you feel better." 
While Camilla might enjoy the same physical, mental, and emotional benefits of dance once held dearly by the late princess, she isn't nearly as eager as Diana to share this passion with the rest of the world. "I'm certainly not taking it to the stage," the queen consort said. "I'm keeping it in my own home, privately."