Wearing Black And Navy Together Is Easier Than You Think
Black and navy blue are two colors that rule the world of fashion: from dark denim to sheer black blouses, the cool-toned colors will always be in style. But before you reach for your favorite black blouse and dark blue trousers, you might hesitate, remembering the age-old rule of style: never mix navy and black. Historically, wearing a navy and black color combination is considered to be a fatal fashion faux pas.
According to @oldloserinbrooklyn, an analyst and fashion writer who shared a brief history of the no navy and black rule, the phrase stemmed from menswear trends in the 1900s. It was believed to be "gauche" to wear colors that were not easily distinguishable from one another such as navy and black, implying that the wearer "could not tell the difference" between the two fabrics and was seen as unfashionable. This creator and many others have since broken down the rule that navy and black don't mix, chalking it up to merely an old saying with no real merit.
Whether you believe the rule to be true or not, when it comes to fashion, rules are meant to be broken. An outfit combining black and navy details can be extremely chic and elegant when styled the correct way.
Be best dressed at the office with this winning color combo
This office appropriate attire is a match made in cool-toned heaven. Instagram user @chictalkch shared her favorite navy and black outfit, inspiring us to challenge the fashion norm. She paired a black crop top and blazer with a wide leg navy trouser pant, and used her jewelry and accessories to tie in the lighter colors from the buttons on her crop top. This creator calls her outfit "sophisticated and chic," perfect for your 9 to 5. 
This Parisian inspired fit combines black and navy perfectly
When you're looking to style navy and black together, don't be afraid to add bright colors to your outfit. Determined to prove that navy and black work well together, @samirakoehler posted a TikTok of her favorite ways to style the fashion faux pas, and her stylish creation is worthy of the cobblestone streets of Paris. She pairs a navy pinstripe two piece set with a black coat, chunky black loafers, and pops of pink and light blue to represent her personal style. 
Dark denim is always a good idea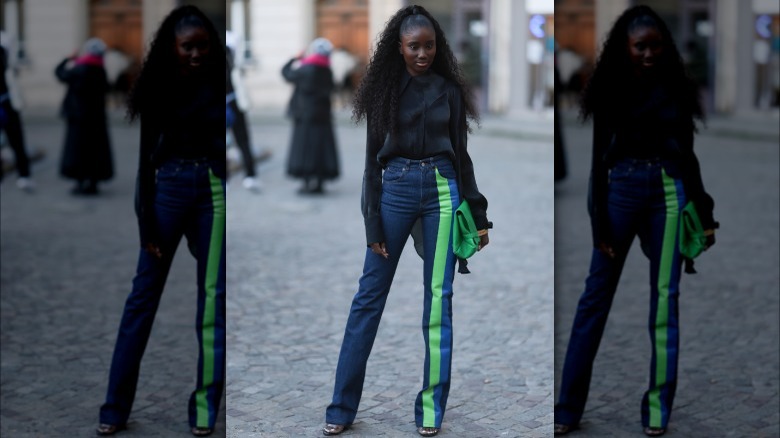 Jeremy Moeller/Getty Images
For self-proclaimed fashionistas that still need some convincing that navy and black can be successfully styled together, look no further than dark denim. It may be cliche, but we are firm believers that jeans really do work with anything, including a black top. A pair of dark, saturated, blue jeans are the perfect choice when you're looking to style your favorite black sweater or cropped tee. This classic look is the perfect canvas to layer all your favorite accessories to bring your unique style into focus. 
The perfect outfit is all in the details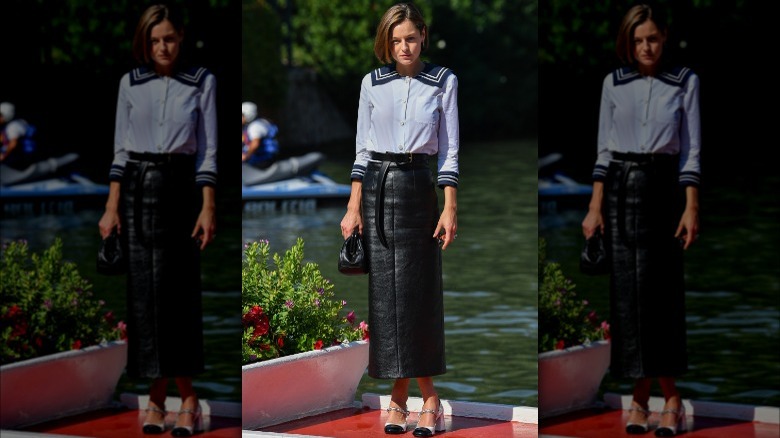 Jacopo Raule/Getty Images
If you're really worried about breaking the age-old fashion rule, it's okay to start small. Sometimes, adding just a touch of navy to your black and white outfit adds a bit of intrigue and personality your fit might have been missing.  Emma Corrin was once seen rocking a sailor-inspired blouse with a black leather skirt. The bits of navy around their neck and wrists turn a timeless outfit into something much more interesting and chic, an outfit you can easily create on your own. 
Bring navy blue front and center
When combining navy and black, sometimes it's best to let the blue hue shine. Black is a great secondary color that you can incorporate into accessories to enhance your outfit's details without drawing attention away from your whole ensemble. One of our favorite examples of this styling technique is Lui Wen, who was photographed at the 2023 Vanity Fair Oscar party wearing a navy blue lace suit with a black lapel. By adding touches of black in everything from her earrings to her toenail polish, she totally won this blue carpet moment.
This creator proves that black and navy is no fashion faux pas
When you're determined to style navy and black together, our best advice is to wear it with confidence. @remonia_ shared a few of her favorite navy blue and black outfits on TikTok, looking stunning in each and every one. From navy dresses and black pumps to a midnight-colored coat over a navy jumpsuit, this creator wears each look with a pose and a smile, knowing she looks great no matter what fashion rules she might be breaking.