Days Of Our Lives: Marlena Evans' Twin Was Played By Deidre Hall's Real-Life Sister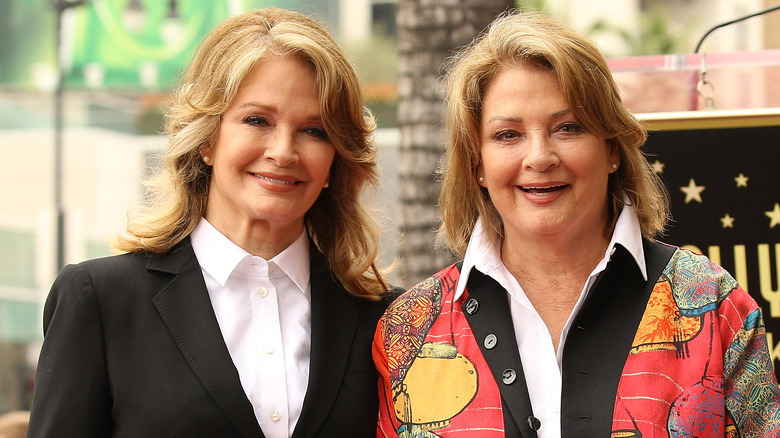 Michael Tran/Getty Images
Deidre Hall is a soap opera icon, and fans who have been watching her on "Days of Our Lives" since 1976 know that the actor has been through many ups and downs as her character Dr. Marlena Evans. During Deidre's time on the soap opera, her character has been through so much drama, including being possessed by the devil, and targeted by a serial killer. Now that the actor is celebrating a huge milestone by appearing in her 5,000th episode, she's opening up about her favorite moments on the soap opera, and not surprisingly many of them came while she was working hand-in-hand with her actual twin sister, Andrea Hall.
While discussing her favorite plotlines, Deidre told People that working with Andrea from 1977 to 1980 were some of the best times she's had on the sudser. "Ann Marcus, who had been interviewing a lot of the primary actors on the show, one of her questions was, 'What's the storyline you'd like to do that you've never done?' I said, 'Gosh, maybe I'd like to work with my twin sister,'" Hall revealed, and the show made it happen.
Andrea was cast as Marlena's identical twin sister, Samantha Evans. With the decision to bring Andrea on board, "Days of Our Lives" holds the soap opera record for being the first soap to ever cast real-life twins.
Deidre was impressed with Andrea's acting ability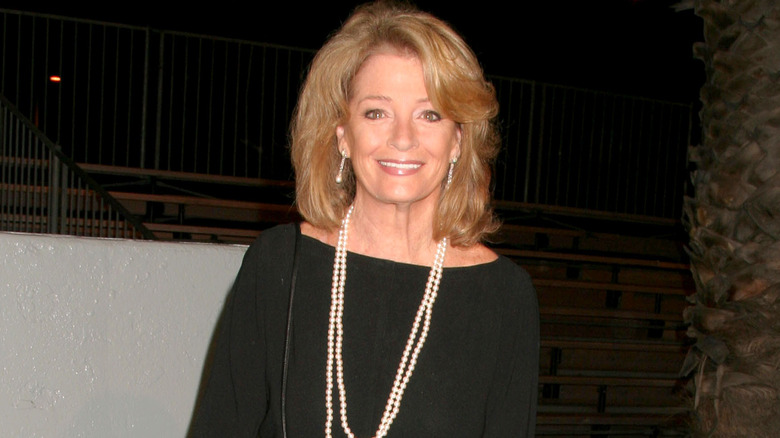 carrie-nelson/Shutterstock
Andrea Hall was a special education teacher living in Florida at the time and came to Los Angeles to live with her twin sister, Deidre Hall, during her stint on "Days of Our Lives." Deidre admitted that she was a bit worried about how her sister would perform in front of the camera, especially when it came to emotional scenes. However, Deidre claims she was impressed with Andrea's acting chops. "I was so panicked for her," Hall told People. "I stood way out of her sight line and I was watching the scenes and she began to cry. As she came off, and I said, 'That was spectacular. How did you do that?' And she said, 'Well, I don't know. I've watched you do it for years. How hard could it be?'"
In her role as Samantha, Andrea played an out-of-work drug addict who was clearly jealous of the life that her sister had made for herself in Salem. Samantha even went as far as to impersonate her sister in an attempt to steal her life. Samantha had Marlena hospitalized and looked to assume her identity. Eventually, her plan was foiled and she was sent to prison. After her release, Samantha and Marlena made amends but Samantha was tragically killed by the Salem Strangler, who thought he was murdering Marlena.
However, Marlena never forget about her troubled twin, and even named her first-born daughter, Sami Brady, after her late sister.
Andrea later returned to 'Days of Our Lives' in the role of Hattie Adams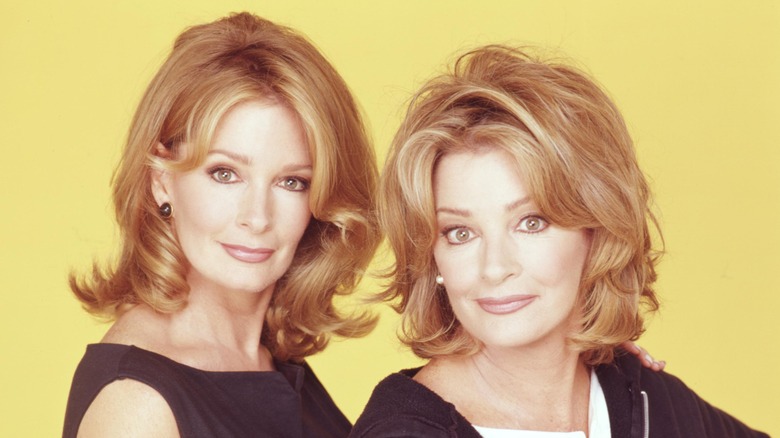 Getty Images/Getty Images
Although Andrea Hall was killed off of "Days of Our Lives" in the early 1980s, Deidre Hall hasn't forgotten the special time they shared working together. At the time, the pair lived together and Andrea was even able to pay off her student loans using the money she made from the soap opera. "Working with her, living with her, paying off her college loan, just having that time together was spectacular," Hall explained to People.
Although the character of Samantha Evans was killed, Andrea was able to return to the sudser in 2000 in a new role. The actor returned to Salem as Hattie Adams, a woman who was revealed to be Marlena's doppelganger. At the time, villain Stefano DiMera used Hattie to pull off some of his devious deeds. However, over time, fans saw that Hattie was in a rough spot, and began to feel for the character. After her stint as Hattie wrapped up in 2001, Andrea retired from acting, leaving Deidre to play Hattie whenever the character popped back into town.
Fans who remember Deidre and Andrea's time together on the show got to experience an iconic soap opera moment, which seems to hold a very special place in Deidre's heart all these years later.