What We Know About Savannah Chrisley's Hush-Hush Romance With Nate Smith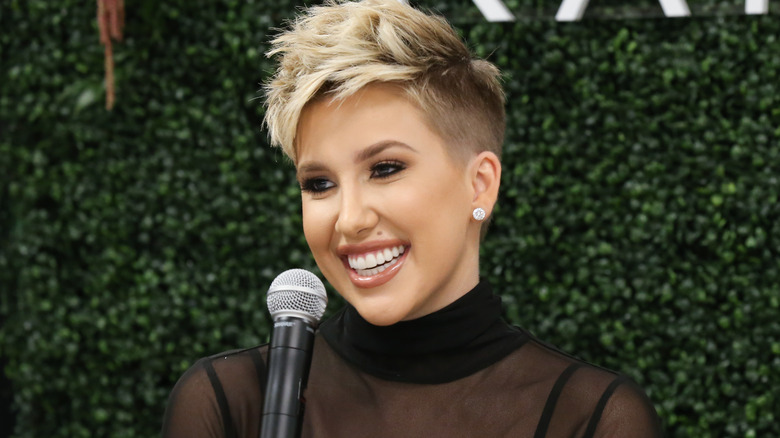 Terry Wyatt/Getty Images
Savannah Chrisley was once known as the daughter of TV personality Todd Chrisley. And while her life has been documented since she was just a teen, it wasn't until recently that it seemed to implode. The family has been under a microscope as Todd and his wife, Julie Chrisley, were convicted and arrested for a multi-million dollar fraud scheme and tax evasion. But Todd and Julie aren't the only ones making headlines.
Savannah Chrisley has always been a person of interest: she is not only gorgeous, but she has paved her own way when it comes to success, which means her dating life has always been at the forefront of fans' curiosities. She had recently split from fiancé Nic Kerdiles, so fans were shocked when Savannah came clean about a romance with country singer Nate Smith. In fact, the romance was so secretive that it was only after the pair parted ways that Savannah opened up about their relationship. Here's what we know.
Savannah Chrisley and Nate Smith's relationship started with a podcast
When we hear that things didn't work out between two people in the public eye, we often expect drama. Fortunately for Savannah, who is dealing with a whole heap of personal drama outside of her love life, that wasn't the case for her and Nate Smith. 
The first time we saw the two together seemed to be purely business. Smith appeared on Savannah's podcast, "Unlocked with Savannah Chrisley," back in January, where the pair covered everything from his rising career to his previous marriage, in which he admitted to proposing with a Ring Pop. But something they never touched on was their own relationship, although rumors had been swirling that the two were together, and a Reddit photo only stoked those flames. 
Fast forward to May of 2023, about four months after their episode together. During another installment of her podcast, Savannah reveals that they had been talking during the time their podcast aired, but things didn't get serious until a bit after that. She says that they ended up dating for a few months and that it was a great relationship, which left many wondering why it didn't work out.
Savannah Chrisley and Nate Smith parted on good terms
Savannah Chrisley has not had an easy year. After her parents were convicted and sent to jail, she became the sole caregiver for her younger brother, Grayson, who is now 16, as well as her niece, Chloe, who is 10 and has been under the care of Todd and Julie Chrisley for quite some time. Not only that, but she has been dealing with the aftermath of her parents' sentencing. All of these factors seem to contribute to her relationship with Nate Smith not working out.
During her May podcast episode, Savannah says that the two had a great relationship, saying " I have literally nothing to say about him other than having so much respect for him." She also said they had a great connection, but the timing was just all wrong citing the "trauma that's going on in [her] life right now." She also referenced Smith and his budding music career. "He needs someone who's going to be able to go to those things and enjoy them with him," The "Chrisley Knows Best" star said. "There's no way for me to do it without feeling guilty for leaving the kids."