Meghan Markle Accepts The Women Of Vision Award (While Looking Like A Vision Herself)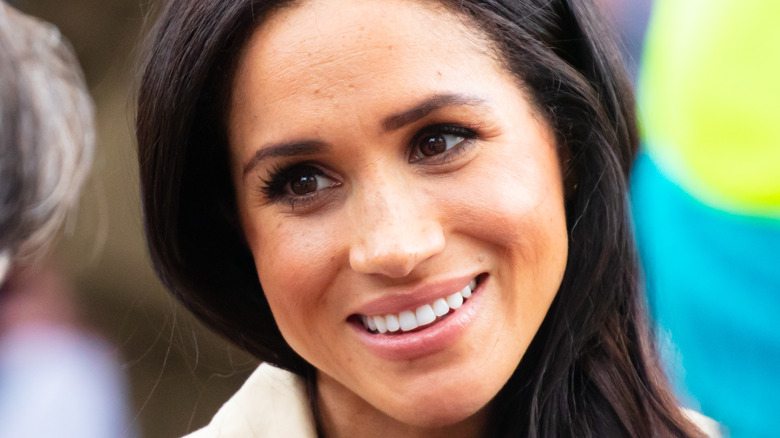 FiledIMAGE/Shutterstock
The British royal family has had more than its fair share of scandals over the centuries (helloooo, Henry VIII!) but somehow they manage to endure. Even in the midst of disgrace, its members keep calm and carry on. When Sarah Ferguson divorced Prince Andrew, most people assumed that she would fade into the background. Yet, not only did Fergie maintain a warm relationship with Queen Elizabeth — whom she called "the most incredible mother-in-law" — she carved out a successful career.
Andrew, meanwhile, humiliated the palace when he was involved in a sexual abuse lawsuit, yet big bro King Charles III still invited him to his coronation and even allowed Andrew to wear his state robes for the occasion. Now, after months of relative silence, Meghan Markle, the Duchess of Sussex, is back in the public eye. She opted to skip the king's coronation (an admirable decision that kept her from any unpleasant encounters). But, now that things have settled down a bit, Meghan may be looking to re-emerge as a public figure and influencer separate from her role as duchess. 
Us Weekly recently obtained documents showing she is looking to trademark her former women's lifestyle blog, The Tig. Perhaps looking for inspiration, Meghan and Harry were spotted dining with Goop founder Gwyneth Paltrow. And, although she missed her chance to show off a regal look at the king's Westminster Abbey crowning, Meghan was the queen of the night at an awards ceremony less than two weeks later.
The Duchess of Sussex was a vision in gold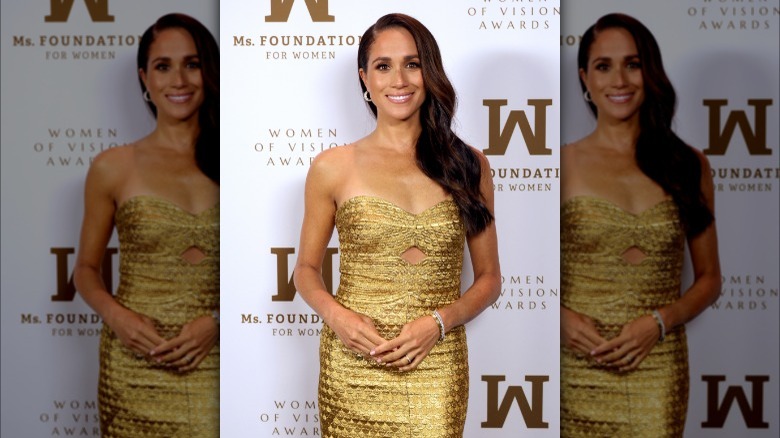 Kevin Mazur/Getty Images
After staying out of the spotlight for months, Meghan Markle made a dazzling return on May 16 when she appeared in New York to accept the Ms. Foundation's Women of Vision award. The annual honor is given to "visionary leaders and game-changing grantee partners committed to the Ms. Foundation's mission of advancing women's collective power and creating safe, just, and equitable futures for all," per the foundation's website. Co-founder and feminist icon Gloria Steinem presented the award to the duchess "for her global advocacy to empower and advocate on behalf of women and girls."
Meghan came to shine, and shine she did, in a sparkling strapless gold gown. The Johanna Ortiz creation is valued at $1,850, per the Daily Mail. It might not have passed muster at a Buckingham Palace event, where more modest attire is expected of royals, but it was the perfect choice for a glitzy Manhattan gala. There to celebrate the duchess's big night was Meghan's beloved husband, Prince Harry, and her mother, Doria Ragland, who is said to be living at the Sussexes' Montecito estate.
This may well be the beginning of a renaissance for the duchess. Meghan signed with a splashy PR team prior to the coronation, looking to focus on more media projects, brand partnerships, and other ventures. After the harsh treatment she received from the British tabloids, Megan may yet prove to be another example of living well being the best revenge.
Meghan's connection to feminism goes back to childhood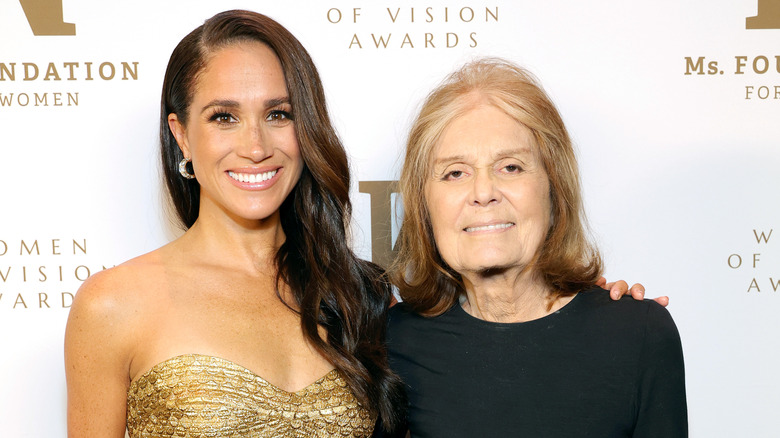 Kevin Mazur/Getty Images
Decades before she accompanied Meghan Markle, Duchess of Sussex, to the Ms. Foundation's Women of Vision awards, Doria Ragland played a pivotal role in connecting her daughter to feminist ideas. Ragland subscribed to Ms., a magazine that was part of Meghan's after school reading. "I remember them vividly because the pictures were different. There was a diversity that I hadn't seen as often, both of color and of age," Meghan said in her speech, per Town & Country. "The topics were different. From mothering, to being a working mom, to heavier topics such as domestic violence, the poverty line, unearthing its roots, where it comes from, and matters of equity." The duchess credited this reading experience as pivotal to her becoming an advocate for feminist causes.
Decades after reading Ms., the duchess formed a close friendship with the magazine's co-founder, Gloria Steinem. They bonded while creating a 2020 video about voting rights for women. Their esteem for each other was mutual, and Steinem gifted her younger friend with a bracelet bearing the message "We are linked, not ranked." 
In 2022, they teamed up again, this time in a conversation with Vogue, supporting reproductive rights and in a post-Roe v. Wade world. They noted that these issues extend to men as well as women, with Meghan commenting that Prince Harry was also a feminist. Steinem agreed, recalling, "[Harry] was at a big meeting I attended and he was advocating for people's rights."