Julia Louis-Dreyfus Gives Her Husband All The Credit For Their Successful Marriage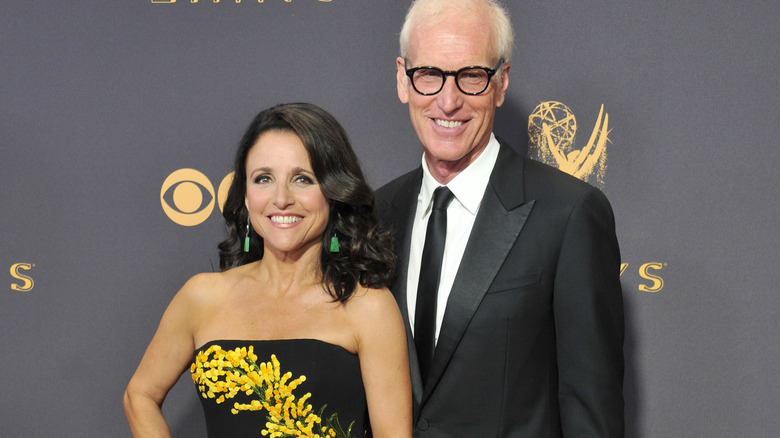 Gregg Deguire/Getty Images
As everyone's favorite sharp-tongued, blunt-speaking, and poor-dancing Elaine on the hit comedy "Seinfeld," Julia Louis-Dreyfus has become a staple on many TVs around the country. She got her start on "Saturday Night Live" but quickly became a sitcom queen and has been honored for her comedic contributions. 
In the post-Seinfeld era, Louis-Dreyfus embraced new roles that also won their way into the hearts of many, including playing neurotic divorced mom, Christine Kimble Campbell on the sitcom, "The Old Adventures of New Christine" and HBO's "Veep" where she portrayed Selina Meyer, the first female president of the United States.  
The 11-time Emmy award winner has also played the romantic lead in the rom-com "Enough Said" opposite her co-star, the late James Gandolfini. Though often single or divorced on the big screen, in real life Dreyfus has been married to her husband Brad Hall since 1987. With a marriage lasting over 35 years, in Hollywood no less, Louis-Dreyfus says she owes it all to her husband.
Julia Louis-Dreyfus has stayed happily married for three decades
Julia Louis-Dreyfus met her husband Brad Hall long before she began her career. The couple met at Northwestern University and became college sweethearts. "I was about 19 at the time and had fallen head over heels in love with Brad," Louis-Dreyfus told Grist. "He was a senior with a big old beard and Jesus hair." They married in 1987.
In 2022, Louis-Dreyfus was being honored at the National Resource Defense Council's "Night of Comedy." She was asked about the secret to having a happy marriage for over three decades."You gotta marry Brad Hall," Louis-Dreyfus blurted out. "That's what you have to do."
Though the response was a lighthearted quip, it's clear that Louis-Dreyfus believes it. Shortly after that comment, she posted a photo on Instagram of her and Brad on their wedding day. "Even though we're surrounded by a lot of bad news, I'm celebrating some good news today," wrote the actress. "Been tied to this superb guy for 35 years!"
Julia's husband and sons helped her through her breast cancer battle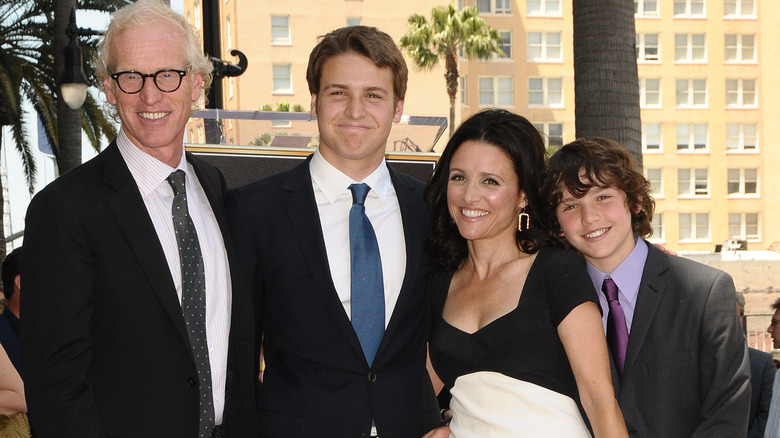 Jason Laveris/Getty Images
In 2017, Julia Louis-Dreyfus was diagnosed with breast cancer. She had a double mastectomy and endured six rounds of chemotherapy before being officially diagnosed as cancer-free. She credits her friends and family with helping her through the fight.
"You hear it all the time, but the people that I relied on the most," Louis-Dreyfus told People. "Besides the very capable doctors and nurses who took care of me, were my family and my close friends."
Louis-Dreyfus says the people closest to her helped her see a way through the treatment and to realize she would get through it. She says though so many people offered support, her husband and sons, Henry and Charlie, were lifesavers. "I think whenever a family goes through a crisis and comes out the other end, you're bound to have an intimacy that, perhaps, wasn't quite there like it was before," revealed the "Veep" star. "It was like they had their hands underneath me holding me up."