Jane Fonda's Complicated Love Life Explained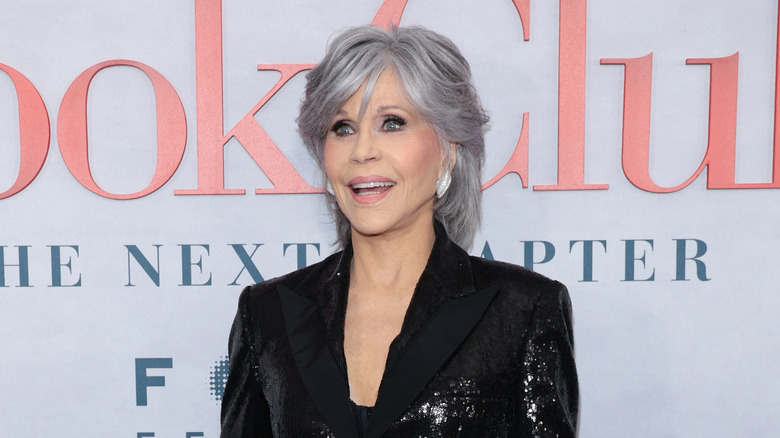 Dimitrios Kambouris/Getty Images
The dating lives of celebrities are compelling for a few reasons. For one, it helps humanize them in a way that celebrity culture doesn't and makes fans feel closer to them, especially if they like the person they're dating. But, sometimes celebrities can have a complicated love life.
Take Jane Fonda, for instance. She's the daughter of Henry Fonda but went on to create a name for herself as a celebrated actress and dedicated activist. She's acted in well over 40 movies, two of which, "80 For Brady" and "Book Club: The Next Chapter," were released in theaters this year. And when Jane Fonda's cancer diagnosis was revealed in 2022, she used her Instagram platform to share the lessons it taught her about community.
Jane Fonda's openness hasn't only been reserved for her medical history or getting real about aging, but the actor and activist has also been candid about her love life. She's been romantically linked to different partners and even went on to marry three of them. Despite the outcomes of her relationships, she's shown that being a well-known entertainer doesn't mean you're immune to falling in love or having desires that you'd like fulfilled in a romantic relationship. We researched her dating history and have come up with a list of her known partners.
Jane Fonda's first marriage to Roger Vadim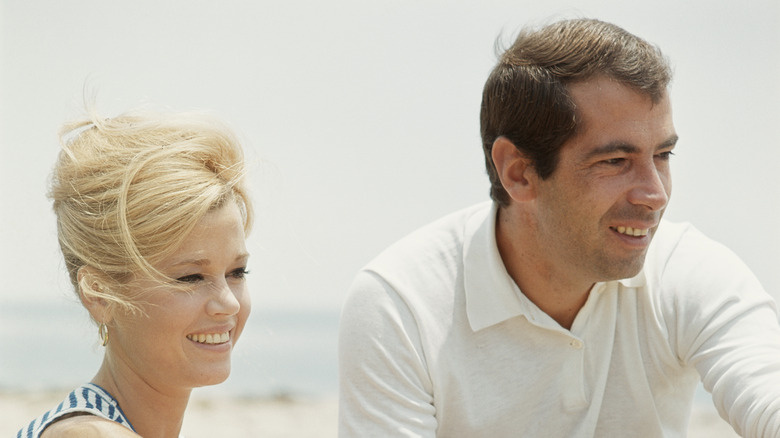 Archive Photos/Getty Images
In 1965, Jane Fonda married the former French director Roger Vadim. It was Fonda's first marriage, and it was riddled with interesting moments that were new to her at that time. After deciding to star in "Barbarella," which Vadim directed, she married him in 1965 despite the fact he was married twice before her. She told British Vogue, "I was so conditioned to identify with men in every possible way." She also said, "When I was married to Roger Vadim, one day one of his friends said, 'God, Jane, you're just like us' — and I took it as a compliment!"
Although they conceived a daughter together, Fonda began realizing something wasn't right with their marriage. Vadim was known to have affairs while married to Fonda, but their relationship still lasted eight years. Eventually, Fonda decided to divorce Vadim in 1973 and move on.
Fonda has a special connection with Robert Redford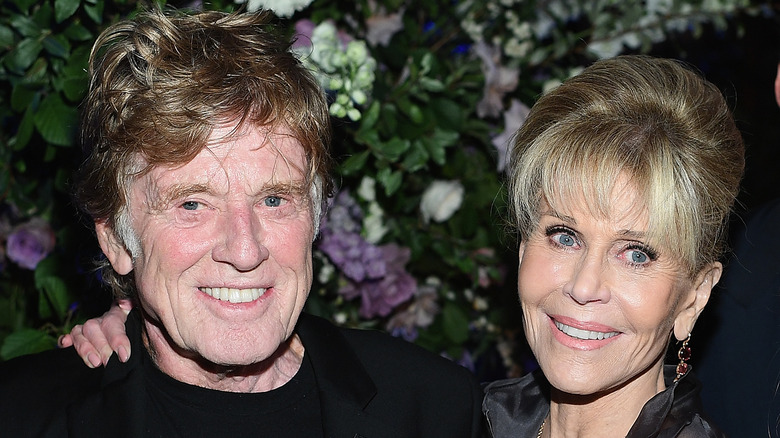 Dimitrios Kambouris/Getty Images
Jane Fonda and Robert Redford have been friends for a long time, but she's since admitted she once held feelings for her co-star. It's no surprise that actors can have great on-screen chemistry, but this pair never dated. In an interview with The Guardian, Fonda said, "I was always in love with Robert Redford — I made three films with him, and nothing happened because I was married and he was married." She shared with People why she always seemed to fall for him. "He is so handsome and just such a wonderful human being," she said. However, Redford told The Telegraph, "I didn't know Jane Fonda was in love with me."
When they reunited in 2017 for the film, "Our Souls at Night," Jane and Robert found it easy to work together given their history and friendship. They had a brief love scene in it, something Fonda said she would've liked to last longer.
Fonda had a rewarding marriage to activist Tom Hayden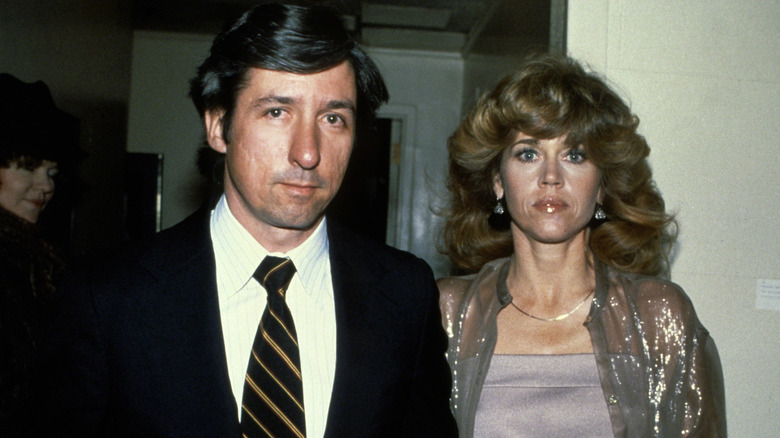 Images Press/Getty Images
Jane Fonda and her second ex-husband, activist Tom Hayden, didn't have the same childhood but were drawn to each other's shared passion against war activity. Ironically, they decided to get married the same year Fonda was officially divorced from her ex-husband Roger Vadim. Fueled by their mutual vision, Fonda decided to do without the glitzy and glamorous lifestyle she'd grown accustomed to as an actor so that it wouldn't overshadow the work she and Hayden were committed to doing.
They were married for 17 years before choosing to go their separate ways. However, the two didn't end on bad terms. They continued to work together as activists to highlight various issues, proving that marriages that end in divorce don't have to create bitterness or tension between former partners. This doesn't mean Fonda wasn't hurt by their decision to no longer remain married, but she was able to speak fondly of him in an interview with The New Yorker. "He had this depth of knowledge, and he gave me structure and guidance, and I learned so much from him that I am forever grateful for," she shared.
Fonda calls Ted Turner her 'favorite ex-husband'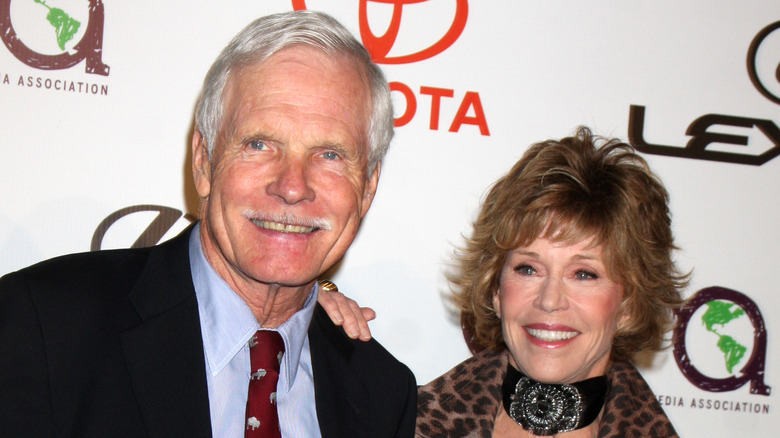 Kathy Hutchins/Shutterstock
After her divorce from Tom Hayden, Jane Fonda found herself in a "cat and mouse" dating game with her ex-husband Ted Turner. The two didn't know each other prior to dating, but that didn't stop Turner from expressing interest in her. Shortly after getting together, Fonda and Turner were married in 1991. It was around this time that she chose to walk away from acting. Her goal was to focus solely on giving her time and attention to family life. In her mind, Fonda thought she would never work in Hollywood as an actress again, but she eventually returned 15 years later.
The cause of her return was her divorce from Turner in 2001. Despite appearing as the picture of marital bliss, all was not what it seemed. For Fonda, she felt like they had a communication gap that didn't allow them to fully understand each other. Eventually, they grew so far apart that she decided to leave the relationship, though the two remain good friends.
Fonda's last relationship was with Richard Perry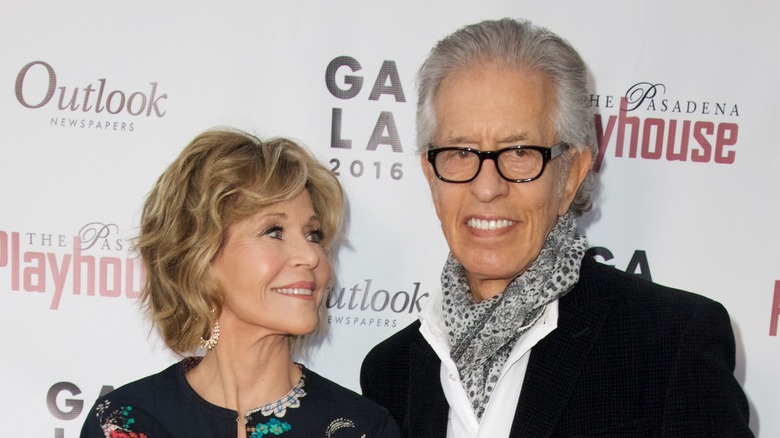 Earl Gibson Iii/Getty Images
After experiencing three marriages that ended in divorce, Jane Fonda found herself involved in a new relationship with music producer Richard Perry in 2009. He lent his support while her knee healed after surgery, and they fell in love. They didn't share a reason for why they never married, but being in a long-term relationship seemed to be enough for them as they moved into a home together in 2012.
They were involved in a romantic relationship for eight years before they decided to go their separate ways in 2017. Even still, they remain friends and don't have any ill feelings about each other. Perry told E! News, "We care about each other a great deal, and as far as romantic relationships, that's temporarily been put on the back burner because she, as you probably know, has redirected herself to activism."
As for Fonda and whether she's still open to love, she told Extra in 2018 that at age 80, she wasn't interested in nurturing romantic relationships anymore, putting an end to that part of her life.