Shattered Layers — How To Achieve The Trendy, Texture-Heavy Hairstyle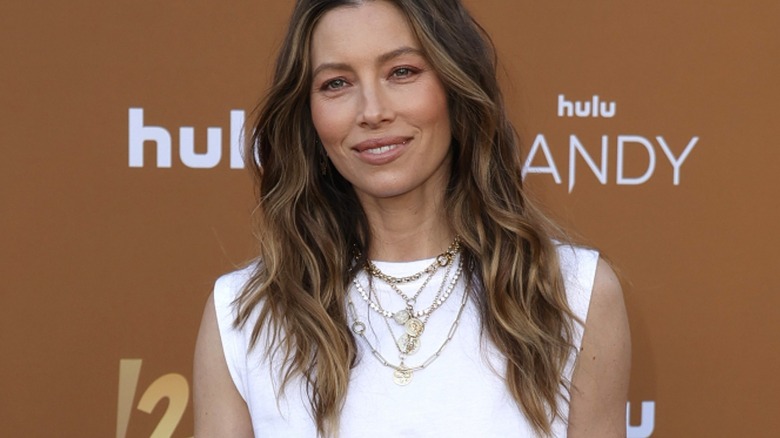 Frazer Harrison/Getty Images
Shattered layers prove two things: One, if it ain't broke, don't fix it, and two, just about any pre-existing concept can go viral as if it were brand new if packaged correctly. This highly texturized, big-movement hairstyle recently has been gaining popularity on social media, but hairdressers have been using this technique for years — and rightly so. 
This trendy hairstyle is the Goldilocks of all layered looks. Shattered layers, which are fairly similar to ghost layers, can add movement, body, and edge to hair of all types and lengths while still keeping the appearance of the layers subtle. It's a great way to shed unneeded weight without lopping all your hair off, making it a fantastic option for people with overly thick, voluminous hair. But it's also wonderful for adding depth, variety, and movement to flat or thin hair.
Shattered layers are an extremely adaptable alternative to blunt, one-length cuts and overly feathered, multi-layered looks. Simply put, this is a go-to technique for a reason. Here's everything you need to know about shattered layers — and, more importantly, how to ask your stylist for precisely what you want.
What makes shattered layers so special
To understand what makes shattered layers so unique, it's important to understand the difference between long and short layers. The language here is a bit confusing, but the Beauty Department defines layer lengths as the distance from one layer to the next, not the length of the layer itself. For example, long layers feature very short and long sections, while short layers are subtly tapered from roots to ends. 
Shattered layers are relatively short, meaning they add movement and body without losing overall length. This shorter length is also critical to the layers' "shattered" appearance, which refers to their highly textured bottom edges. Typically, longer layers are softly feathered so that they appear to blend seamlessly into the next section. Short, shattered layers can add a bit of funky edge to the hair without looking awkward or choppy, thanks to their more consistent length. 
Therein lies the secret to this trendy look. The short, subtle layers can provide a sleek, one-length look — almost as if no layers are cut into the hair. Alternatively, these layers can be styled and separated to emphasize their shattered ends, lending themselves to various hairstyles, from the punky and rock-and-roll to the beachy and romantic. Of course, while this sounds great in theory, the most crucial part is clearly communicating what you want to your hairstylist.
Getting the shattered layers of your dreams
As celeb hairstylist Matthew Collins told InStyle, "This has always been how I cut hair; it gives the most movement and versatility to any haircut." So, luckily, the shattered layer technique should be well-known to most stylists, even if they're unfamiliar with the exact name. In addition to providing reference photos, there are a few key points to include when describing your desired cut to your stylist. 
First, tell your stylist you're looking for multiple short and easily blendable layers. Emphasize that you'd like to focus on adding layers to the ends of your hair as opposed to the crown or midsection. Then, tell them you'd like the layers to be highly textured and thinned on the bottom edges. This TikTok tutorial from FancyHairdressers offers a great visual example to ensure your stylist isn't trying to guess what you mean before going in with their feathering razors and texturizing shears. 
The results will be understated, but that's the whole point. Shattered layers aren't meant to be a drastic cut. The goal is to walk away from the salon chair with an almost indiscernible change in root-to-tip length but a dramatic boost in movement, weightlessness, and body — no matter whether you style it sleek and straight or textured with ample wave and curl. Happy shattering!