How To Make A Layered Haircut Work For Your Face Shape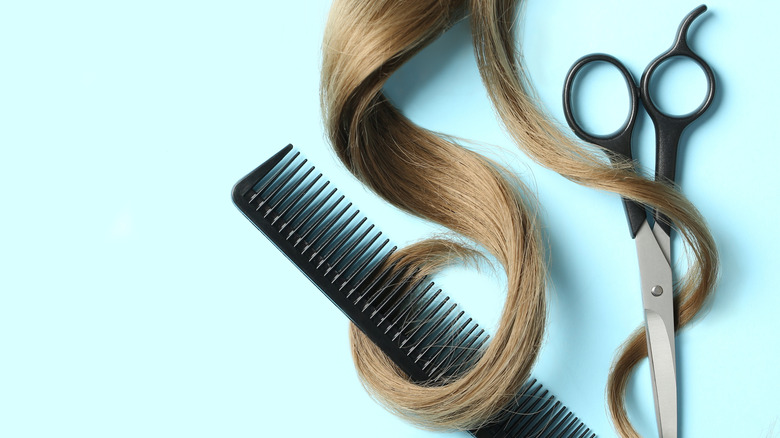 New Africa/Shutterstock
While ideally a trip to the salon should be a relaxing way to pamper yourself, it can be a little nerve wracking too. It's intimidating to get a brand new look, especially if you're looking to add some layers. There are some serious horror stories about layered looks that have gone wrong. Thankfully, we're about the break down everything you need to know before you ask your hair stylist for layers. 
Why would someone get their hair layered in the first place? Well, layered hair is all about cutting the hair into different lengths to make it look lighter and get better movement (via Fantastic Sams). Basically, it adds a little more personality to the hair. There are tons of different ways to layer hair though, and whether you nail the look or not comes down to really knowing yourself (via Mane Addicts).
At the end of the day, there are three things to think about when going to get your hair layered — the shape of your face, the texture of your hair, and how to communicate what you want (via Makeup.com). Here's everything you need to know before you ask for layers, so you can feel confident and nail the look that works for you.
Think about the shape of your face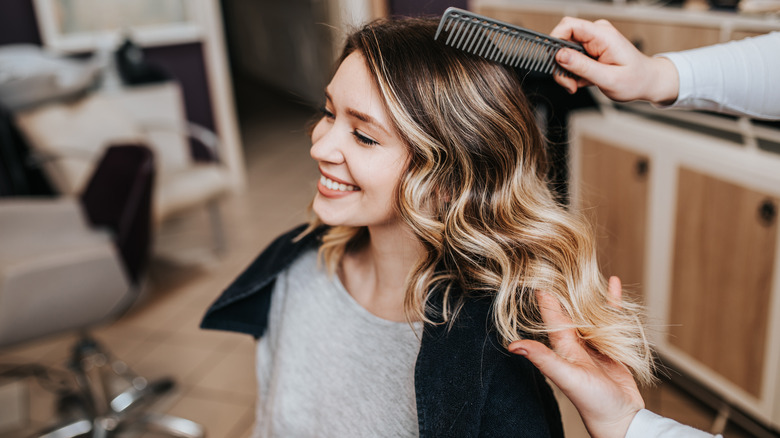 Hedgehog94/Shutterstock
Okay, so you've decided that you want to get layers. Now what? Well, the most important thing to think about is the shape of your face. While you might see a person with a hair style that you love, it's good to remember that it might not look the same on your face shape. Of course, by all means, get the haircut that you want, but it's good to know going in that it might not look exactly the same. 
According to Makeup.com, if you have an oval-shaped face, it's all about the long layers starting from your chin. The publication says that the shape will elongate the face and enhance the way that you face is naturally shaped. If you have a circle-shaped face, then the length of your layers depends on what look you're going for. According to Makeup.com, a choppy hairstyle will show off your jaw more than long layers. That means that you'll get a more edgier look.
When it comes to a heart-shaped face it's all about cutting the layers away from your face to get a look that creates volume and dimension. The same goes for a square-shaped face, which is perfect for a long bob. Just something to think about when you're headed to the salon. But there are other things to keep in mind, too.
Take your hair texture into account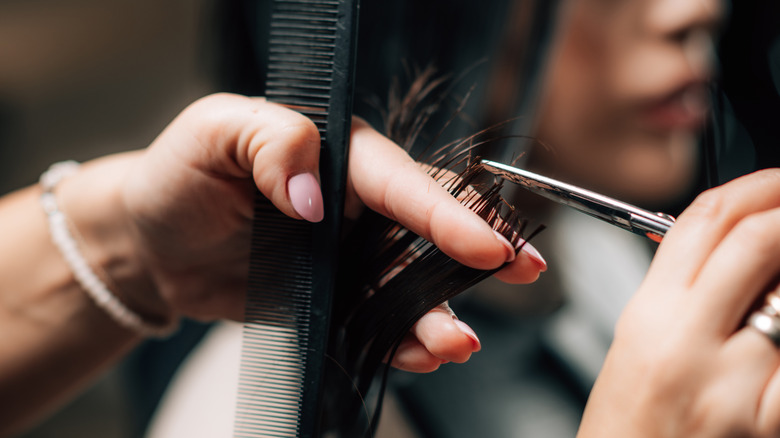 Microgen/Shutterstock
Another thing to take into account when thinking about layers is the texture of your hair. Believe it or not, that has a lot to do with what style of layers would look best on you. According to Mane Addicts, layers are great not only for adding volume to the hair but also for getting a brand new hair cut without having to take off too much length. Just an inch or two of layers and you're a completely new person. 
"The layering of your hair should be the result of a combination of how much hair you have (density), what type of hair you have (fine/thick), and what type of haircut you have (long/short)," celebrity stylist Harry Josh told Mane Addicts. The publication suggests that to get layers with thinning sheers if you're on the more thin side and traditional layers with coarser hair.
Another great tip from Mane Addicts is to make sure to talk to your stylist about what you're thinking. You can always schedule a consultation with the salon instead of the just booking a cut. Then you'll feel more secure about the style and cut. It's all about you being comfortable and confident in your look, after all!