Viral Hack Demonstrates Long-Sleeve Shirts Are More Versatile Than You'd Think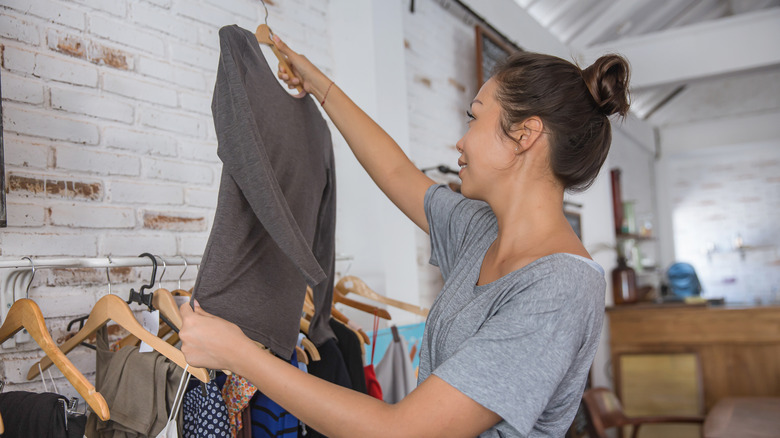 Kanawa_studio/Getty Images
You've got the urge to go on a shopping spree to refresh your wardrobe, but it's not quite the right time. It may not be the financial moment to splurge, or you might be hesitant to toss some of your much-loved older pieces away. Well, you may have more options than you think right at home. Re-styling your long-sleeve shirts can save you money, divert your clothes away from a landfill — 92 million tons end up there, according to Earth.org — and spark your creativity.
You can use this viral hack to repurpose your long-sleeve shirt into a halter top or a style that resembles a scarf top. It works best when your shirt is made from a thin, stretchy material because you're going to be wrapping the sleeves around your back and knotting them together on one side. This shirt hack also looks great if you have a smaller chest — some of these styles expose your back and you won't have a lot of extra support. It also pairs well with many pants and skirt options, such as a classic jeans-and-flats combo.
How to create a scarf top
We recommend pulling out every long-sleeve shirt you've got and trying this with all of them so you can see which fabrics tie easily, look the smoothest against your torso, and flatter your shape. When you find your best stretchy, long-sleeve shirt, you're ready to make it into a scarf top. First, hold it against your chest. You'll want to hide the neck hole by folding it under to create a smooth line of fabric. Tilt the shirt to one angle, and toss the upper sleeve around your shoulder and back and the lower sleeve behind your waist.
You can tie the sleeves together behind your back, but you might need to experiment to get it to look right. If it's really stretchy material, the sleeves might be quite long, so you can crisscross them in the center of your back, then tie them together against your back near the long side of your scarf top. You may need another knot to secure it or to get rid of any extra sleeve length. An asymmetrical style like this is the perfect opportunity to add accessories and learn how to style arm cuffs like a pro.
How to create a halter top
Do you have a shirt made of polyester or nylon? Creating a halter top from a long-sleeve shirt requires the stretchiest fabric you've got, and a knit is your best bet. For an elegant, clean look, the neckline should be a simple curve or a boat neck. To feel more secure, you can add a strapless bra underneath.
This time, you'll put your shirt on, but don't pop your arms through the sleeves. Pull the neckline to just above your bust. Take both sleeves and crisscross them across your chest, tying the ends together behind your neck. You may need to slightly adjust the drape of the fabric where you've folded it near your armpit so it's smooth. Voila! You've got an instant date night outfit. Another version you could try starts the same way. Put the shirt on, and this time, tie the sleeves together in a knot centered underneath your bust. Then pull the two sleeves straight up in two vertical lines and secure them behind your neck.
There are many ways to repurpose a long-sleeve shirt into an innovative and unique look. And, if you love the versatility of DIY, there are also creative ways to wear a wrap dress.