Prince Andrew's Imminent Eviction Reportedly Puts King Charles At Odds With Royal Family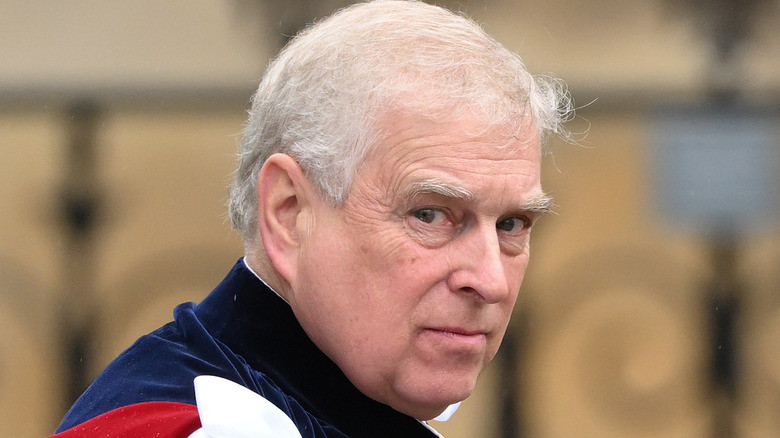 Karwai Tang/Getty Images
In his quest for thrift, King Charles has been trying to shake up the way royal housing is being used. After Prince Harry and Meghan Markle, Duke and Duchess of Sussex, relocated to California, they seldom used Frogmore Cottage. In a move to get the property occupied again, the king proposed in January that Harry and Meghan move out of the royal residence. As part two of the plan, Charles wanted his brother, Prince Andrew, Duke of York, to downsize from Royal Lodge and become Frogmore's new tenant.
However, after living at Royal Lodge for 20 years, Charles' younger brother is not on board with this prospective housing shuffle. A friend of Andrew's informed the Daily Mail, "He has a 75-year lease and has no plans to move house." While this legal agreement provides the duke with some clout, in exchange for living there, Andrew has to pay to maintain the spacious home and property. Since he hasn't been a working royal since 2019, Andrew's income has been limited, and earlier this year, Charles indicated that beginning in April, he would slash Andrew's yearly allotment of £249,000. To help cover the shortfall, Sarah Ferguson offered to financially support her ex-husband so they could both continue living on the estate. And now, recent reports indicate that Charles' plan isn't garnering royal approval, giving Andrew even more traction in his quest to stay at Royal Lodge.
Other royals want to see Charles treat Andrew kindly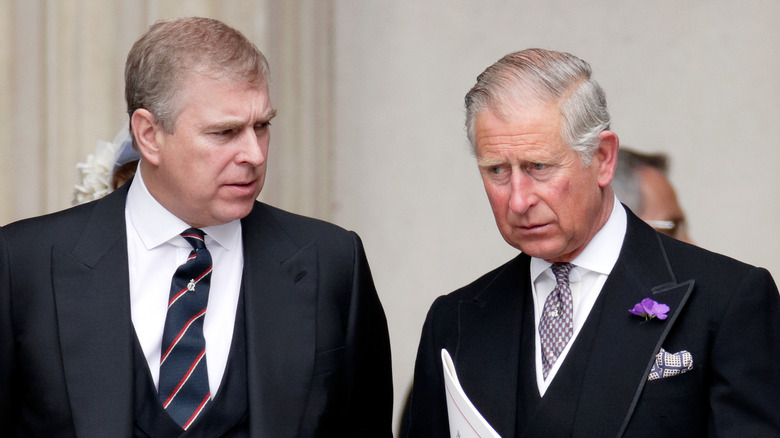 Max Mumby/indigo/Getty Images
Despite King Charles' enthusiasm for saving money and resources, evicting Prince Andrew, Duke of York, from Royal Lodge could negatively impact the monarch. If Charles forces his younger brother to move, it could ding his popularity among the royals and damage family relations. "There are other members of the family who would not want to see a member kicked out," a source close to Andrew explained to The Times. In particular, Andrew's two daughters, Princess Beatrice and Princess Eugenie, would likely be upset with their uncle. Eugenie has a close relationship with Prince Harry, and she could be helpful in mending Harry's rift with the family.
Like Prince Harry and Charles' "peace talks" before the coronation, Andrew desires a personal discussion with his brother. "If Charles wants Andrew to play ball and help the family through these difficult times, aren't there better ways of going about it? Why not do the decent thing, sit down and talk?" a friend of Andrew's suggested to the Daily Mail.
If he can persuade Andrew, Charles would have to give his brother money if he leaves Royal Lodge now. If the lease ends in less than 25 years, Andrew is entitled to get a portion of what he spent renovating the home. The king will then have to decide what to do with an even larger empty royal property, although it could potentially become the residence of William and Catherine, Prince and Princess of Wales. 
Andrew's relationship with Charles has been sticky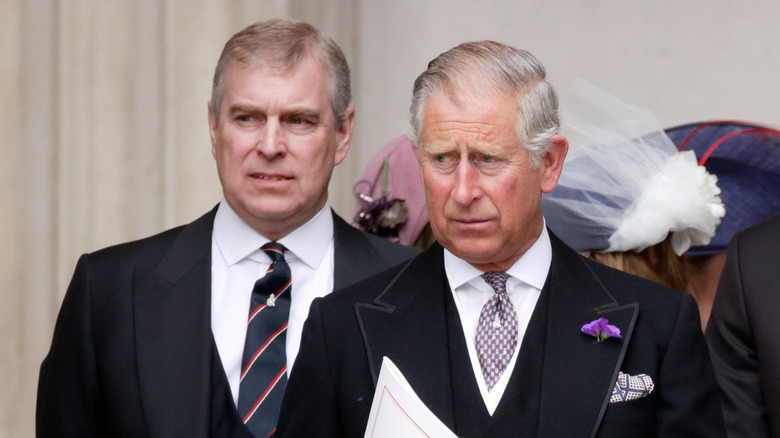 Max Mumby/indigo/Getty Images
While Prince Andrew still remains close with many members of the royal family, his fall from grace in 2019 made international headlines and caused a scandal likely to follow the royal for the remainder of his life, so it isn't terribly surprising that King Charles might see fit to move his younger brother even further out of the spotlight.
After a 2019 law was passed allowing victims of childhood sexual assault to bring civil charges against their abusers in cases in which too much time had passed to bring criminal charges, Virginia Giuffre filed a suit against Prince Andrew, claiming that while she was under the control of now-infamous sex offender Jeffery Epstein, Andrew sexually assaulted her on three separate occasions (via Time).  
While Prince Andrew denied the allegations, he ended up settling with Giuffre for an undisclosed amount of money which is estimated to have been somewhere around  £12 million ($16.3 million). Queen Elizabeth II reportedly provided £2 million to that payout. Sources close to the family claimed that Charles disapproved of his mother's support of Andrew, given the gravity of the allegations against him, and Andrew has not been permitted to rejoin the family as a working royal since that time. It is unlikely he ever will. Even so, only time will tell whether Charles will bend to the will of his family members who wish Andrew to remain in his home or whether he will order the eviction as he has planned to do.