Julia Louis-Dreyfus' Sons Are All Grown Up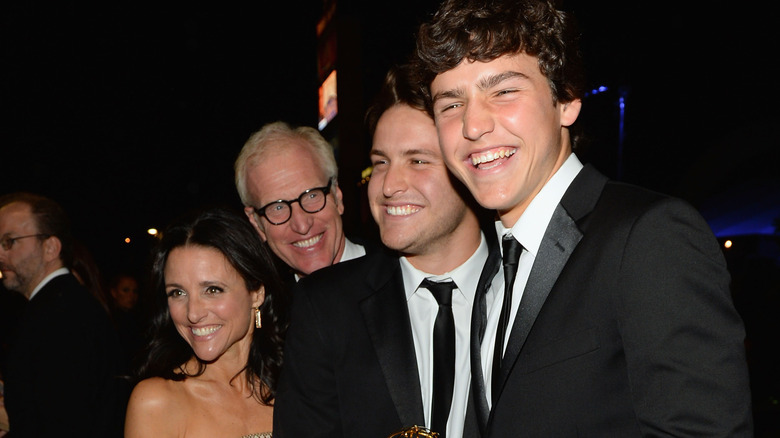 Mark Davis/Getty Images
Julia Louis-Dreyfus is an exceptionally talented actress, but many people may not know she's also a mom. She has adult sons, Henry and Charlie, who she shares with her husband, actor, writer, and producer Brad Hall, and they are every bit as good-looking and interesting as you would imagine them to be.
Being the mother of boys may not have been something the "Seinfeld" actress initially envisioned. "Well, I have four sisters. I went to an all-girls school. So I just assumed I'd have girls. It didn't even occur to me that I might have a boy, let alone two," she told Redbook. But Louis-Dreyfus has fully embraced the role of boy mom, and her sons are carving their own paths in the entertainment industry. It looks like they're both heading for a successful career in the arts — something their mama is thrilled about. But the creative flair they've inherited from their parents is not the only thing of interest about Henry and Charlie Hall.
Julia Louis-Dreyfus's sons are joining the family business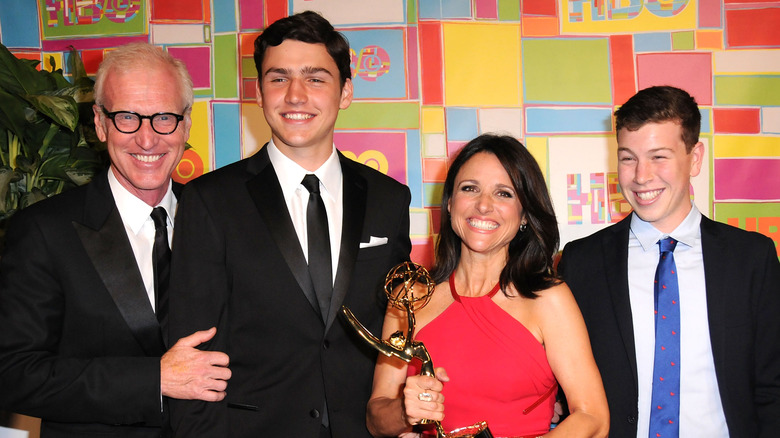 Barry King/Getty Images
Julia Louis-Dreyfus and Brad Hall are one of the most successful couples in Hollywood, having been married for over 30 years. Their relationship has been going strong since the 1980s. The couple also share two children, sons Charlie and Henry Hall. The "Veep" actress and her husband have been working in the entertainment industry for decades, so it is perhaps not a surprise that their children were also drawn to more creative careers.
They have both worked as actors, and their mom could not be more proud. "I love it! It's a big surprise," Louis-Dreyfus told People. "My son Henry just finished shooting a series for Amazon, and Charlie's in all sorts of shows, 'Single Drunk Female,' 'Sex Lives of College Girls,' and so on." She also spoke about seeing her children succeeding as creatives (something she has done herself), saying, "To be able to make a living as a creative person ... is an absolute gift."
Louis-Dreyfus may be incredibly supportive of her children, but that doesn't mean watching them grow up and move away hasn't caused her emotional anguish. "When you have children, which is in so many ways a glorious endeavor, part of it is about constantly separating," she told The New Yorker. "They go to school. It's a constant. Separation has been a theme in my life, something that I've really struggled with."
Charlie Hall had no intention of heading to Hollywood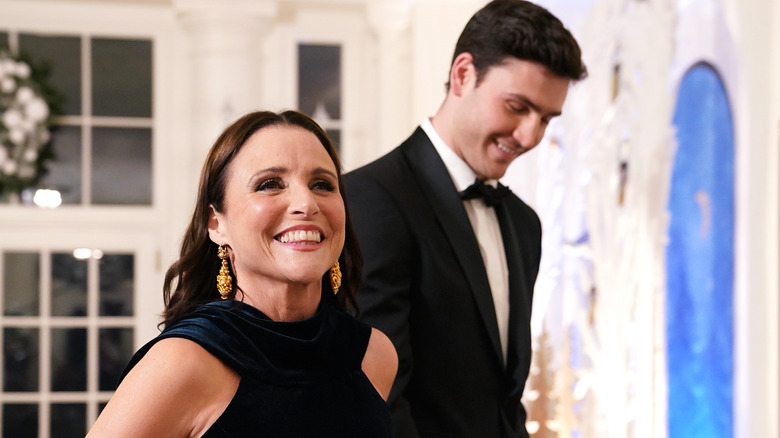 Nathan Howard/Getty Images
Born on May 30, 1997, Charlie Hall is the younger of Julia Louis-Dreyfus and Brad Hall's two sons. Growing up with famous parents gave him the unique opportunity to learn more about the industry. Initially, it seemed he was completely uninterested in pursuing an acting career — although he has clearly since changed his mind, much to the delight of his growing number of fans.
Charlie spoke with W magazine in 2022 about having different plans for his future. "I was never against going into the industry, but up until college, my life was very basketball-oriented," he said. "Not that I wanted to do that professionally, but I loved it enough to where I wasn't really thinking about anything else." This changed at university (although he played on the Northwestern men's basketball team), when Charlie realized he wanted to test his comedic skills. Did they come naturally to him? It may be safe to say they did, given that his parents are celebrated for making others laugh. 
But long before Charlie decided to act, he could be found on set. When her sons were small, Julia Louis-Dreyfus was trying to juggle motherhood and her career. "I'd had a nursery on the set at 'Seinfeld,' and I would take both boys with me — which in some ways was worse because then you're so split!" she told The New Yorker. 
There isn't a downside to having famous parents for the Halls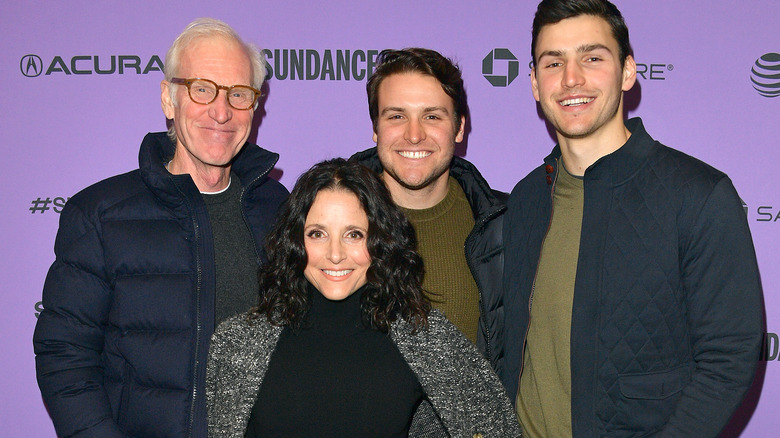 George Pimentel/Getty Images
What is it like growing up with two parents who are immensely skilled and comedically gifted performers? Charlie Hall was able to see firsthand the effects of the entertainment industry on his parents and witness their dedication and the effort it takes to succeed. If he chose to be an actor, he would also have to work hard not to be left in his parents' shadow.
"I'll be honest, I can't think of that many negatives. I guess they're both way better than me at what they do. So I'm like, "Goddammit, you motherf***ers," he told W magazine. However, Charlie also acknowledged that his parents had allowed him to discover what works for him. "I'm really kind of carving my own way, which has been great," he said. "And I get free advice whenever I need it from people who know what they're talking about. So it's been nothing but a really huge blessing, honestly."
Charlie Hall is not afraid to tackle more racy content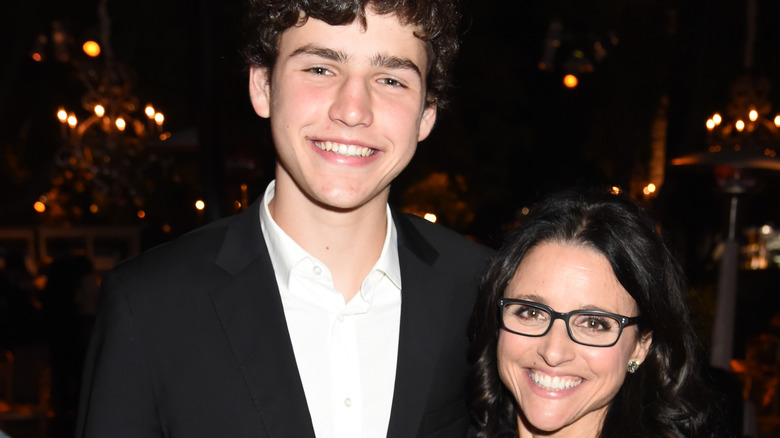 Jeff Kravitz/Getty Images
If you were wondering what Charlie Hall is like as an actor, there are several ways to describe his performances. But one word that may come to mind is "fearless." This is because he is willing to tackle roles that are mature in content. A good example is when he filmed scenes in the HBO Max series "The Sex Lives of College Girls" (he plays the role of Andrew), which may not have been something he would like his parents to watch.
But do you think that stopped Julia Louis-Dreyfus? Nope. She's a professional and understands the work that goes into filming, so she has given Charlie her support. She even praised his acting chops during an appearance on "Jimmy Kimmel Live!" (via People), saying, "It's a very racy show. I think he was, you know, really great. He was adorable. He was f***ing some girl in the library, and I thought it was dynamite." There's no word about Charlie's reaction to his mom seeing his work.
Henry Hall also has his mom's full support for his music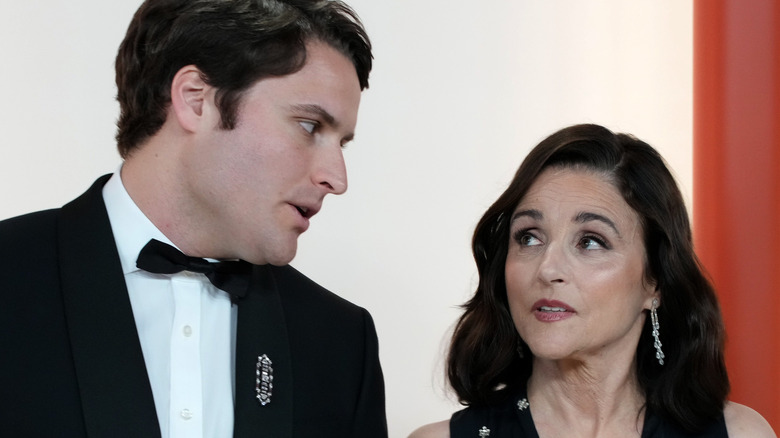 Jeff Kravitz/Getty Images
Henry Hall is a multi-talented individual with interests in acting and music. Music plays a vital role in his life, and he's fortunate to have the full support of his mother, Julia Louis-Dreyfus, who has championed his creative endeavors. "My mom was very supportive of my music and still is and comes to all the shows. It's great to have creative people in the family and bounce things off of," Henry told Rolling Stone. "I really respect her opinion on all things creative."
While her sons come to her for advice and have deep respect for her work, Julia Louis-Dreyfus has consistently promoted the importance of working hard at a career you love. She felt it was important for her sons to see this. "I also think it's good for my kids to see me have artistic desires, work hard, and have success," she said in a 2010 interview with Redbook.
Henry Hall's music has parallels to his own life
Is the best music produced when artists are really able to draw from their own experiences? Although that question may be challenging to answer, we know that Henry Hall's music has parallels with his own life — in particular, the song "Frenemy (Just Be Nice)."
Henry Hall was born to parents who have enjoyed great success in their respective creative fields. While his parents would have affected his career in some ways, when Henry produces music, it reflects his life. "I feel like I've encountered a lot of frenemies in my life," he told Rolling Stone. "I don't really like to confront people because I'm kind of a nice guy, so I lead people I don't like on and keep them as friends. They end up being frenemies..." While he may need to work on setting better boundaries for himself, it is interesting to learn how much of himself he puts into his art. And it's been a long time coming because Henry has been perfecting his music-writing skills since he was 10 years old.
Charlie Hall and Julia Louis-Dreyfus have acted together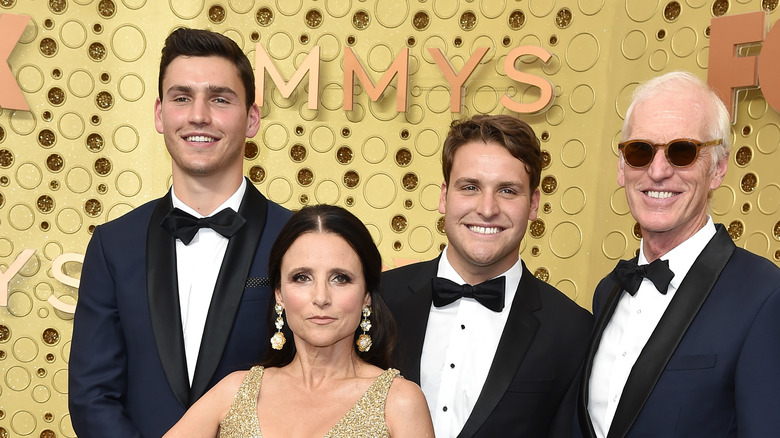 Axelle/bauer-griffin/Getty Images
Charlie Hall's acting career is just starting, but he has already achieved an impressive milestone: working with his mom. This happened on a 2019 episode of the comedy series "Veep," in which Julia Louis-Dreyfus had the lead role of U.S. vice president Selina Meyer. Charlie appeared in a single episode as the character Eddie Axler. At the time, he was not committed to becoming an actor himself, but he would consider working with his mother again in the future.
"That was actually my very first set experience. And that was before I knew I wanted to be an actor. But it was so fun and a nice introduction because I knew most of the people there," he told W magazine. "It already felt like family. They'd been doing 'Veep' for a while, and I was obviously very comfortable with my mom, so that was easy."
Louis-Dreyfus has also spoken about her son's career and voiced her support. "He's really digging being an actor and he's really good," she told Entertainment Tonight in 2022.
Henry Hall credits his dad for introducing him to music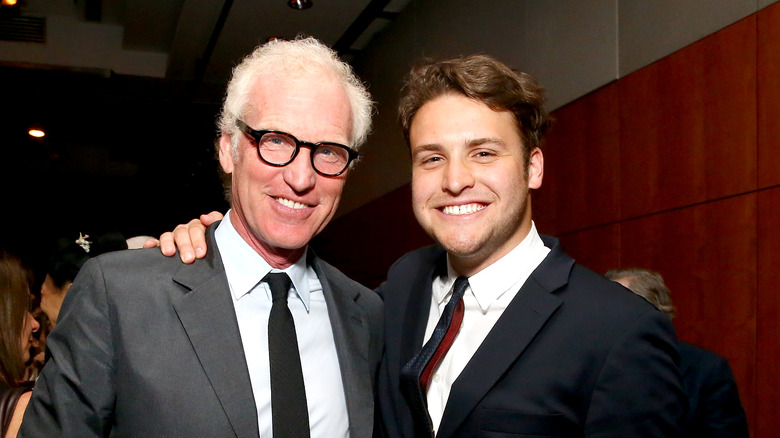 Astrid Stawiarz/Getty Images
Henry Hall may be a talented musician carving out his own career, but that doesn't mean there aren't other big stars that he looks up to. He told Rolling Stone that he's a big fan of the music of Prince and Frank Ocean, while artists like The Weeknd and Paul McCartney have also inspired him. The latter may have come from Henry's father, Brad Hall.
"My dad is a massive Beatles fan. One of few Beatles fans — one of the maybe nine Beatles fans," Hall playfully told Nylon in 2017. "He exposed me to a lot of the music I still know and love today, like Simon and Garfunkel, The Smiths, Joy Division..." So we can thank Brad Hall's excellent taste for helping shape his son's sound.
But why music? "I always found music to be the most direct form of expressing the human experience," Henry Hall told Nylon. "You're creating these sounds that just kind of float in the air, and they're inherently indescribable — you can't really put your finger on it — it's like describing a color or something."
Charlie Hall attended Northwestern University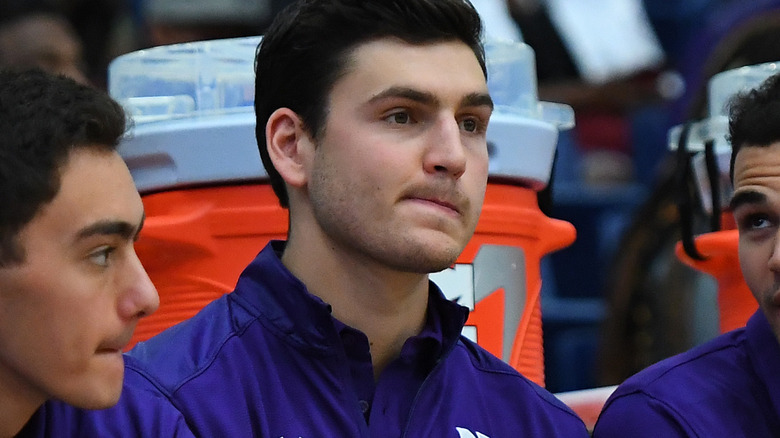 Jayne Kamin-oncea/Getty Images
Charlie Hall graduated from Northwestern University in 2019. But when deciding on schools to attend, Northwestern University was likely a frontrunner because his parents are alums — it's actually how they met.
The college experience is different for everyone, and while some people are hyper-focused on their studies, others use this time to experiment socially. For Hall, it was also a period in his life that would influence his career — regarding his role as Andrew in "The Sex Lives of College Girls," Charlie's surroundings proved to be a great source of inspiration.
"I don't think I took inspiration from anyone in particular, but I will say that I did have to definitely draw from the college experience," he told E! News in 2022. "Andrew's approach to school and Charlie's approach to school are quite different, and so being at a school where people obviously take academics really seriously, it was easy to pull from that." He also commented on his passion for being part of the series and revealed his interest in returning for another season. "I'll do absolutely anything," he told the outlet. "I think the show is so wonderful, and I think Mindy [Kaling]'s such a genius, and all those girls are so awesome."
Henry Hall had big dreams of becoming a surfer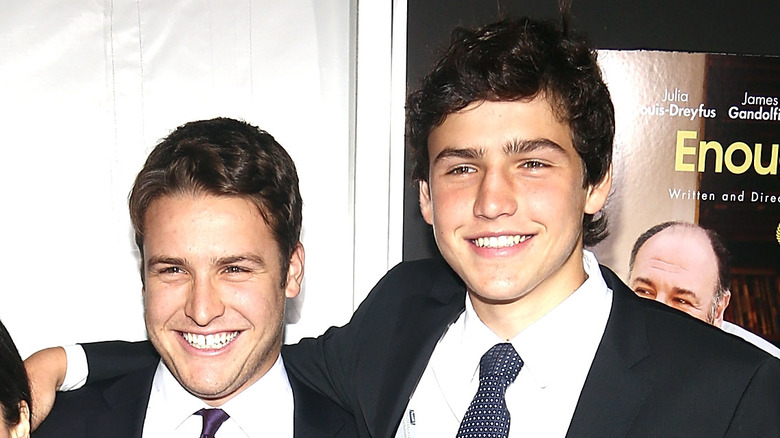 Paul Zimmerman/Getty Images
Henry Hall was drawn to a career in acting from a young age, but his mom had no intention of letting her child join the industry — not until he was a teenager, that is. Hall retells a story from his childhood with all the humor and entertainment you would expect.
"When I was like seven or eight, I was crying to my mom, 'Why can't I be an actor?'" he told Paper magazine in 2019. "And she told me, 'You can't be an actor now, but you can when you're 14.' And I was like, 'NOOOO.' As if 14 was the magic number and so, so far away." Like most children, when the time came, he had changed his mind completely and now had a new dream for his future: to become a professional surfer.
Hall is not a professional surfer (although if you head over to his social media, you will see several photos of him on the water), but he has indeed pursued a creative career with his work as an actor and musician.
Charlie Hall really wants to work with Jake Johnson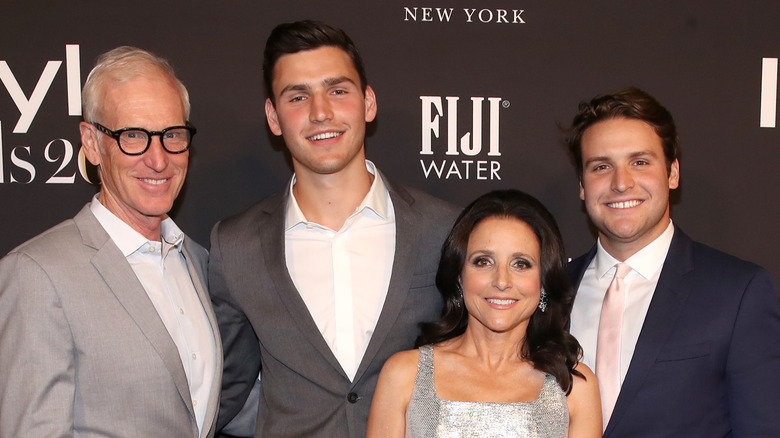 Randy Shropshire/Getty Images
Charlie Hall's career looks to be on an upward trajectory, and in addition to his work on "The Sex Lives of College Girls," he's also appeared on "Bel-Air" and "Single Drunk Female."
His success appears to be happening quickly, which is great considering it's a career path he only discovered as an adult. "I knew that I was interested in entertaining in some capacity, I think. I always had a massive interest in comedy, but I wasn't necessarily set on acting until later on in life," he told Wonderland magazine. Now that Hall is dedicated to acting, fans may wonder if he has any projects he would like to work on, or a particular actor or actress he wants to collaborate with. It turns out there is one: actor Jake Johnson, who played the role of Nick Miller on the series "New Girl."
"One of my acting idols is Jake Johnson from 'New Girl.' I love him so much, and I would love to work with him," he told W Magazine. Although comedy has been Charlie Hall's initial focus, we may also see him embrace another genre in the future. "I would also love to do a big huge, crazy action movie," he confessed.
Julia Louis-Dreyfus's sons have a great sense of humor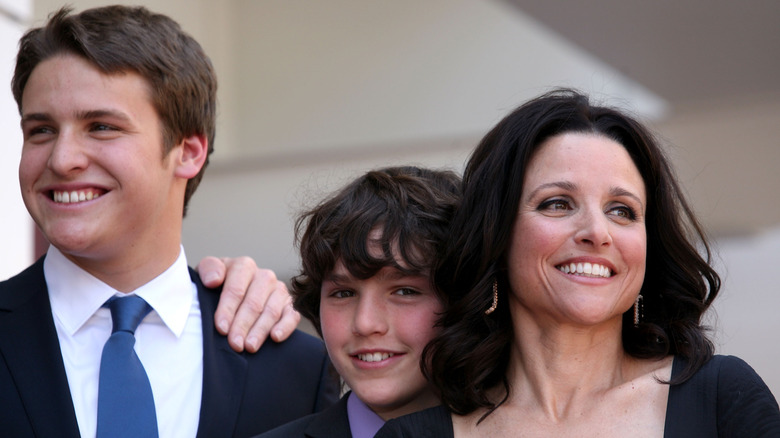 Valerie Macon/Getty Images
It's no secret that Julia Louis-Dreyfus and Brad Hall are great at what they do, and have worked steadily in the entertainment industry, and particularly in comedy, for decades. Louis-Dreyfus gave the perfect example of her skills when she was asked about her son, Charlie Hall, and whether he has come to her for advice on his own acting career. In an interview with Entertainment Tonight at Disney's D23 Expo in 2022, the actress revealed that her son had sought her help, and her answer was, "Get out of the business."
Of course, she was joking because she's incredibly proud of all her sons have achieved, but this effortless comedy makes her so entertaining. It seems Henry also has the same quick wit, and when asked by Nylon what his plans for the future were, he responded with: "Probably to be like the quarterback of the Dallas Cowboys." He found his answer amusing, adding, "I love to play music and perform, other than being on the football field and smelling that green grass, of course."
Charlie Hall was a young romantic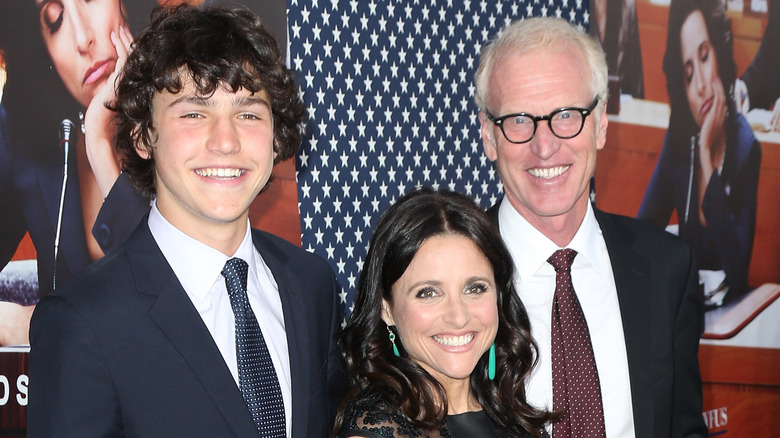 David Livingston/Getty Images
Charlie Hall is a good-looking guy, and from his interviews, he also seems quite likable. With this in mind, playing his romantic interest in a film does not seem like a tough ask for an actress. One of his roles was in the film "Sweethearts," and he spoke to Wonderland magazine about his own high school experience with romances. It turns out that he thought he was a bit of a catch.
"I feel like at that age, so often it's your first relationship, and you're such a dumb***. Or at least that was my experience," he said. "You know, I thought I was a romance expert when I was 18. When things start to go awry, you're so surprised. It's like, 'How could this be? I thought this person I met at recess was the one forever.'" This comment about his early love life, however, doesn't give fans a glimpse into his dating life, which he has chosen to keep private.