Kate Calls Back To Her Queen Elizabeth Funeral Look At King Charles' Scotland Coronation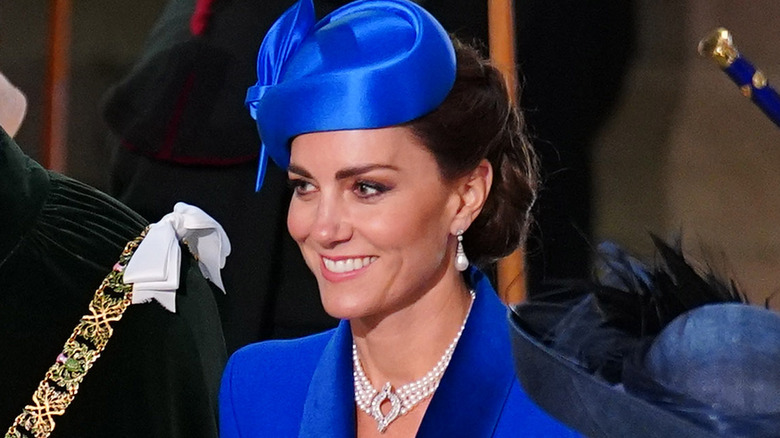 Pool/Getty Images
On July 5, Catherine, Princess of Wales, attended King Charles' second coronation. While it's a yearly tradition for the monarch to participate in the festivities of Scotland's "Royal Week," this year includes a special coronation celebration featuring the Honours of Scotland, known as Scotland's Crown Jewels. 
For the king's May 6 coronation, Kate paid tribute to Queen Elizabeth with her striking headpiece. This time Kate referenced her late grandmother-in-law at the event by wearing Elizabeth's Four Row Japanese Pearl Choker. Elizabeth was generous with her jewelry collection, and she loaned the necklace to Princess Diana and later to Kate on multiple occasions. Queen Elizabeth adored pearls, and a three-strand necklace was her go-to choice for daily wear. Made by jeweler Garrard, this four-strand necklace is believed to be made from Japanese pearls gifted to Elizabeth in the 1970s. They're connected in the center by a sparkling diamond clasp. It's also thought that Prince Philip made some suggestions about the clasp's design. This may be why Kate chose to wear it in 2017 in honor of Elizabeth and Philip's diamond wedding anniversary.
For the royal family, pearls are also associated with mourning, which explains why Kate wore this necklace at both Prince Philip and Queen Elizabeth's funerals. Pearls are also an elegant choice for high-profile events like Charles' Scotland coronation. "Their power lies in the fact that they aren't overwhelming. It's a subtle and slightly restrained look," British jeweler Claudia Bradby told People.
Kate re-wore her Easter outfit in Scotland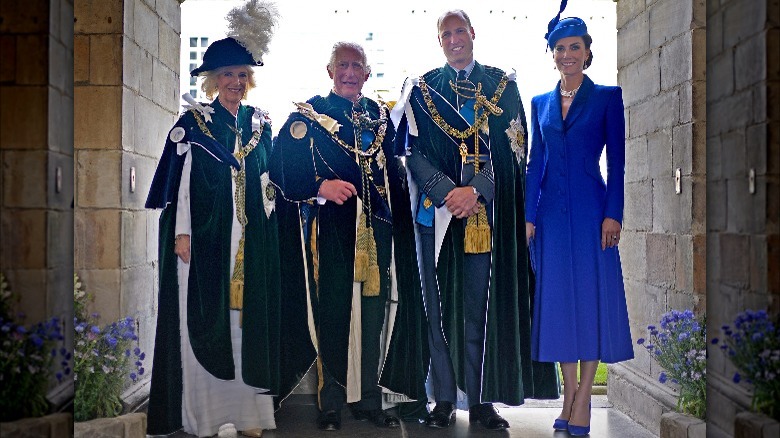 Pool/Getty Images
Queen Elizabeth's Japanese Pearl Choker wasn't the only item that Catherine, Princess of Wales, re-wore from a previous occasion. While Kate did not appear in the stunning silver-embroidered coronation gown from Charles' May 6 London coronation, she did revisit another favorite piece from her closet: a brilliant blue coatdress that she previously wore for the Easter service in 2023 as well as Commonwealth Day 2022. "Kate is conscious of sustainability in fashion and is, of course, a keen advocate of her husband's Earthshot cause," Miranda Holder, a royal fashion expert, explained to Newsweek. She added that the princess was "striking a careful balance between looking elegant and 'royal' whilst not being too ostentatious or 'showy' in today's economically-challenged climate."
Besides her likely enthusiasm for the coat dress's tailored lines, Kate likely chose the outfit for its color. Made by Catherine Walker & Co., the coat dress matches the Saltire blue hue of Scotland's flag. Over the years, Kate's frequently color-coordinated with the flags of countries she visits for royal tours. This time the princess accentuated her blue theme by pairing the coat dress with blue pumps, a clutch, and a Philip Treacy hat which was believed to be made specifically for the July 5 ceremony. Besides harmonizing with Scotland's flag, Kate's choice is a sweet homage to Queen Elizabeth. The late monarch's favorite color was thought to be blue, and in 2022, members of the royal family wore blue for Trooping the Colour, her annual birthday celebration.
Queen Elizabeth also wore a more understated look for her Scotland coronation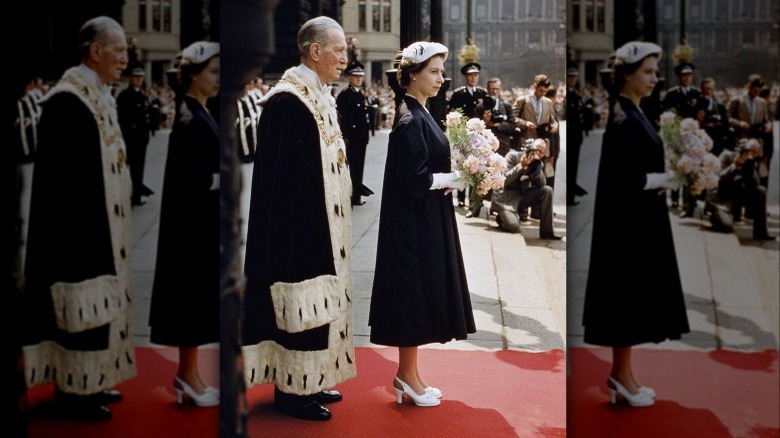 Hulton Archive/Getty Images
When she attended King Charles' Scotland Coronation, Catherine, Princess of Wales, channeled a style reminiscent of her late grandmother-in-law. In June 1953, the same month as her London coronation, Queen Elizabeth had her second coronation in Scotland. While there was a big celebration, the queen chose to wear a simple yet sophisticated skirt suit for the occasion. 
For his Scotland coronation, King Charles opted to wear his ceremonial robes denoting his membership in the Order of the Thistle, Scotland's highest order of chivalry. As king, Charles is the leader of the Order and tasked with bestowing the honor to recipients of his choosing "in recognition of men and women who have held public office or have contributed significantly to national life," according to the royal family's website.
Along with the king, Queen Camilla and William, Prince of Wales, are members of the order, so they also wore their ceremonial attire for this occasion. Camilla recently became a member of the Order in June 2023. Kate's outfit contrasted with her family members since she does not yet have this honor. However, she may someday be invited to become a member. In addition, Kate is not yet part of the Order of the Garter, Britain's highest order of chivalry. This honor is limited to 26 people and is also awarded at the monarch's discretion.