Kate Middleton's Most Gorgeous Royal Hairstyles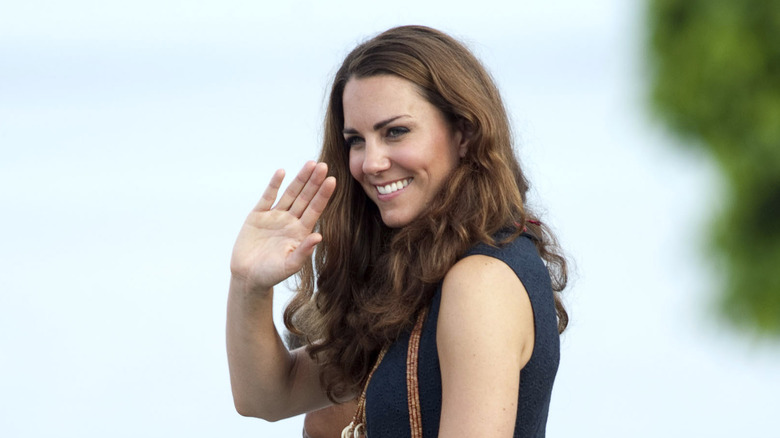 Pool/Getty Images
In the years since Catherine, Princess of Wales began dating Prince William in 2002, got engaged to the royal in 2010, and became one herself upon marrying the future king in 2011, she has become a style icon. While her outfits are regularly dissected and replicated by fans, Catherine's hair choices are just as talked about as her elegant fashion ensembles. The future queen has maintained her long chocolate brown mane for the majority of her time as a royal family member, but she's also been known to veer off the path of comfort to try more adventurous styles every once in a while, too.
Catherine has debuted plenty of breathtaking royal hair looks in the last decade, with some of her most beautiful styles being intricate updos, shiny blowouts, and flawlessly styled half-updos. And as gorgeous as those styles are alone, they're even more magnificent when paired with an eye-catching fascinator or a stunning tiara from the royal vault. While we can't possibly pay homage to all of her enchanting hairstyles, we've rounded up a few of Princess Catherine's most gorgeous looks below.
Half-up with a halo headpiece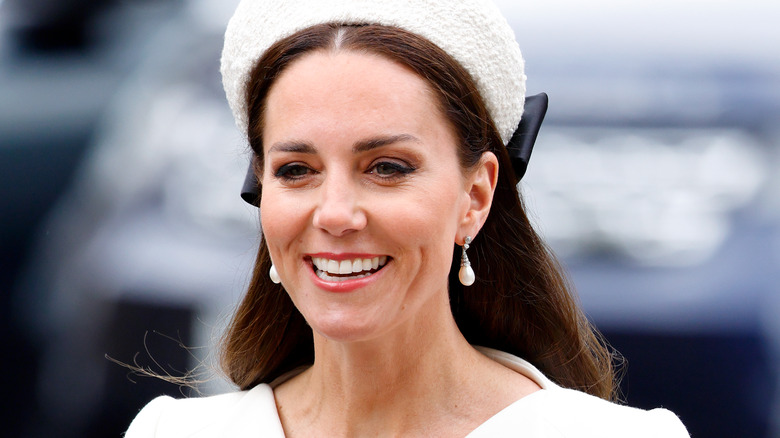 Max Mumby/indigo/Getty Images
In April 2022, Catherine, Princess of Wales accompanied Prince William to a commemorative service at Westminster Abbey in honor of Anzac Day. In remembrance of fallen Australian and New Zealander soldiers who perished during World War I, the Anzac Day service is one of many the royal family attends to honor service members.
For the 2022 occasion, Catherine looked radiant with her hair pulled into a half-up hairstyle. Her tresses cascaded down her back in stunning soft waves, but her cream-colored halo headpiece was the star of the look. The tweed band by Jane Taylor featured a large black satin bow nestled against the base of the princess' head, keeping her sleek locks in place.
Catherine also wore her custom-made Alexander McQueen ivory coat dress, which she previously wore to Princess Charlotte's 2015 christening, during the 2016 Trooping the Colour events, and while in Belgium for a 2017 trip. Her black suede heels are the Gianvito Rossi 105 pumps, and she accessorized with a black suede Jenny Packham Roxy clutch and Princess Diana's Collingwood pearl drop earrings.
Relaxed waves for a modern look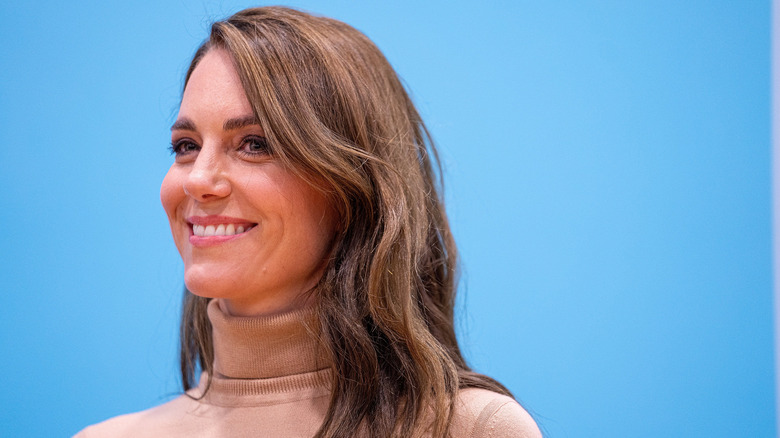 Wpa Pool/Getty Images
The Princess of Wales donned a much more relaxed hairstyle compared to her usual polished looks during a November 2022 visit to two community organizations in northern Yorkshire with her husband. For the couple's day spent at The Street and The Rainbow Centre, Catherine wore her mane in a side part with loose waves cascading around her frame in a messier style than her signature structured curls. The soft waves gave her hair a lot of volume and movement, feeling more akin to a style Meghan Markle would wear rather than one seen on the queen-to-be.
Working well with her rich brown tresses, Catherine wore a monochromatic camel-toned look for the outing. The princess layered a Gabriela Hearst turtleneck dress with a Max&Co coat, and she accessorized with Ralph Lauren Celia pumps, a Boden belt, and a Demellier London handbag in Nano Montreal for a demure yet chic appearance.
Sleek and straight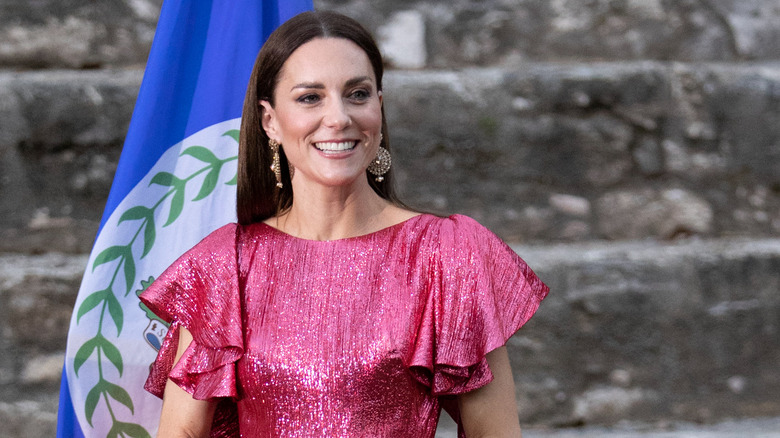 Pool/Samir Hussein/Getty Images
For her final night in Belize with Prince William during their March 2022 Caribbean tour, Princess Catherine embraced glamour with a sleek middle-parted hairdo and a sparkling, floor-length hot pink gown. The Princess of Wales wore the Barbie-inspired look to a celebration hosted by the Governor-General of Belize, Froyla Tzalam. The people of Belize gathered with the two royals to honor Queen Elizabeth's historic 70-year reign while celebrating the country's rich culture and customs, and Catherine paid homage to Belize through an element of her magnificent outfit.
Framing her shiny straight locks with some additional sparkle, the princess wore a gorgeous pair of gold gemstone-encrusted medallion earrings by O'nitaa. Catherine's vibrant glimmering gown is the Light Sleeper dress by The Vampire's Wife, and she carried a black and white embroidered clutch from Belize's first Maya fashion collection, by the brand Xe'il Belize. This is definitely a fun Platinum Jubilee look.
Chic chignon with the Lover's Knot tiara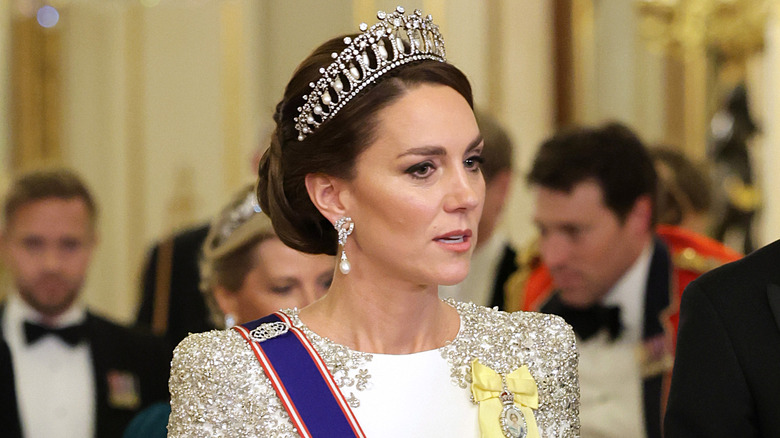 Chris Jackson/Getty Images
Princess Catherine has exclusive access to three of the royal family's tiaras since marrying Prince William in 2011. Only breaking out the ornate headpieces for the most special of occasions, it's pretty rare to see the Princess of Wales with a tiara atop her chocolate-colored curls. We did see Catherine don the Queen Mary's Lover's Knot tiara during a November 2022 state banquet hosted by King Charles in honor of South Africa's president, Cyril Ramaphosa, and she looked extremely regal in the 1913 diamond and pearl piece.
The tiara rested atop Catherine's side-parted hair, which was styled in a chic chignon for the formal occasion. The princess also wore a white Jenny Packham gown with glittering embellishments on its cape-style sleeves, Princess Diana's diamond and pearl statement earrings, a multi-strand pearl bracelet, an ornate diamond brooch, and several other royal family insignia reserved for special engagements.
Beyond her royal jewelry, Catherine also accessorized with a white Alexander McQueen box bag, which she's used for previous occasions, including the 2019 BAFTA awards and Trooping the Colour celebration. 
Elegant yet casual twisted half-updo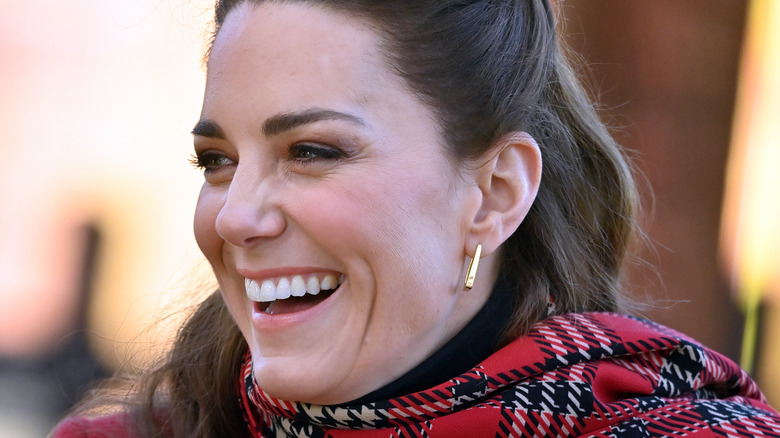 Pool/max Mumby/Getty Images
During the second day of the royal train tour in December 2020, Princess Catherine wore her hair in gorgeous tousled waves pulled away from her face in an intricately twisted half-updo. Several sections of her tresses were twirled and woven across the back of her head for a chic yet casual style that showed off her fresh-faced features and gold Alia hoop earrings by Spells of Love.
Looking like an elegant vision stepping off the train at their first stop, Cardiff Castle in Wales, the princess wore a black turtleneck, a matching tartan skirt and scarf by Emilia Wickstead, a crimson Alexander McQueen coat, and knee-high black heeled boots by Ralph Lauren.
The predominantly red and black look was perfect for the holidays and was a subtle way for Catherine to spread seasonal joy while she and her husband toured the U.K. during the coronavirus pandemic.
Natural beachy waves for a mermaid-like look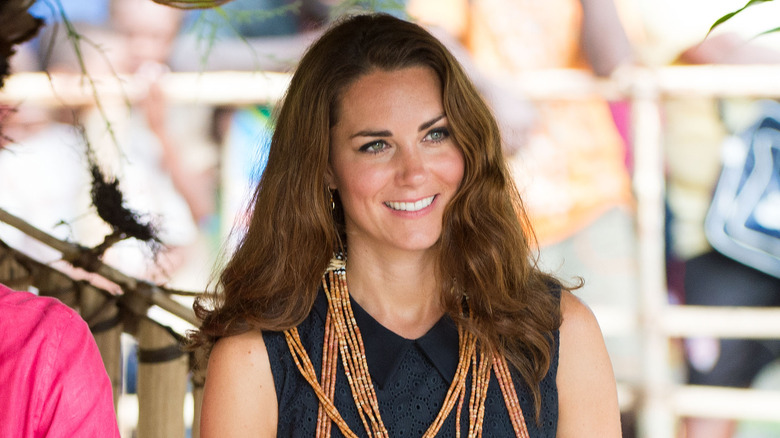 Samir Hussein/Getty Images
In 2012, Princess Catherine and Prince William embarked on a Diamond Jubilee tour, visiting Tavanipupu Island of the Solomon Islands northeast of Australia. During the September trip to the tropical destination, the future queen surrendered to the region's climate, opting not to wear her usual pristine curls and instead embrace her natural waves. The rare informal style gave Catherine a youthful mermaid-like appearance, which was perfect for the island visit. To date, it's one of very few times the public has seen the royal wear such an undone hairstyle.
The princess paired her voluminous natural locks with a navy eyelet lace dress from Mulberry, which she belted at the waist. Catherine finished the more casual look with a pair of navy, corked-sole wedges by Stuart Weitzman and dainty dangling earrings. (She even went barefoot at one point!) She and William were also draped in long beaded necklaces by Indigenous islanders upon their arrival, playing up the princess' beachy look. 
Half-up bun with a blush fascinator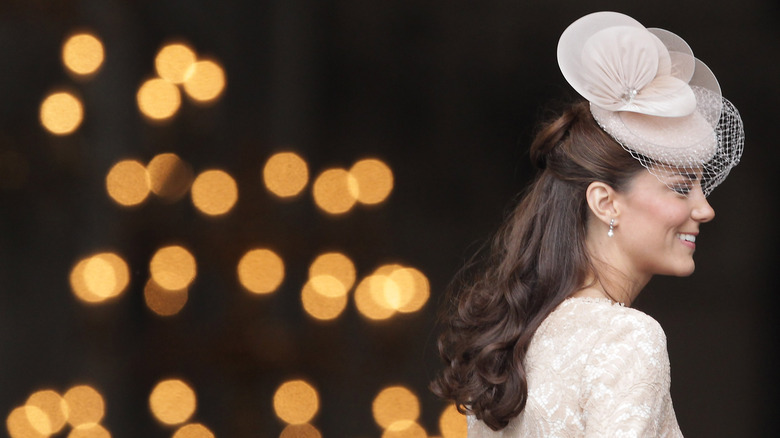 Matt Cardy/Getty Images
On the final day of Queen Elizabeth's Diamond Jubilee celebrations in June 2012, Princess Catherine wore her chocolate locks half-down in cascading curls with the top section pulled up in a swirling feminine bun. The royal added a beautiful blush fascinator by Jane Taylor to the look, which featured a glittering beaded hat, a birdcage veil, and petals of organza. 
Coordinating with her silky hairstyle and soft makeup, the Princess of Wales dressed in nude and blush tones for another stunning monochromatic look. She paired a long-sleeved lace Alexander McQueen dress with the LK Bennett nude patent Sledge pumps and a pink satin Prada Raso clutch.
Clearly a longtime fan of diamond and pearl jewelry, the royal added a pair of drop earrings by Heavenly to the look — the faux diamond and pearl pair was a bargain find compared to her heirloom jewels from Princess Diana's exquisite collection.
Classic bridal curls with the queen's Cartier Halo tiara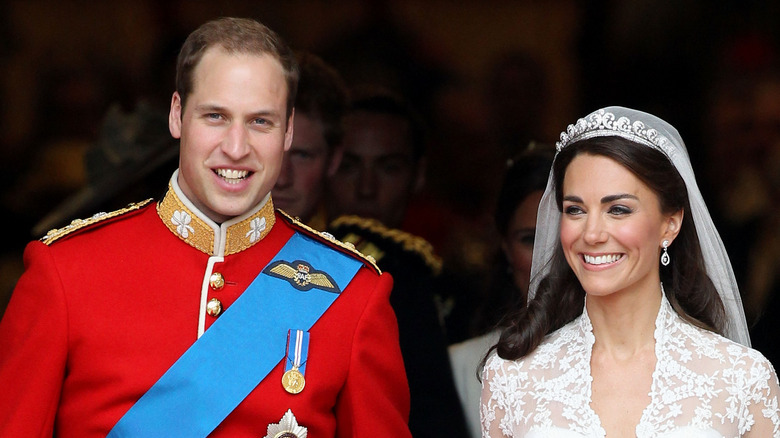 Chris Jackson/Getty Images
Princess Catherine's elegant wedding hairstyle was personally chosen by her with the help of her hairstylists, James Pryce and Richard Ward. The "demi-chignon" look situated the royal bride's long tresses in billowing ringlets pulled into a half-up style. According to Ward's namesake London salon, the demi-chignon "combines a classic bridal look with a regal, couture finish" (via People). 
In addition to her posh hairstyle, Catherine wore Queen Elizabeth's Cartier Halo tiara, which was originally gifted to the queen mother by King George VI in 1936. Although it's made of nearly 900 diamonds, the tiara is considered one of the more lightweight pieces in the royal vault, making it an ideal option for Catherine's first appearance with a tiara atop her head. A hand-embroidered tulle veil was placed over her hair and tiara, its design nodding to the countries that comprise the U.K. with the rose, thistle, daffodil, and shamrock lining the delicate border.
The princess' hairstyle was also conceptualized with her Alexander McQueen wedding dress in mind. Ward told People, "The hair was purposely styled off the shoulders so that the detail of her dress would be shown." The lace appliqué of the stunning bridal gown was unencumbered by the future queen's curls, and with her hair pulled back, Catherine's stunning nature-themed diamond drop earrings were on display as well.
Curtain bangs with a blowout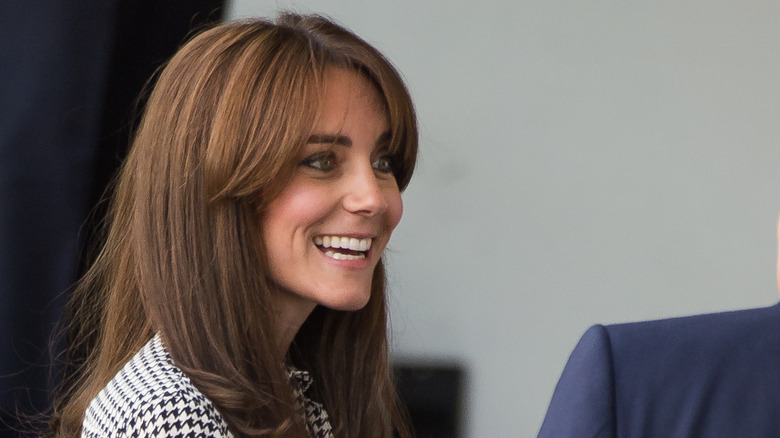 Samir Hussein/Getty Images
Princess Catherine diverted from her usual bang-free hairstyle in 2015 when she had curtain fringe cut into the front of her lengthy tresses. She wore the retro-chic look in a side part with the wide bangs sweeping away from her face into her sleek strands. The trendy look gave Catherine a modern and youthful appearance, though the princess reportedly said she felt slightly insecure about the style and referred to it as her "mum fringe" (via Glamour).
Although she did ultimately grow her bangs out after the bold 2015 chop, Catherine revisited the curtain bang look in 2020 with a more subtle fringe. The slimmer sections of bangs were a bit longer than those of her 2015 cut and were angled to blend into her hair more seamlessly than the shorter and chunkier bangs she wore five years prior. The princess has since grown her bangs out again, but we hope she revisits the stylish look once more in the future.
Low chignon with intricate twists
Max Mumby/indigo/Getty Images
Princess Catherine's sister, Pippa Middleton, looked breathtaking at the 2011 royal wedding, and Catherine did the same at Pippa's May 2017 nuptials in a pretty pale peach ensemble. The elder of the Middleton sisters wore her hair swept into an intricately twisted chignon that showed off the honey and caramel tones in her chocolate-colored strands. The stunning style was topped with an equally elaborate fascinator designed by Jane Taylor — a favorite designer of the princess' — which featured curling adornments and a blossoming rose at its center.
Embracing the monochromatic aesthetic yet again, Catherine matched her fascinator to her long-sleeve Alexander McQueen dress (another clear fashion favorite) with a pleated peplum skirt that hit just below the knees. The future queen wore another pair of Gianvito Rossi 105 pumps, this time in praline suede, and she accessorized with a pair of jaw-dropping morganite drop earrings by Kiki McDonough.
One thing is clear. The Princess of Wales certainly knows what she likes when it comes to her hair, clothing, and accessories!
Lustrous lob for the summer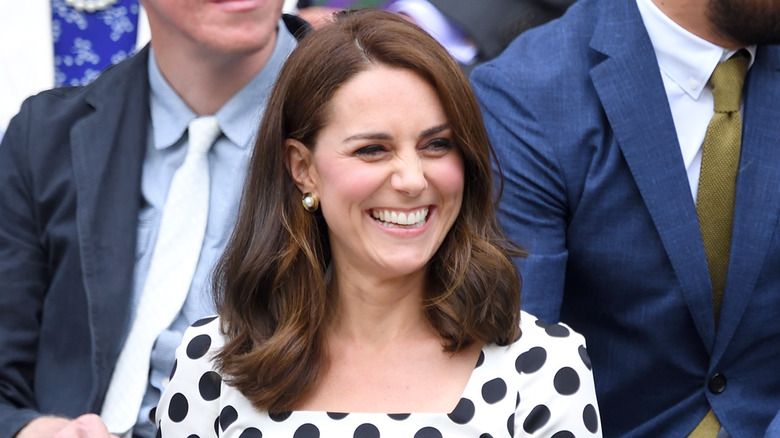 Karwai Tang/Getty Images
Princess Catherine chopped her signature long locks in the summer of 2017, premiering a layered lob at Wimbledon that July. Although her lengths were much shorter than usual, falling around her shoulders and décolleté, the princess maintained her voluminous blowout and loose curls. Catherine also stuck to her regularly-worn side part — when she leaves her comfort zone to try new things, it seems she only switches up one thing at a time, with the length being the changing factor of this bouncy hairstyle.
Her playful cut wasn't the only kittenish part of Catherine's Wimbledon ensemble — the royal wore a black and white Dolce & Gabbana polka dot dress that was both flirty and demure with its flared skirt and conservative square neckline. She paired the Nina simple black suede block heel by Office with the look, as well as a white Victoria Beckham tote bag that she carried to the same event the previous year.
Stunning side bun with a wide-brimmed hat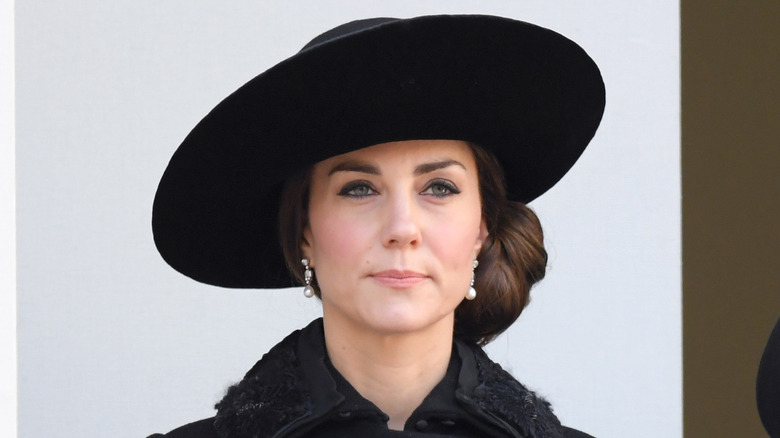 Karwai Tang/Getty Images
Catherine, Princess of Wales looked striking in her all-black ensemble on Remembrance Day in 2016. Honoring Britain's fallen soldiers at the Cenotaph in Whitehall, the royal wore her hair in a low side bun that was counterbalanced by her angled wide-brimmed hat. While Catherine often wears a low chignon for official events, the large side bun is a style that she's worn far fewer times but looks just as breathtaking as her more signature updos.
In addition to her black chapeau by John Boyd Hats, the princess repeated a look by wearing a black wool coat by Diane von Furstenberg to the ceremonial event. Catherine previously wore the coat at the 2011 Remembrance Day service, then again the following year.
Her diamond and pearl earrings are from the royal vault and were on loan from Queen Elizabeth, who originally received them as a wedding gift from the Hakim of Bahrain in 1947.
Blair Waldorf-inspired headband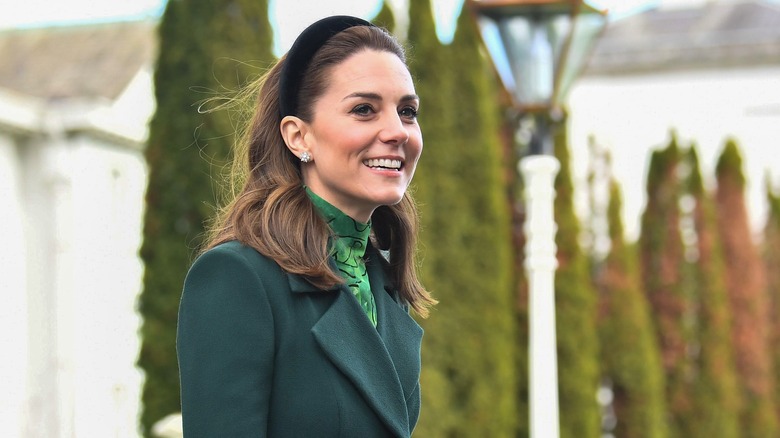 Samir Hussein/Getty Images
During a March 2020 visit to Ireland with Prince William, Princess Catherine channeled her inner Blair Waldorf with a "Gossip Girl"-inspired headband look. The princess wore her shoulder-length locks in loose waves held back from her face with a large velvet headband, which gave her a youthful, girlish appearance. The dark, chunky hair accessory completed her head-to-toe green outfit, which included a forest green double-breasted coat with large black and silver buttons at the midriff and wrists. It was designed by Catherine Walker specifically for the royal.
The Princess of Wales wore the bespoke coat over a silk green turtleneck dress by Alessandra Rich. In addition to the velvet headband by Lele Sadoughi, Catherine accessorized with a suede LK Bennett clutch that matched the color of her dress, dark green suede heels by Emmy London, and a sparkling pair of Asprey London Daisy Heritage earrings. This was certainly a sleek ensemble.
Honey blond highlights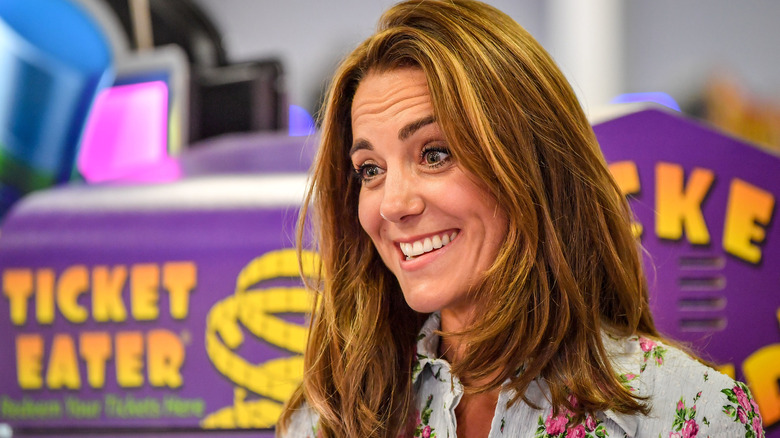 Wpa Pool/Getty Images
Everyone once in a while, it can be fun to switch up hair colors with the season. That's exactly what Princess Catherine did when she introduced honey-blond highlights throughout her hair, which was cut in a heavily-layered mid-length style at the time. The royal revealed her lighter look via a public appearance with the family in September 2019, during an autumn walk to Princess Charlotte and Prince George's school. Her honey-colored tresses were styled in a sweeping blowout that emphasized her locks' layers and color dimension while highlighting the subtle fringe framing her face.
The rich golden blond hair color brought out warm tones in Catherine's complexion, which gave her a glow all the way into the summer months of 2020. While the dramatic change caused excitement among her fans, the princess' highlights returned to their usual chocolate brown by the winter of 2020 — perhaps joining her 2015 curtain bangs in the category of hair choices Catherine was not so sure about.