The Belt Bag Trend Is Both Stylish And Functional - Here's How To Style It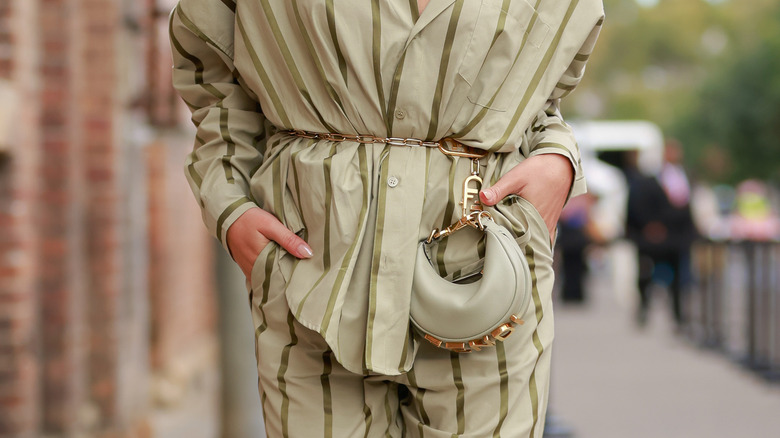 Hanna Lassen/Getty Images
Bags are functional accessories that can instantly make or break a look. While larger bags are usually considered the most functional, they don't necessarily suit everyone. Maybe you don't carry so much stuff around or you simply don't like the look of a bigger bag, and you no longer have to in the name of functionality.
The belt bag, also known as a fanny pack, is an unsung hero of accessories that are both stylish and functional, and no, it's not only for festivals. According to costume designer and celebrity stylist Ebony Brown, styling a belt bag is easier than it looks. "The one thing I would say about styling a fanny pack: Don't overthink it. It's really not that serious," she tells Nylon, adding that she often styles her favorite one with classier pieces like heels and skirts.
If you aren't sure how to approach styling a belt bag, simply look at it like you would any other bag. Mind its shape and the overall proportions of the outfit when figuring out what to pair it with. Play with materials like leather, cotton, and denim, and don't be afraid of color. This way, a belt bag will work for more occasions than just a sporty outing or a rave.
Pair it with a dress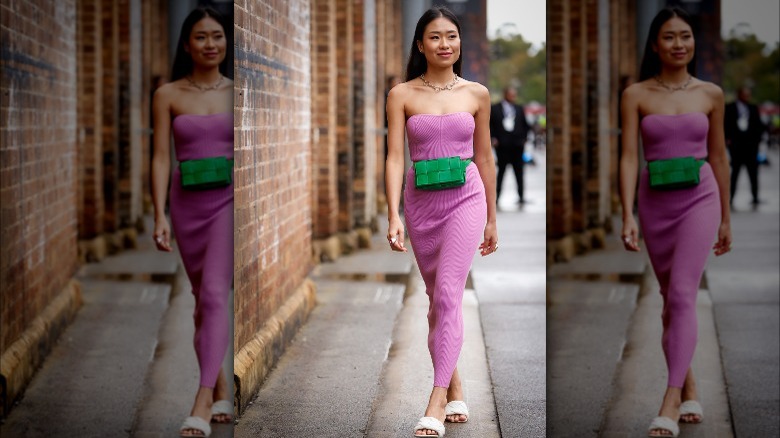 Hanna Lassen/Getty
While a belt bag definitely isn't the first bag to come to mind when asked which one you would wear with a dress, the pair works better than one might think. For a tube dress, opt for a leather belt bag that can be worn around your waist to accentuate it. Placing the belt bag around your hips might throw off the proportions of the outfit, and wearing it across your chest is too casual for a tight-fitting dress. Go all out with classy vibes here and opt for leather heels to round off the look.
Casual vibes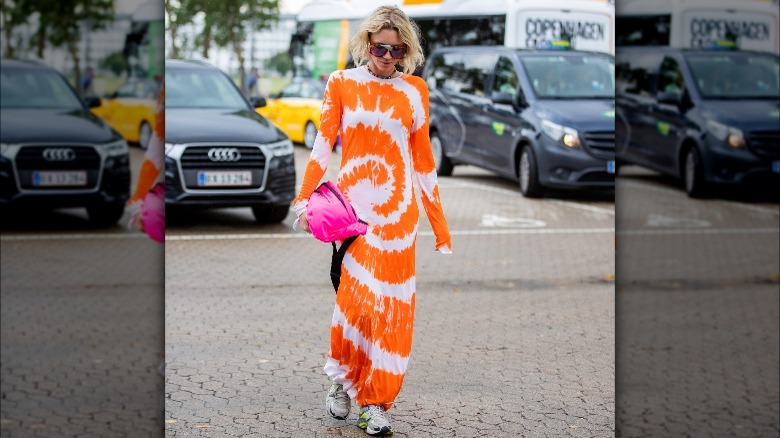 Christian Vierig/Getty
A flowy dress can handle a more casual belt bag and an overall low-key aesthetic. For example, you can complement a longer dress with a larger fanny pack and sneakers. In this case, you'll want to wear the bag either in your hands or on your shoulder to avoid cutting off the dress' loose silhouette in a weird place like the hips. To get attention without trying too hard, incorporate colors into your look and have fun with accessories like oversized sunglasses and interesting jewelry pieces.
Opt for a mini skirt combo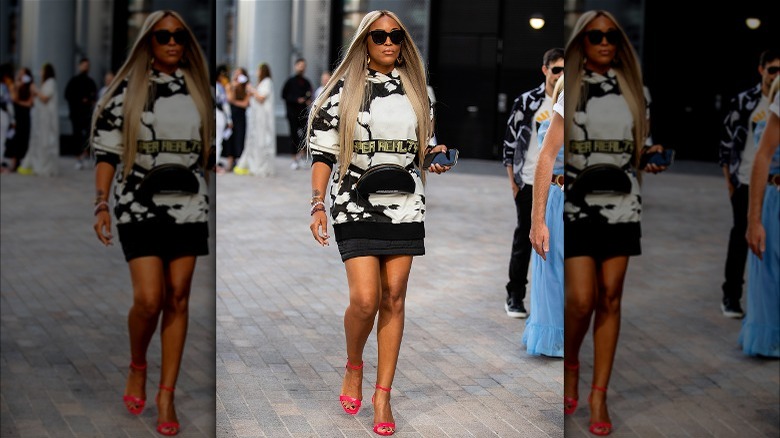 Christian Vierig/Getty Images
All you need to style a mini-skirt in a trendy way is a belt bag. Pair your mini-skirt with an oversized top like a button-down or a hoodie, and cinch your waist with the belt bag to create some dimension in the silhouette. Make sure it's a leather bag though, as the leather will add a classy touch to the overall fit. Depending on your desired aesthetic, go for either strappy-heeled sandals or sneakers, and add chunky jewelry.
Wear it over or under a blazer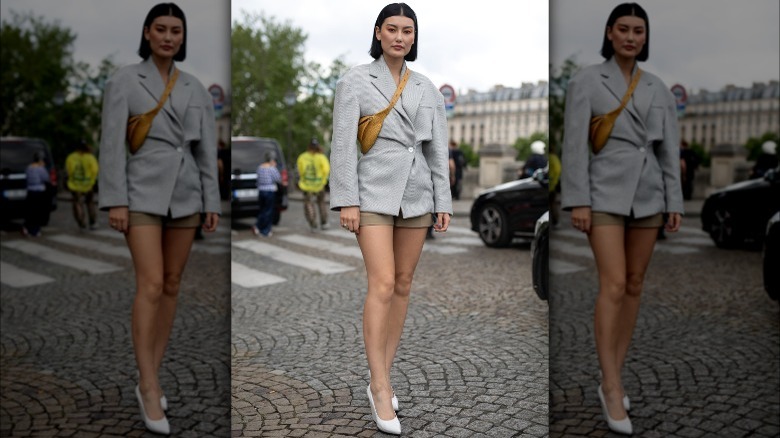 Matthew Sperzel/Getty
Belt bags and blazers are a versatile match made in heaven. If you like your blazers more tailored and form-fitting, wear your belt bag over the blazer and across your chest. Keep your bottoms shorter for an interesting touch, and opt for either sneakers or pointy pumps. For an oversized blazer, keep the belt bag positioned across your chest but place it underneath the jacket for a less traditional twist to the look. This way, the bag won't interrupt the stiffness of the oversized blazer but will peek underneath and add some depth.
Suit up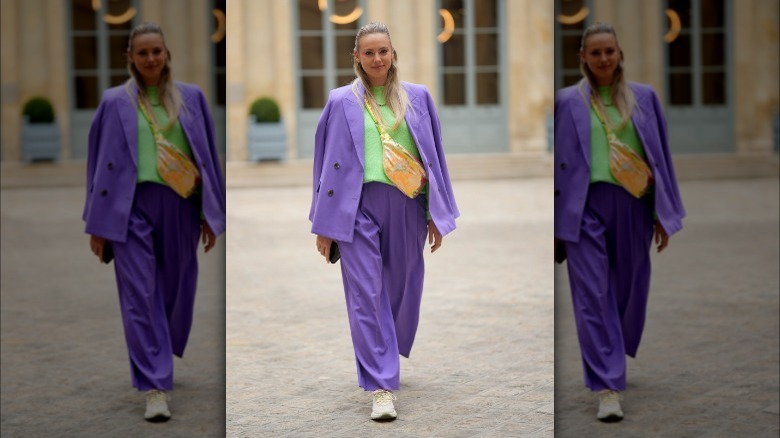 Edward Berthelot/Getty Images
To make a full pant suit more interesting and a bit less harsh-looking, place your belt bag around your waist to add a cool touch to the look. If your suit is colorful, go for a belt bag in either a complementing color or an interesting pattern. For a more toned-down suit in a neutral shade, keep the bag neutral as well if you want a monochrome feel. Sneakers and chunky jewelry will create balance, while heels and dainty accessories will make you look more elegant.
Utilize the belt bag for a pop of color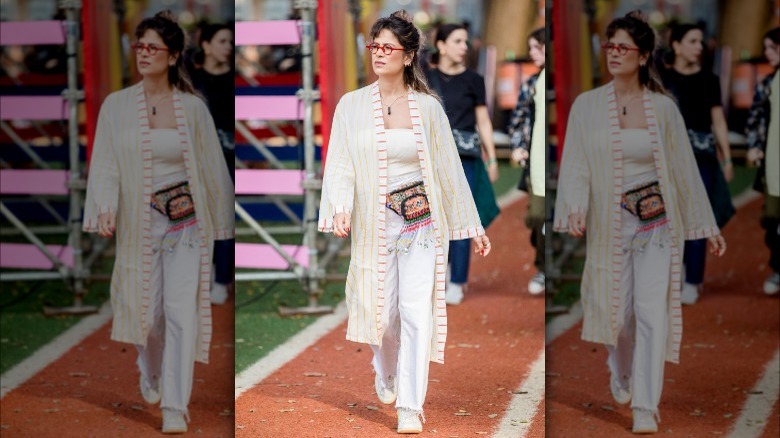 Mauricio Santana/Getty Images
Make your belt bag the star of your look by opting for one in a vivid color when pairing it with neutrals. With a bright color, it'll be the focal point of any outfit; just make sure it's color-coordinated with any other shades present. A monochrome base, whether that be a dress or jeans and a shirt, is a good place to start: then accessorize based on the vibe you want to give off. Heeled boots or pumps will add an elegant touch, while sneakers and leather slides are good casual choices for warmer weather.
Use it to cinch your waist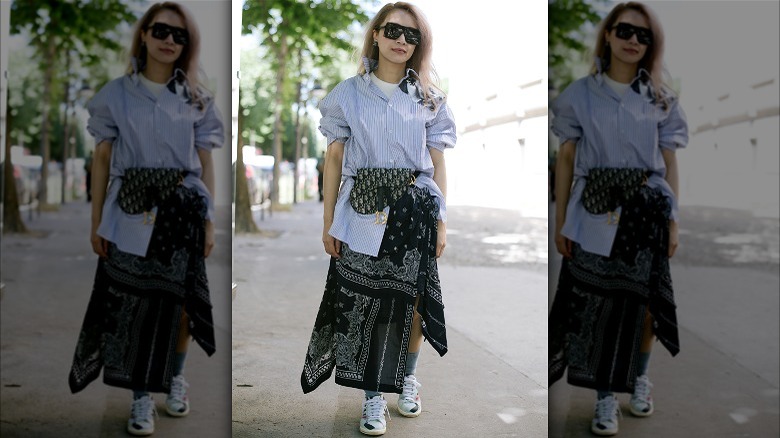 Vanni Bassetti/Getty Images
When sporting an oversized fit, use your favorite belt bag to cinch your waist and create proportion in the overall look. Opt for a slightly larger belt bag, as a small one would visually get lost in the oversized garments and wouldn't have the same effect. Balance out the newly created proportions by going for oversized sunglasses and bold shoes. If the 2000s statement belt trend isn't up your alley, the belt bag is a great alternative that's also functional and not just stylish.
Make it micro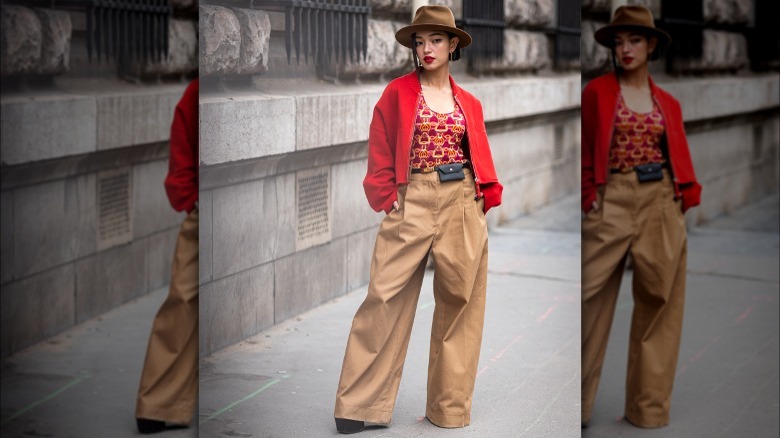 Claudio Lavenia/Getty Images
Micro bags have a magic of their own, and sometimes it's the only size that makes sense. For a fun, fashion-forward touch, opt for a micro-sized belt bag and wear it around your hips for a low-key vibe. A casual outfit would benefit most from a micro belt bag, as it would be an interesting twist to an everyday look, but it can definitely be dressed up if you'd like. Reach for a bold shoe to elevate your look, and go for either statement earrings or a headpiece to balance out the proportions.
Cool girl alert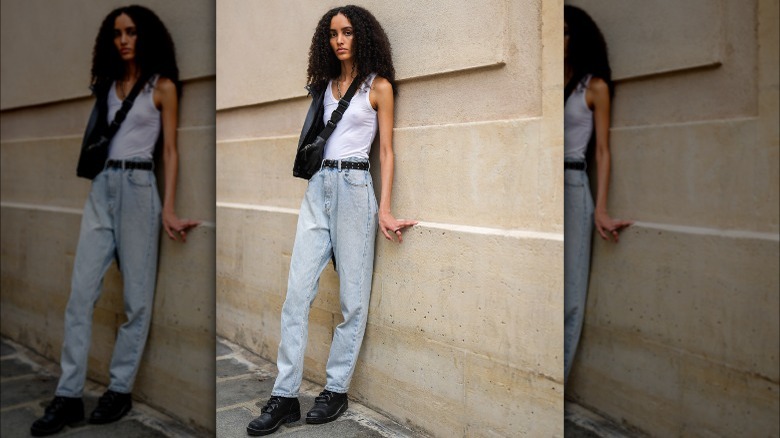 Edward Berthelot/Getty Images
The easiest way to style a belt bag is to go to jeans town. Put on a tank top or a T-shirt and your favorite pair of jeans, and you've got yourself the perfect canvas for any styling route you want to take. Wear your belt bag across your chest, like a backpack, or over your shoulder for a casual feel. Color-coordinate it with the rest of your accessories and keep the jewelry dainty for a minimal aesthetic. Boots and heels would both work perfectly as footwear choices and would pair great with a leather jacket on top.