Every British Royal Tom Cruise Has Ever Met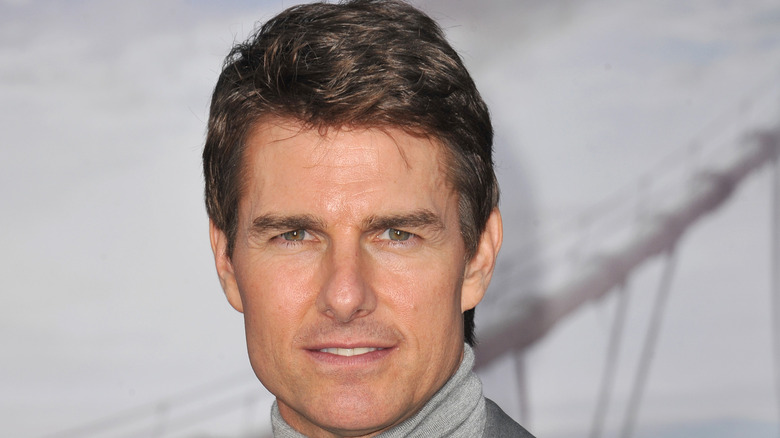 Jaguar PS/Shutterstock
In the fascinating realm where Hollywood meets royalty, few stars can rival Tom Cruise's encounters with British royals. If you're captivated by the allure of those types of tales, Cruise's journey through these unique intersections is sure to enthrall you.
Renowned for his Hollywood stardom, the "Mission: Impossible" actor's meetings range from unexpected to closely-knit friendships with some of the most important and beloved royals. Luckily, none of these relationships are remotely scandalous — unlike Cruise's biggest controversies, which include his involvement with Scientology.
Instead, Cruise's dynamic with the royals shows surprisingly down-to-earth behavior, like catching up on hobbies, watching sports, and even allegedly picking sides in the paparazzi-fueled drama between Prince Harry and Meghan and the royal family. Whether he's mingling at glamorous galas or helping with noble causes, Cruise's encounters with British royals paint a vivid picture of the lifestyles that top celebrities lead, where they effortlessly mingle with some of the most famous people in the world. Here's every British royal Cruise has ever met.
Princess Diana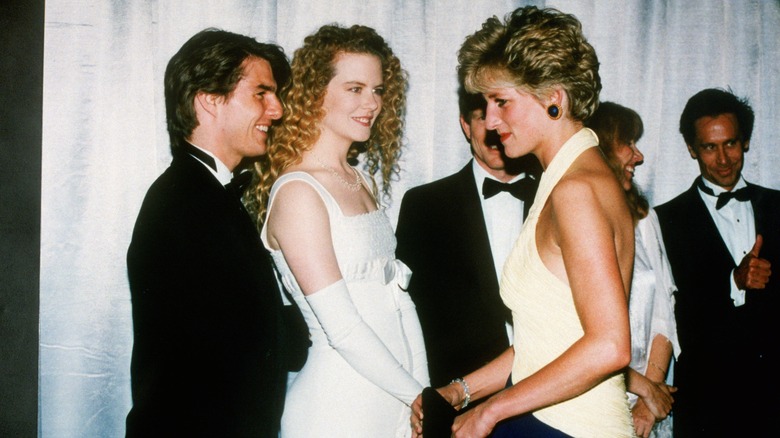 Tim Graham/Getty Images
Tom Cruise had the pleasure of meeting Princess Diana at the premiere of "Far and Away" in 1992. Cruise starred in the movie with Nicole Kidman, his wife at the time, and welcomed Princess Diana, who attended the event in a breathtaking backless dress. Diana shook hands with the couple and briefly exchanged pleasantries.
The London premiere was the first meeting between Cruise and Diana, but it wasn't the last. In a Twitter post, Darren McGrady, a former royal chef, explained that Princess Diana took Prince Harry and William to the set of the first "Mission: Impossible" movie to see Cruise and the pyrotechnics.
According to McGrady, right after the meeting, Diana said, "That's another one off the list, Darren. He's too short!" Curious? Here's how tall Cruise really is. Sadly, Diana passed away in 1997, just over a year after "Mission: Impossible" was released. Cruise, Kidman, and many other celebrities worldwide attended Diana's funeral in Westminister Abbey.
Prince George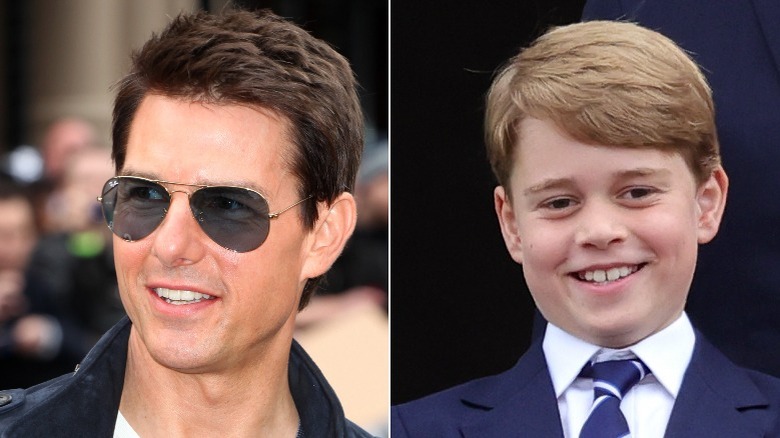 Featureflash Photo Agency/Shutterstock & Chris Jackson/Getty
Tom Cruise has also met the delightful Prince George. The brief interaction took place at the 2020 UEFA Euro Championship final. Italy and England battled for the cup on July 11, 2021, hence the interest of the British royals and Cruise.
Unfortunately, England didn't emerge victorious and lost on penalties. Despite the disappointment, Cruise briefly chatted with Prince George and his parents, who were seated nearby. The pair had another run-in at Wimbledon in 2022. Once more, Cruise was seated close to Prince George, who had accompanied his parents. However, it is unclear if they actually chatted at this event.
Cruise's meetings with Prince George might make you wonder what his relationship with his kids is like. Reports state that he is pretty close with his two adopted children from his marriage with Kidman, especially since both of them are dedicated Scientologists. However, his relationship with Suri, his daughter with Katie Holmes, is reportedly based on child support, lacking true depth.
Prince William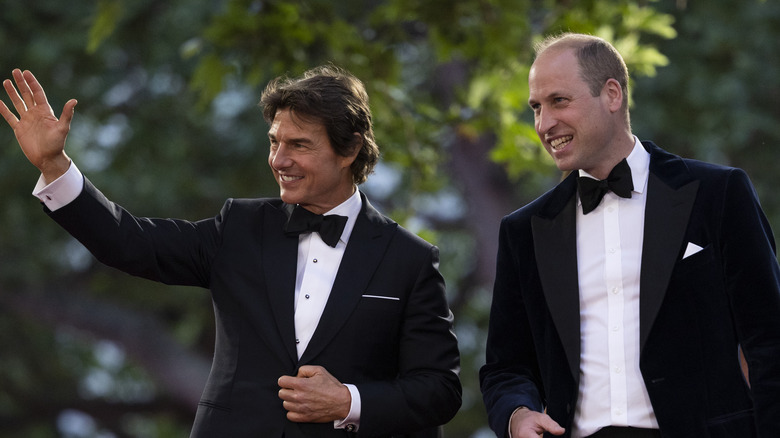 Dan Kitwood/Getty Images
Tom Cruise's meetings with Prince William are so much more than "meetings." The pair are really close friends and have a lot in common, despite the 20-year age gap. Turns out, Cruise's relationship with the heir to the throne didn't stop after Diana's passing. On May 15, 2022, Cruise mingled with William when he hosted the Windsor Horse Show, which was part of the Queen's Platinum Jubilee Celebration.
Their next meet was at the premiere of "Top Gun: Maverick," Tom Cruise's 2022 blockbuster movie, where he once again played host to royalty by welcoming William and Kate Middleton. Interestingly, this encounter happened just four days after Cruise hosted the Windsor Horse Show, proving that they don't mind being in each other's company.
According to ITV News, Cruise stated that his friendship with the prince is based on their shared passions. "We have a lot in common. We both love England, and we're both aviators; we both love flying." Prince William and Cruise also met at Wimbledon 2022, which the former attended with Kate and Prince George.
Kate Middleton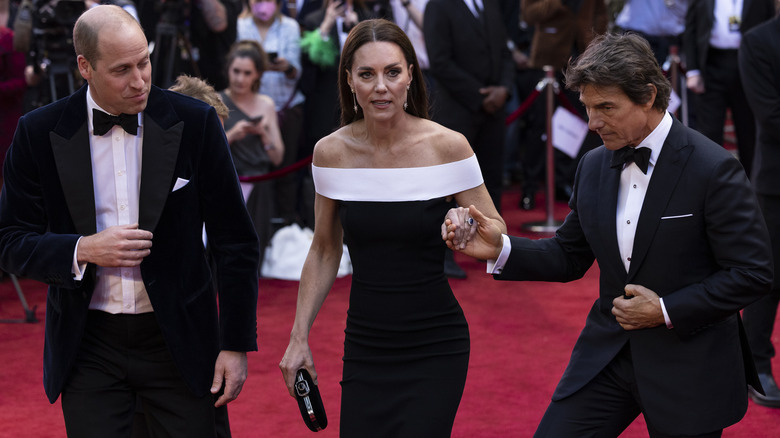 Dan Kitwood/Getty Images
Tom Cruise's friendship with Prince William has undoubtedly extended to the lovely Kate Middleton. Cruise was an incredible host to the princess at the "Top Gun: Maverick" premiere, even taking her hand to help her up some steps. However, this action raised a few eyebrows, as it is an unwritten protocol to limit body contact to a handshake, per the DailyMail.
But to be fair, the "Edge of Tomorrow" star is just one more American celebrity who's broken this rule. Cruise and Kate met again at the 2022 Wimbledon women's final, which she attended alone. It's unclear if they exchanged pleasantries at this event, but we do know that Cruise sat only a few rows behind her.
Not surprisingly, reports claim that Cruise has taken a side in the hostility between the royal family and Prince Harry and the remarkable Meghan Markle. RadarOnline reports that Cruise chose to side with pals William and Kate. However, these reports could be false, as much of the drama between the Duke and Duchess of Sussex and the rest of the royal family is fueled by false reports and the paparazzi. The Sun also reports that Cruise flew a white chocolate coconut bundt cake from Doan's Bakery in Los Angeles to Kate and William in London.
Prince Philip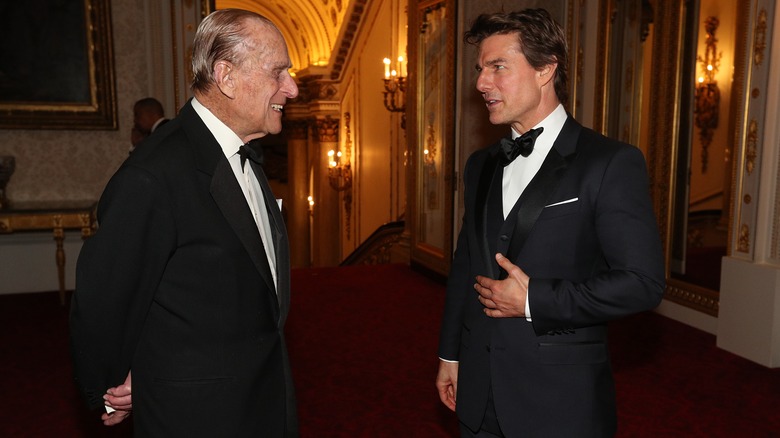 Wpa Pool/Getty Images
Even more shocking, Tom Cruise had a relationship with Prince Philip – a fact he revealed at the Queen's Platinum Jubilee Celebration during a backstage chat with Phillip Schofield and Julie Etchingham (via Hello!). As with William, Cruise and Prince Philip connected through their love of aviation. "He was telling me the wonderful story of how he got the first helicopter into Buckingham Palace during [the Queen's] coronation."
Their relationship began when Cruise met Prince Philip at the 75th anniversary of Outward Bound Trust, an educational charity for young people in the U.K. Cruise went on to express that he wanted to land a helicopter in Buckingham one day because of his interactions with the prince. Cruise was also a reported guest of the Queen at Windsor Castle, per The Sunday Times. However, this was not a public affair or common knowledge until the Queen's passing.
Cruise's encounters with British royals blend the glamour of Hollywood with the allure of royalty, highlighting both chance meetings and genuine friendships. These intersections reveal a different side to the Hollywood star and offer a glimpse into the intriguing world where Hollywood and royalty intersect.