'90s Denim Trends That Are Still In Style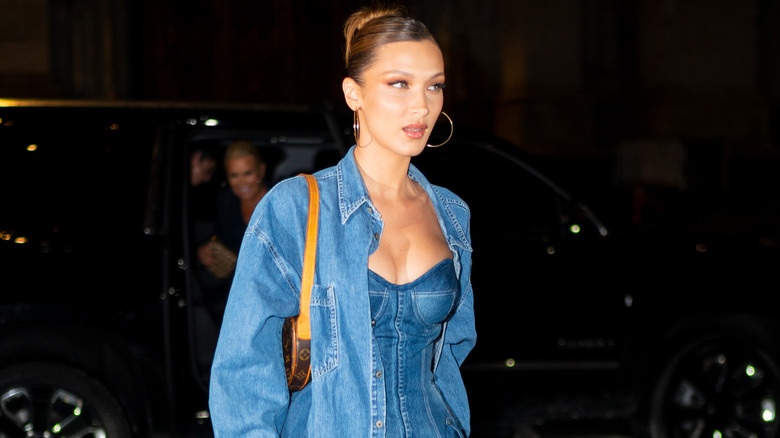 Gotham/Getty Images
It looks like many past fashion trends are making a comeback and getting a fresh breath of life with the revival of iconic '90s clothing, accessories, and more. Just like the seasons, we cycle through popular styles, making them new and trendy again — but oftentimes, we add a modern twist. From bomber jackets and cycling shorts to crop tops and overalls, the '90s had some of the most memorable trends that celebrities, models, and musicians sported. Those like Britney Spears, Christina Aguilera, and Janet Jackson were definite trendsetters with quintessential looks that defined the decade.
There was one staple you had to have in your wardrobe in the '90s and that was denim — whether it was jeans, a shirt, a vest, or even a scrunchie. Who can forget Tyra Banks' iconic denim-on-denim look or Jennifer Aniston's beloved denim vest moments as Rachel Green on the hit TV series "Friends" that we are still recreating today? Whether you're feeling nostalgic and want to revisit the era or are set on bringing back those classic denim pieces with an updated look, we've put together the top '90s denim trends that are still in style today. 
Baggy and flare jeans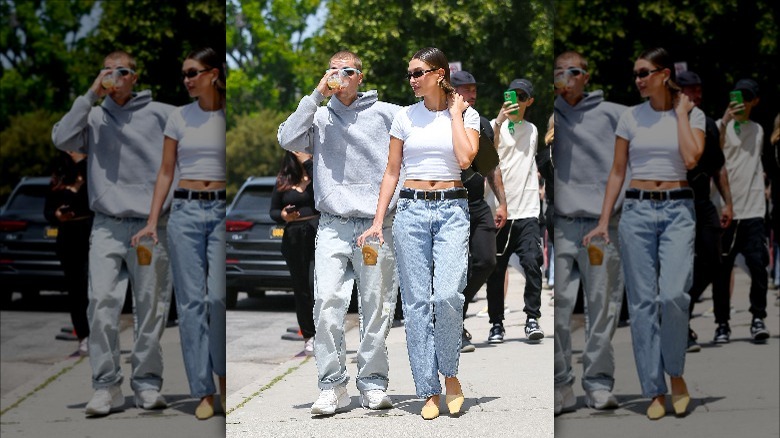 Thecelebrityfinder/bauer-griffin
Skinny jeans are officially out of style as baggy, wide-leg, and flare jeans quickly take over the jean scene and get dubbed the latest closet staples. These jeans all harken back to '90s fashion and there are many ways to wear them. Not only can they be seamlessly incorporated into your wardrobe, but they're also extremely comfortable for a casual, but cozy, fit.
Modern-day celebrities like Kim Kardashian, Hailey Bieber, Katie Holmes, Emily Ratajkowski, and many more have donned wide-leg jeans to kickstart the casual-chic pants trend. To rock this trendy baggy jeans look, style them with a loose shirt for a chic, youthful appearance, or with a form-fitting top and pair of heels for a night out on the town.
If you're not a fan of the oversized, baggy jean trend, you can opt for a fitted style with flare jeans. They've been deemed the anti-skinny jean as they feature more material around the bottom of the leg for a looser fit there. However, they are more form-fitting up top, so they are still comfortable, hug your body, and accentuate your natural shape. These jeans have been taking over street-style fashion and the likes of Jennifer Lopez, Miranda Kerr, and Kendall Jenner are rocking this look.
Long denim skirts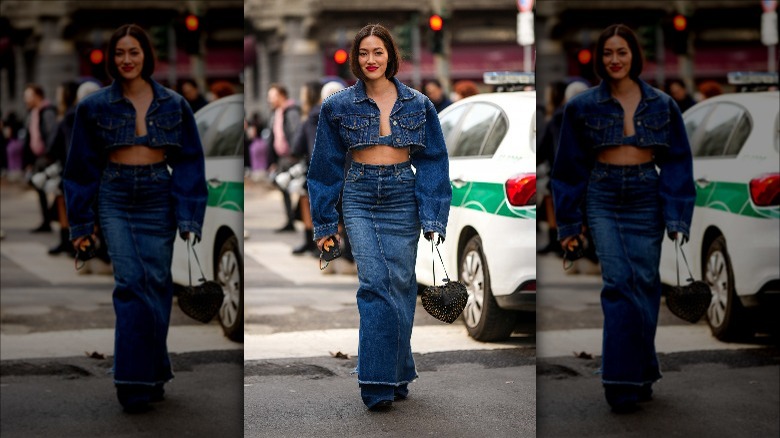 Edward Berthelot/Getty Images
Long denim skirts are the latest vintage fashion trend to get a new life, and it's easy to join in the movement. Swap out your mini skirt for a trendy long, denim maxi skirt this season to embrace the funky '90s fashion vibe. If you're worried you aren't tall enough for this look, fear not — there are ways to style it if you are petite, like wearing a crop top. Whether you're looking for a classic transitional piece or a way to effortlessly curate a stylish outfit, the denim skirt is the must-have staple you need in your wardrobe. We've seen this modish piece grace fashion runways, as it's featured in Givenchy's Spring/Summer 2023 collection, and celebrities like Bella Hadid have worn it out in classic street-style fashion, cementing its way into the current decade as a must-have.
To style a long denim skirt, pair it with a denim vest to embrace the '90s denim-on-denim style  — there are several fashion-forward ways to rock that look without looking like Britney Spears and Justin Timberlake in 2001. You can also pair it with a white tee and cardigan for a cute, casual style. If you're looking to dress it up, rock your denim skirt with a crop top or halter top and a pair of heels for the ultimate glammed-up look.